"I have definitely noticed a difference in my skin! The puffiness around my eyes is better." -Kim H.
FOR A GORGEOUS DEWY GLOW EVERY SINGLE DAY.
Free & Easy returns — all day, 'er day!
Glowing & Radiant Bundle
Self-care never felt so luxurious. Our Glowing & Radiant Face Oil glides brings out a dewy, natural glow with the sweet, subtle scent of citrus. Paired perfectly with our naturally cool-to-the-touch Jade Roller, soothe and refresh your face with ease.
We make it easy
30-Day 'Love it or Money Back' Guarantee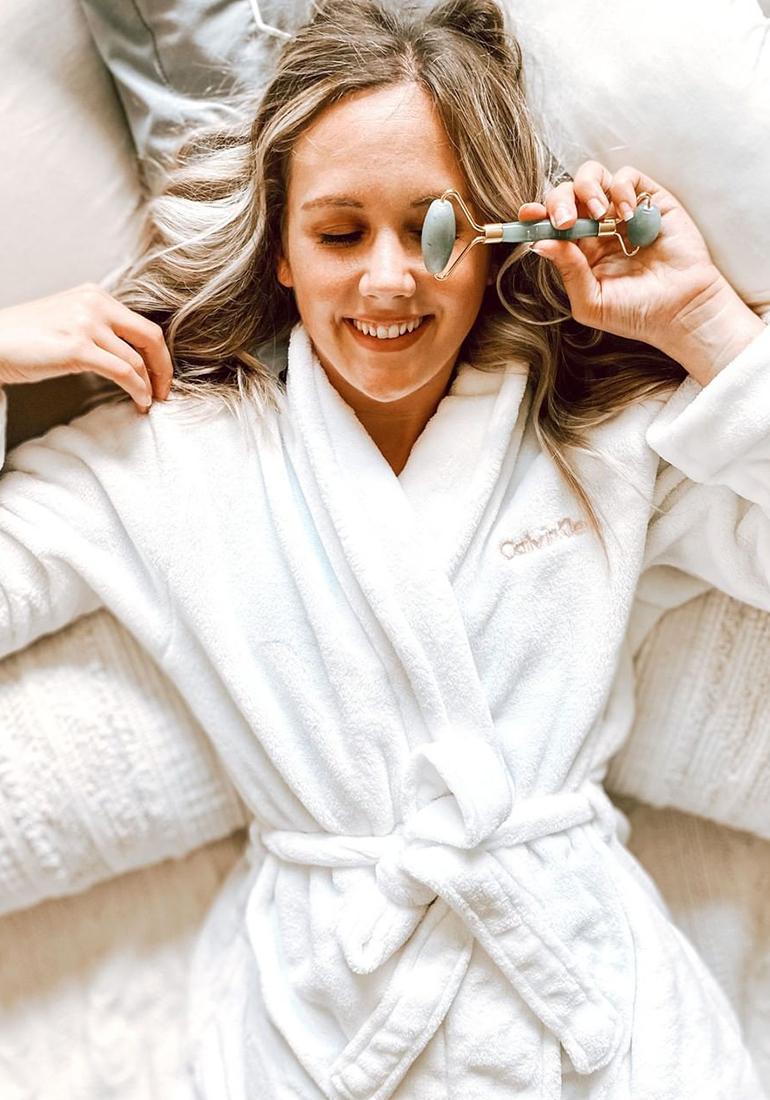 Perfect For. . .
Perfect Pairing for Any Age or Skin Type
Babes Looking For That Natural Glow
Silky, Hydrating Formula + Soothing Roller that Give You a Dewy Glow
Won't Clog Pores or Cause Breakouts
Stopping Wrinkles In Their Tracks
A Mini Spa Day At Home
The DEETS
Skin Type
Great for all skin types. Have oily skin? Don't fret! Paired with our Jade Roller this duo will deliver the facial massage + glow of your dreams, no matter the skin type.
SCENT + TEXTURE
A clean scent with subtle hints of citrus. This is not a thick oil - it leaves your skin feeling refreshed & light!
AMOUNT
Use a couple drops, enough to message into your skin. Do note, a little goes a long way with this one!
FREQUENCY
For optimal results, use morning and night! (PSSST: This facial oil works beautifully as a primer, so use before applying your makeup.)
TIME TO RESULTS
Your skin will thank you immediately! Once absorbed, the oil moisturizes the skin and leaves you with the perfect glow!
REPLENISH
2 - 3 months is the recommended replenishment rate to keep the glow goin'!
What's Inside
Select an ingredient to see where it's from, why we picked it, and other products with similar ingredients.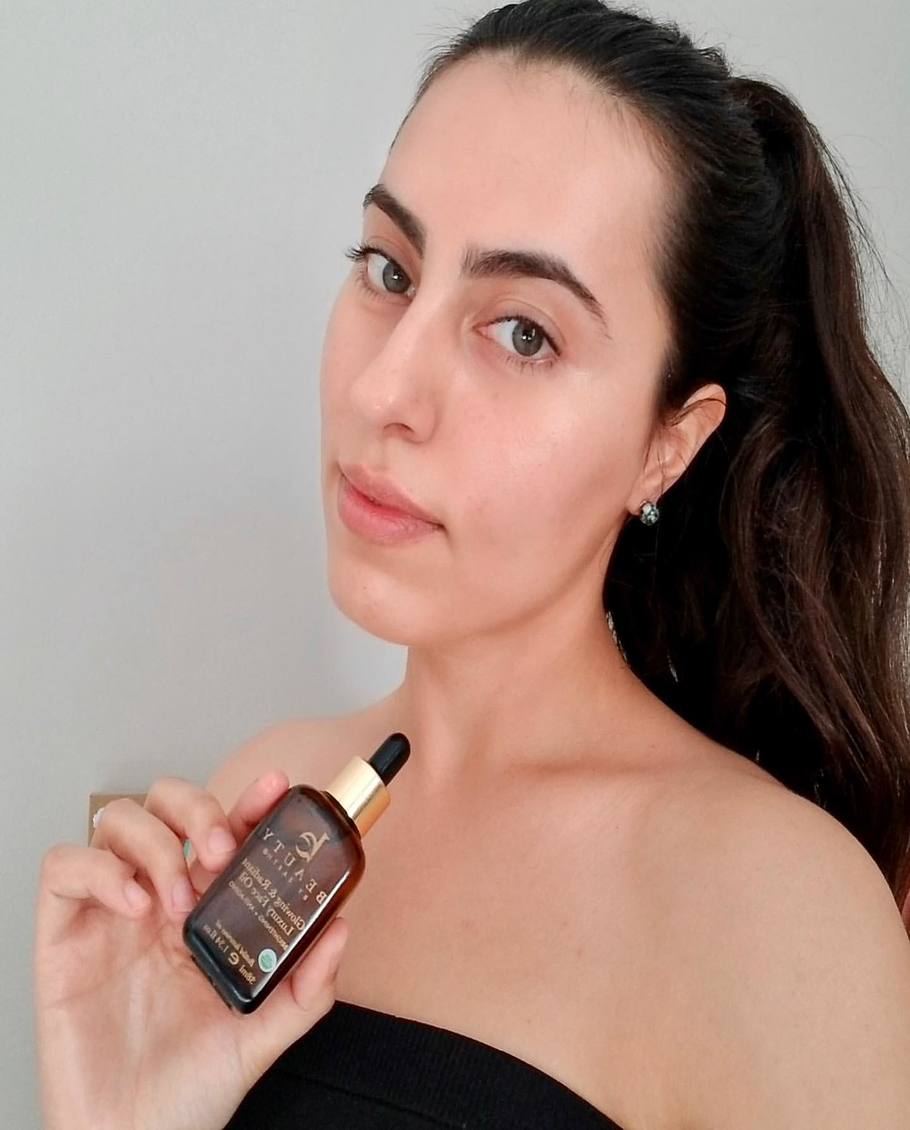 My face looks healthier than it ever has. I go without foundation most days now and feel very confident.
How to use
STEP 1:

Start with a clean face. Use your favorite cleanser to clear away any dirt or oil. If you use toner, now's the time. Spritz some on before going any further.

STEP 2:

Drop a few drops of oil onto your open palm. A little goes a long way! Use your fingertips to transfer the oil onto your face, dotting it over your cheeks, jaw, and forehead.

STEP 3:

Take your Jade Roller and highlight these main areas; Forehead: Roll downwards towards your ear until you reach your temple. Eyes: Use the smaller end of your roller for the skin around your eyes. Begin by placing your roller on the inner corner of your under eye. Roll outwards towards your ear. Face: Roll your cheekbones, lips, and chin using the same basic method as your forehead and eyes. Starting at the center of your face (next to your nose, in the center of your upper lip, or the center of your chin), roll outwards towards your ears. Jawline: Set your roller on the center of your chin, then roll upwards towards your cheekbones. Repeat from your chin's underside towards your ears, then from the top of your neck down to your collarbones.

STEP 4:

Use the weight of your whole hands to gently warm and smooth the oil into your skin. Press outward, working the oil out from the center of your face. Follow up with your preferred moisturizer.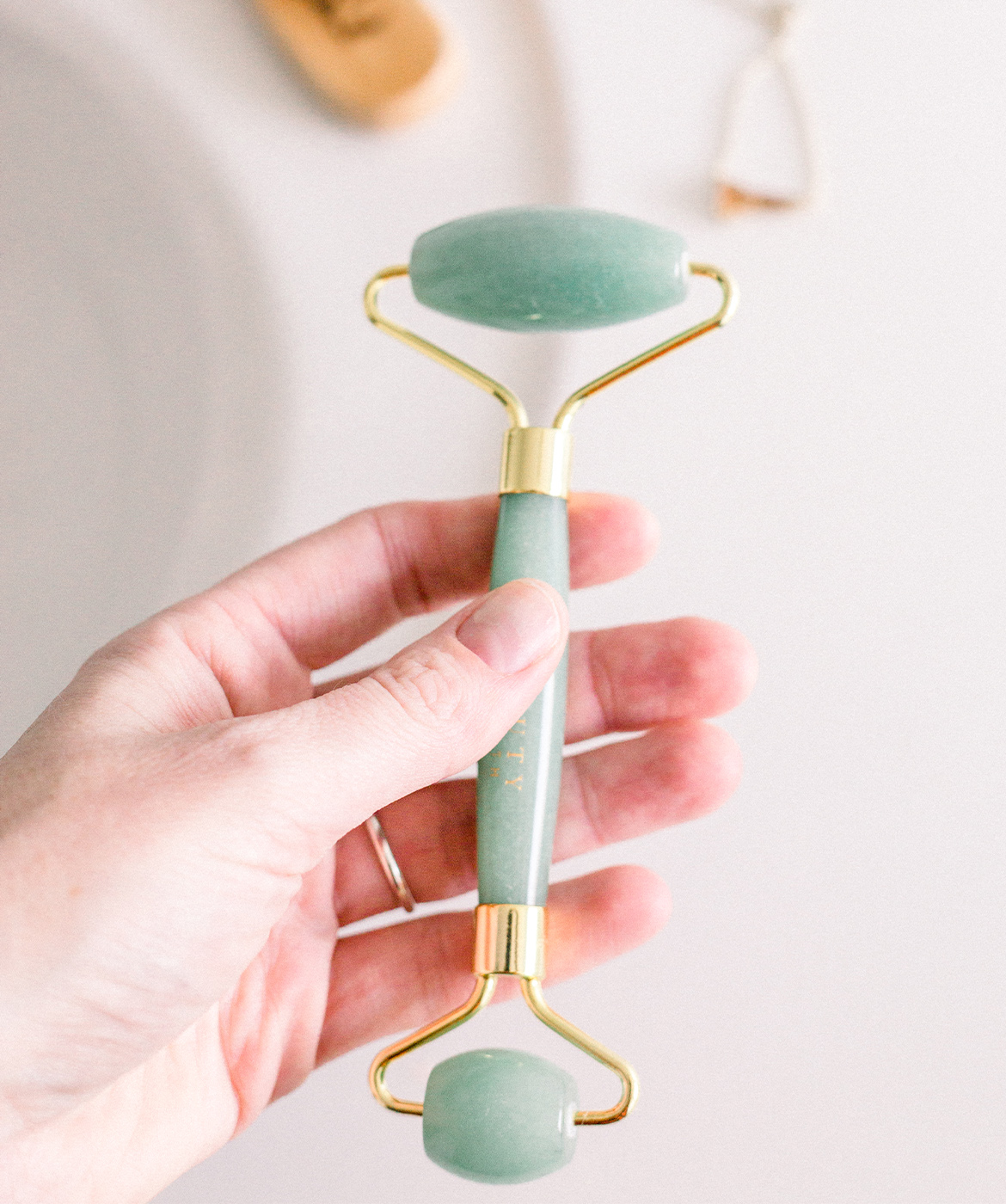 OUR GLOWING + RADIANT BUNDLE IS DIFFERENT!
Perfect pairing for any age or skin type, this duo provides all you'll need
Silky, hydrating formula + soothing roller that give you a dewy glow
Won't clog pores or cause breakouts
OUR GLOWING + RADIANT BUNDLE IS DIFFERENT!
Perfect pairing for any age or skin type, this duo provides all you'll need
Silky, hydrating formula + soothing roller that give you a dewy glow
Won't clog pores or cause breakouts
OUR GLOWING + RADIANT BUNDLE IS DIFFERENT!
Perfect pairing for any age or skin type, this duo provides all you'll need
Silky, hydrating formula + soothing roller that give you a dewy glow
Won't clog pores or cause breakouts
What Customers Are Saying
Frequently Asked Questions
Our jade roller is a beauty tool that makes it easy to give your skin the benefits of jade. Each roller showcases two beautiful stones in a well-crafted roller. Every stone is 100% natural jade.
Absolutely. In fact, jade rolling can help facial oils and serums penetrate the skin more deeply. We recommend rolling after cleansing and applying serums or oils, but before applying makeup.
Yes. Many of our customers find that putting their roller in the refrigerator or freezer enhances their experience. This is perfectly safe to do and will not harm your roller.
All formulated products are made right here in USA. Though our Jade Roller is manufactured in China and high-quality assured 100% jade aventurine.
Aventurine jade isn't "Jade" the precious stone but refers to the shade of Aventurine quartz commonly called "Aventurine Jade" or even "Indian Jade" (It's often sourced from India, hence the name). We use Aventurine jade instead of the precious gem because it is more ethically sourced as well as less rare/expensive. Yet Aventurine jade still offers many similarities to the precious gem, such as: – a lustrous, green hue – believed by crystal enthusiasts to wield similar healing properties – traditionally considered to be lucky It's also important to note that most Jade Rollers on the market are crafted from this same beautiful stone. That's because Aventurine Jade is significantly (hear "$$$$$") cheaper to manufacture. The precious stone Jade if crafted into a facial roller, on the other hand, would likely run in the $6000 range each. (Currently, Jade runs at approximately $3000 USD per ounce.) We do appreciate, however, that the subtleties here can be confusing, so thank you for your question!
It is! Our oil's deeply hydrating ingredients help dry and sensitive skin find balance. Because all of the ingredients we use are natural and gentle, most people with sensitive skin tolerate it well. Of course, it's always smart to test out new products on a small area of skin before using them more widely
No. Beauty by Earth is Leaping Bunny certified, and we are strongly against any form of animal testing.
Definitely yes. We don't use parabens in any of our products, nor do we use phthalates, sulfates, or artificial dyes or fragrances. We believe in using only high quality natural and organic ingredients in everything we make.
We sure do, and we'd love to talk with you about it! Get in touch at wholesale@beautybyearth.com to learn more.
We'll never put these bad dudes in any of our products.
Nope:

Parabens, Pegs, SLS, or SLES

No way:

Synthetic dyes or fragrances
Real reviews by real people
FOR A GORGEOUS DEWY GLOW EVERY SINGLE DAY.
ALL YOU NEED FOR A PERFECT, DEWY GLOW: With our luxurious Glowing + Radiant Bundle, you'll get the essentials for gorgeous skin. Our Glowing + Radiant Facial Oil gives your skin a lustrous, dewy glow with gentle notes of citrus. Help your glow oil really penetrate your skin with our Jade Roller. It's naturally cool and soothes tired, stressed skin with gentle facial massage.
BEST OF THE BEST: From organic aloe vera leaf juice to natural willow bark extract, our face cream protects and restores complexions of any age. You'll never find anything toxic, irritating, or environmentally irresponsible in anything we make. That's a promise.
FOREVER YOUNG: Treat your skin like a VIP it is with our favorite products that will leave your skin feeling soft and clean. In this bundle, we've gathered our Anti-Aging Serum and Glowing & Radiant Facial Oil, each packed with all-natural ingredients.
GUARANTEE – LOVE IT OR MONEY BACK: We know you're gonna love what our anti-aging bundle can do. We're so confident that we'll even guarantee it. Every product we sell comes with a 30-Day, 100% Customer Satisfaction Guarantee. If at any point over the next month you don't love this bundle, send it back and we'll give you a full refund – no awkward questions required.
Self-Care + Relaxation Done Right
You should only want the best for your skin and that's why we carefully formulated our anti-aging products with ingredients proven to turn back time. Overhaul your skincare routine with our Anti Aging Bundle and kick wrinkles to the curb. that clears out acne, draws out impurities, pushes back eczema, and helps your skin find balance. This is the easiest and most complete way to give your beauty routine the makeover it deserves.
You'll find our favorite anti-aging ingredients and we promise your skin will thank you.
How to Use Your Glowing + Radiant Bundle