"It worked well to remove dry skin!" -Chloe B.
CAFFEINATED LOVE FOR YOUR BODY!
Free & Easy returns — all day, 'er day!
Coffee & Sugar Body Scrub
Ready to get glowing? This exfoliating sugar scrub revitalizes dull skin for a radiant natural glow. Moisture-rich oils paired with the gentle scrub of raw sugar will leave you feeling refreshed and silky-soft. Did we mention the coffee-bliss aroma? No? That's probably because we were too busy getting lost in it's alluring, rich scent… Mmmm…
We make it easy
30-Day 'Love it or Money Back' Guarantee
Perfect For. . .
GETTING SILKY-SOFT SKIN
EXFOLIATING + HYDRATING SKIN SIMULTANEOUSLY
SMOOTHES STRETCH MARKS AND DISCOLORATIONS
REVITALIZE SKIN AND GETTING THAT NATURAL GLOW
A RELAXING SPA NIGHT AT HOME
The DEETS
SKIN TYPE
This body scrub is good for all skin types (yes even you, sensitive one!)
SCENT + TEXTURE
This product smells HEAVENLY. It boasts the same intoxicating aroma as your morning cup of freshly brewed coffee. Its texture is grainy (it's meant to scrub away all that dead, dull skin after all) with moisturizing oils to make skin glow. It'll give you an invigorating, skin-loving scrub!
AMOUNT
You're going to want 1 - 2 generous handfuls to cover most of your body each time you scrub.
FREQUENCY
Start by using this scrub once a week before gradually working your way up to 3-4 times a week. If you know your skin is sensitive, use less frequently.
TIME TO RESULTS
You'll notice smoother skin after the first use! With continued use, you'll notice an improved overall appearance of your skin, and some serious softness. Just be sure to keep using this product consistently to keep reaping its benefits!
REPLENISH
Depending how often you use this baby, replenishing every 1-2 months should be sufficient in keeping your skin soft and healthy.
What's Inside
Select an ingredient to see where it's from, why we picked it, and other products with similar ingredients.
Fair Trade Certified Sugar
(Sucrose)
Benefits:
Sugar is a natural exfoliant that helps lightly dust away flaky skin, dirt, and any other funk left on your skin. Using light scrubbing you can uncover healthy, rejuvenated looking skin.
Coffee
(Coffea arabica)
Benefits:
A nutrient-rich oil overflowing with anti-aging and antioxidant properties. Nourishes skin and reduces water tensions (which leads to the breakdown of cellulite). It's also a rich source of vitamin b3 which helps prevent non-melanoma skin cancers.
Sunflower Seed Oil
(Helianthus Annuus)
Benefits:
Sunflower Seed oil is packed with antioxidant Vitamins such as Vitamin E and Vitamin A. It has agents that battle off those acne causing bacteria and has anti-aging properties. It's more than just a pretty flower!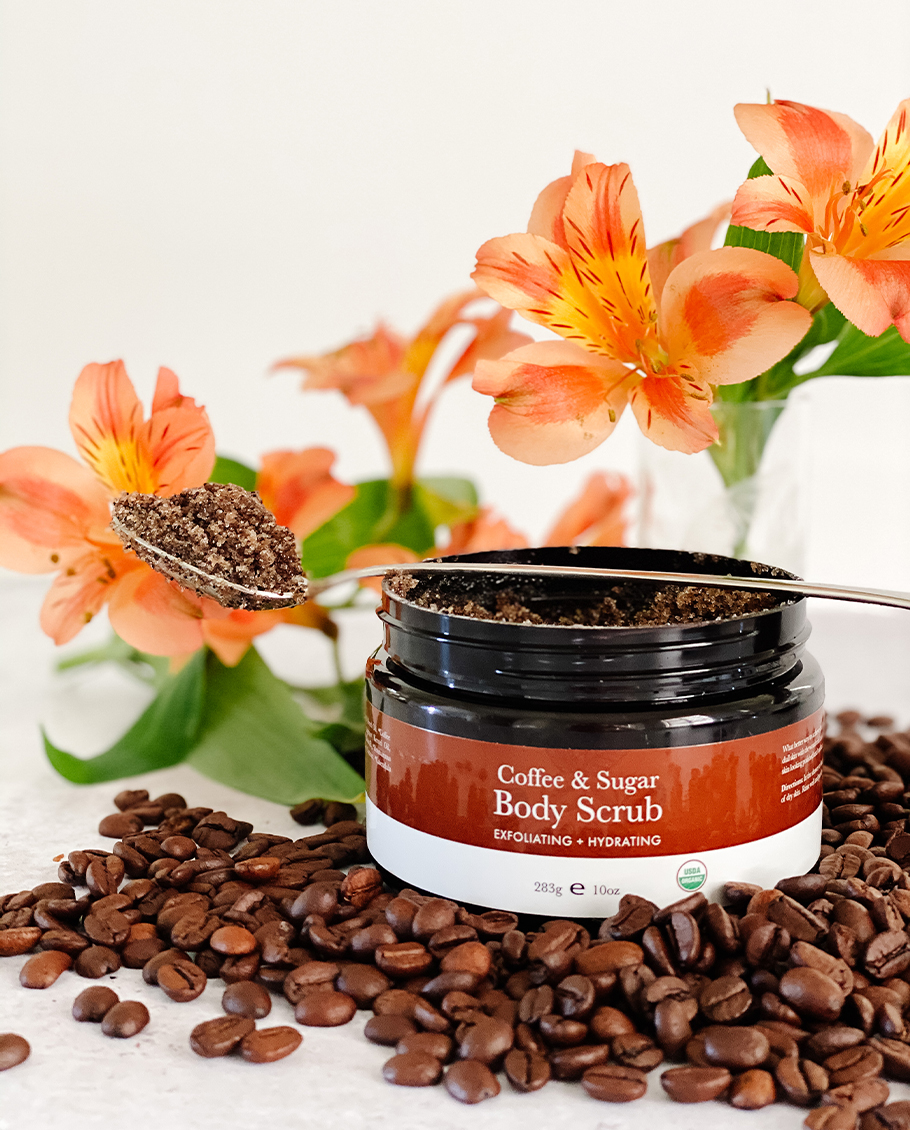 The coffee scrub makes my skin feel really soft after using it and I like that a tad bit of the coffee smell stays on my skin for awhile. I've had no allergies to it either as I have sensitive skin. I also love that everything is natural and cruelty free from this company so I will continue buying here. :)
How to use
Step 1:

Body scrubs work best in the shower or bath, so go ahead and get naked!




Step 2:

You're going to want 1-2 scoops of scrub to properly exfoliate your whole body. Remember, though, a little goes a long way!




Step 3:

Don't overthink it. Just scrub a dub dub! After scrubbing your body, rinse off with water. You'll love how silky-soft your skin feels once you're done. Just remember body scrubs aren't formulated for use on your face. For that, we recommend our facial scrub!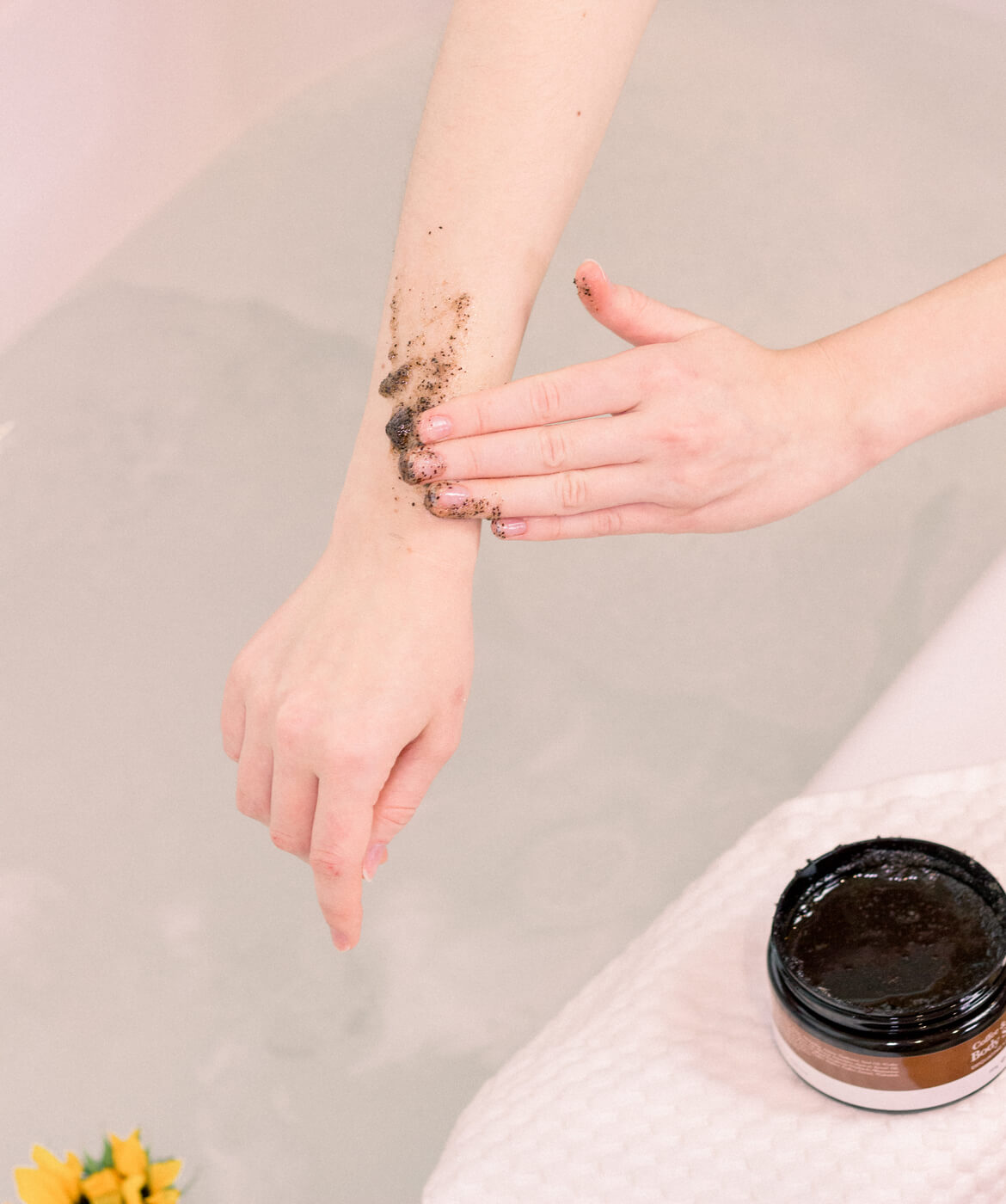 Our Coffee + Sugar Body Scrub is Different
Nutrient-rich oils that help lock-in moisture
an intoxicating coffee aroma
invigorating scrub made from organic coffee grounds and sugar
Our Coffee + Sugar Body Scrub is Different
Nutrient-rich oils that help lock-in moisture
an intoxicating coffee aroma
invigorating scrub made from organic coffee grounds and sugar
Our Coffee + Sugar Body Scrub is Different
Nutrient-rich oils that help lock-in moisture
an intoxicating coffee aroma
invigorating scrub made from organic coffee grounds and sugar
What Customers Are Saying
Frequently Asked Questions
Since the skin on our face is much more delicate than on our bodies, we don't recommend using our coffee scrub to exfoliate your face. If you're looking for a scrub made specifically for that pretty face of yours, we recommend trying our Superfruits & Chlorophyll Facial Scrub instead.
While we understand how delicious this product smells (and how tempting it may be to taste it once you've read all the delightful ingredients we put into it), it is definitely not intended for human consumption so please, don't eat it.
This product is made with love in the USA.
We used ingredients that will not only get rid of dead skin and make you glow, but that will also leave your skin feeling moisturized and smelling amazing. Here is a list of all the ingredients:
*Sucrose (Sugar), *Helianthus Annuus (Sunflower) Seed Oil, *Coffee Arabica (Coffee) Grounds, *Aroma Oil, *Prunus Armeniaca (Apricot) Kernel Oil, *Sclerocarya Birrea (Marula) Kernel Oil, Mixed Tocopherols (Vitamin E), *Rosmarinus Officinalis (Rosemary) Leaf Extract, *Coffee Arabica (Coffee) Extract, *Calendula Officinalis (Calendula) Flower Extract. *Certified Organic Ingredient
Here's the deal: while we didn't create this scrub to specifically target cellulite, coffee scrubs have been shown to in some cases reduce its appearance. This is due to the scrubbing motion that is created when applying the scrub that in turn stimulates circulation, as well as the temporary tightening of the skin that happens due to the caffeine in the product. All of this can have the effect of making your skin appear smoother.
Yes, like all of our products, our coffee scrub is Leaping Bunny certified and 100% cruelty-free.
The short answer to this is: no it does not. As with most scrubs, they are not meant to lather or foam and are instead used to buff off dead skin. The consistency of our coffee scrub is smooth yet grainy to the touch, and delivers results you can feel after one use.
Yes, we do. Get in touch at wholesale@beautybyearth.com to learn more.
We'll never put these bad dudes in any of our products.
Nope:

Parabens, Pegs, SLS, or SLES

No way:

Tested on Animals. That's cruel, man.
Real reviews by real people
FINALLY! A SUGAR BODY SCRUB WITHOUT ALL THE JUNK!
Forget about rough knees and elbows. Get glowing, radiant skin all-over with a Coffee Sugar Body scrub you can feel good about.
SAY GOODBYE TO DRY AND FLAKY SKIN: Whether the cold weather has a not so desirable effect on your gams, or you struggle with dry skin regardless of the season – this cruelty-free body scrub will get rid of all that undesirable texture and transform your skin into that of a glowing goddess (without irritating it of course).
GET HEALTHY, SMOOTH SKIN WITHOUT HARSH BEADS OR CHEMICALS: So many exfoliators and scrubs on the market are made with some *questionable* add-ins. (Like micro-plastic beads, anyone?) And while they may make your body smooth for a bit, the end game they have on your skin and the environment is not cute. Our scrub is made with organic sugar and coffee grounds for exfoliating, so you don't need to stress about harmful plastics. Add in an array of organic oils, and your skin is about to get VIP treatment.
STEP UP YOUR SELF-CARE GAME, YOUR SKIN WILL THANK YOU: With all the attention and time we spend caring for the skin on our face, it's so easy to forget about the rest of us! But hey, our skin is our largest organ and every bit of it deserves some love! We're confident you're about to fall head over heels with this coffee and sugar body scrub. You'll only wish you'd heard about it sooner.
SAFE FOR SENSITIVE TYPES: If you have sensitive skin, using any kind of scrub or exfoliator can be downright scary. We don't blame you! That's why we created a product you can finally feel safe using, with ingredients you can actually pronounce. Everyone deserves to have a body scrub on hand they can use without being worried about ending up with red and blotchy skin — that's why we're here, babe!
LOVE IT OR YOUR MONEY BACK: We know you're gonna love what our body scrub can do. We're so confident that we'll even guarantee it. Every product we sell comes with a 30-day, 100% Customer Satisfaction Guarantee. If at any point over the next month you don't love your body scrub, just send it back and we'll give you a full refund — no awkward questions required.
Coffee Never Looked So Good
Who doesn't want silky smooth skin and a product to deliver just that in the comfort of their own shower? We know how easy it can be to forgo incorporating your entire body into your exfoliation regimen. So we've created a body scrub that you'll actually look forward to using. When you use our coffee scrub, made with organic oils, you can say goodbye to dull and dry skin. Best of all, you'll be creating a spa-like experience in your own bathroom.
What makes our scrub different than the other guys out there? Well, for starters we've selected clean, simple ingredients that will help you achieve enviable glowing skin all over. Sugar, sunflower seed oil, coffee grounds, and apricot kernel oil are just a few of the superstar ingredients we chose to make this product your new favorite part of your shower or bath routine.
We know that scrubs and exfoliators can sometimes get a bad rap. No one wants to use abrasive beads or harmful chemicals on their skin, which is why we created a coffee scrub that totally spares you of all of that. We are completely confident that you will love this product and that it will quickly become an essential staple in your skincare routine. If you don't – as always, we stand behind offering you a 100% customer satisfaction guarantee.
How to Use Your Body Scrub
Ready to be a glowing, soft-skinned goddess? Good, we thought so too. Get into the shower or bathtub and dampen up that skin of yours.
Grab a small amount of our body scrub and rub it on to the desired area of your body (circular motions work great). We definitely recommend focusing the product on areas that are typically drier (i.e knees and elbows).
Once you're done, simply rinse off and go on – appreciate that soft, radiant skin you just buffed your way to! (Pro tip: Once you're out of the tub or shower, we recommend following up with a body moisturizer to lock in all of that smoothness you've just created.)