"I had no idea brands faced this problem, but these bloopers are my new go-to for a fun gift!" - Danielle
Help Beauty By Earth combat waste & find a new product to fall in love with!
Regular price
$29.99
Sale price
$10.00
Unit price
per
Sale
Sold out
Beauty Blooper
Ever wonder what happens when a beauty product has minor cosmetic or packaging defects? It's inevitable to get a few funny-looking products here and there. However, if it isn't sold...where does it go?
Well at Beauty By Earth, we would love to find these ugly ducklings a home.  
Shipping & Returns Info

SHIPPING POLICY

ALL US orders for $60 or more (after discounts and before tax) ship FREE!* We pride ourselves on fast, accurate delivery, and great service.

Need help? Give us a shout!

*Free shipping is restricted to the 48 continental states, excluding Hawaii, Alaska, and Puerto Rico.

RETURNS POLICY
Love it or get your money back!If you're not satisfied with your purchase you can return it within 30 days – HASSLE FREE and we will refund the original purchase price of the product. It's really that simple.

HOW IT WORKS
1. Email info@beautybyearth.com your return request with the following information:a. Contact information (name, phone number, email address)b. Place of Purchase (Website, Amazon, etc.)c. Order Numberd. Item Purchasede. Reason for Return

2. Beauty by Earth will email you a shipping label to return the item.

3. Mail your return, using the label provided, back to Beauty by Earth with the following included in the shipment:

a. Original Purchase Receipt

b. A Note Stating Reason for Return

Refunds are processed within 2 to 5 days and will be re-credited to the original method of payment.

Please note the following items are non-refundable:

-Original Shipping Charges and Shipping Protection Charges

-Gift Cards

-Beauty Bloopers

-Gifts, freebies, or samples.
We make it easy
30-Day 'Love it or Money Back' Guarantee
Perfect For. . .
A surprise full sized BBE Gift
Testing a new BBE product, without the pressure
Any eco-conscious babe looking to gift their favorite BBE formulas and promises, but with a twist
Someone new to Beauty By Earth that wants to try one of our custom formulations (but can't decide!)
Budget friendly option with the same high quality ingredients
THE DEETS
SKIN TYPE

Our bloopers could be ANY Beauty By Earth formula, but not to worry because ALL formulas are safe for any skin type. (Note: If you have a specific ingredient allergy and know you cannot use all BBE products, please do not purchase this blooper)

SCENT + TEXTURE

Your product's scent and texture will vary based on the product you receive. Rest easy knowing ALL Beauty By Earth products are formulated without synthetic fragrance, silicones, or fillers.

AMOUNT

The amount needed to receive optimal results will vary based on the product you receive, however, Beauty By Earth products are potent! A little always goes a long way.

FREQUENCY

The frequency of use will vary based on the product you receive. To learn more about your product, check it out on our website!
What's Inside
Select an ingredient to see where it's from, why we picked it, and other products with similar ingredients.
The ingredient list will vary by product, please reference the normal product page or packaging to find the full list of ingredients in YOUR blooper!
Note: Always patch test a new formula before applying to your entire face. If you have any known ingredient allergies, the Beauty Blooper may not be the best fit for you as there is no way to guarantee the product you'll receive.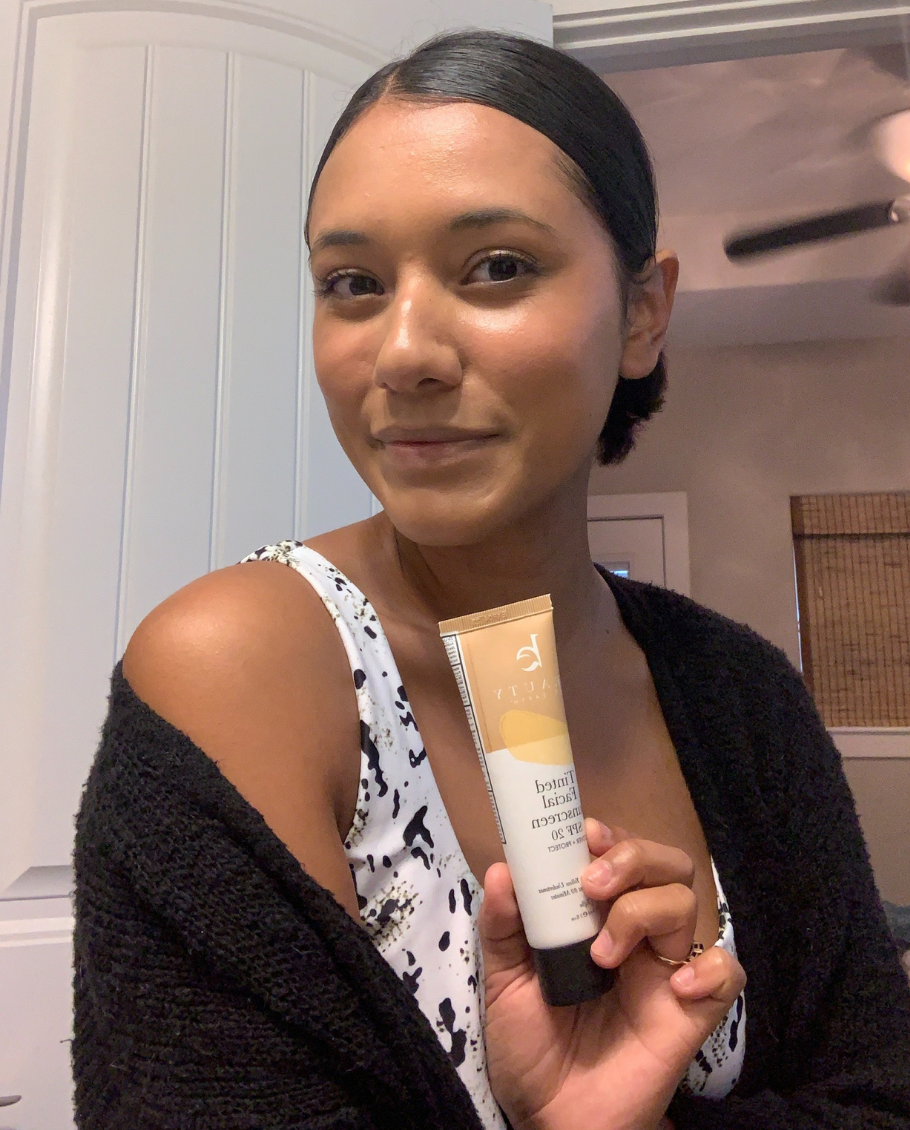 Love this idea! I got the same product I always buy but for an insane price, all because of a packaging error.
How to use
STEP 1:

Want to know how to use your blooper? Or what the full list of ingredients is? Maybe just curious about the blooper you received? No worries! You can find any product on our website via the search box and check out that product's page to learn all about it.

STEP 2:

Once you've learned more about your brand new BBE product, enjoy! If you're already familiar with the product or formula then you are good to go.
Beauty By Earth's Bloopers Are Different...
A special approach to an industry wide issue
Incredible plant-based + cruelty free skincare formulas
The same high quality ingredients and sourcing made affordable for all
What Customers Are Saying
Frequently Asked Questions
Shh, we're keeping this one a secret! Our inventory of Beauty Bloopers changes with each product shipment and inventory replenishment we receive, so it will vary constantly. You can decide if you want a small or large Beauty Blooper, but the item you get is a complete mystery 🔮
Because Beauty Bloopers are a complete surprise and there is no way to pick from available items, duplicate items are always possible. The Beauty Blooper inventory is based on availablity and current products meeting the Blooper standard due to shipment and recent batches delivered. If you receive an item you aren't interested in, we always recommend giving it away or gifting to someone! As always, if there is an item you do NOT wish to receive (due to duplicates or personal preference) we do not recommend buying our Bloopers. This iniative is sadly not intended for people seeking specific items, we have amazing coupon codes for that!

Please note: Beauty Bloopers are our company's initiative to reduce waste and offer discounted options for our incredible custom formulations. The inventory varies based on availability and products impacted.
The goal of this listing is to help reduce waste and minimize carbon footprint, for that reason we won't offer traditional refunds or require this product to be shipped back to us. If you receive a product you don't want, we suggest donating it or giving it to a friend or family member. If you are unsatisfied with your blooper, please remember this is a mystery purchase and there is no way to guarantee it will be the product you hoped for. If there is a specific product you want, or one you absolutely do not like, we reccomend selecting your products normally and using one of our amazing discount codes available instead!♡
If you need any assistance, please email us at info@beautybyearth.com, we are always happy to offer store credit for you to try something new!
Sadly the short answer is no, you cannot. Beauty Bloopers are a complete mystery due to the fact that our inventory or available bloopers can change weekly (or even daily).
We have no way to ensure the product you receive will, or won't be, a certain item. If there is an item you know you dislike and wouldn't use, we don't recommend purchasing this Blooper.
Please note that this is intended to be a fun and discounted way to try something new or receive a mystery item with our same great custom formula.
Nope! All the products shown in the pictures and videos on this listing are just examples. There is no way to guarantee which product you will receive. Each purchase is a fun surprise and the product will vary based on the shipments we received that month!
All Beauty By Earth products are eligible for our 30 day return policy. However, as this initiative is a way for us to minimize our waste and carbon footprint we do ask that you try to gift or donate this item whenever possible. If you don't like or want the product you receive, maybe a family member or friend will! Share the love and don't ever hesitate to reach out to us at info@beautybyearth.com if you need any assistance.
We are so sorry to hear that! Sadly, if you have a known ingredient allergy, the Beauty Bloopers may not be the best fit for you. There is no way to guarantee what product you will receive as the inventory changes almost daily.
Absolutely! The only difference between our Bloopers and the normal product listing is cosmetic damages or defects. The formula is perfectly intact. We will never sell a product that has compromised ingredients or damages that would directly impact the effectiveness of the product.
Think: Misprints, typos, wonky alignment, etc.
Absolutely not. Every blooper contains a perfectly intact formula, the formula is just being held hostage inside wonky packaging. We would never intentionally sell a compromised product that's outside of the miniumum 3 month expiration window.
We would happily give you a refund within 30 days for the blooper, store credit, or send a new blooper! Just let us know via email at info@beautybyearth.com.
We'll never put these bad dudes in any of our products.
Nope:

Parabens, Sulfates, Fillers, or other junk.

No way:

Synthetic Fragrances or Dyes.
S.O.S Help These Beauty By Earth Bloopers Find A Home
These Beauty By Earth Bloopers are our minor mishaps but your major win! Receive a FULL-SIZED mystery product at over 70% off! Choose between a small or large product, filled with the same amazing formula but with just a few cosmetic hiccups. We're talking typos, misprints, or a damaged box (NEVER the formula itself.) Perfect, BBE expectations on the inside, just in need of a little touch-up on the outside!
Just like produce (think: Imperfect Foods, or Misfit Market), skincare and beauty companies receive product shipments every day with a couple wonky or damaged items in the mix. While these products can't be sold alongside the normal inventory, we would never want these babies to miss out on finding their place in someone's bathroom cabinet.
At Beauty By Earth, sustainable and eco-conscious consumption is always at the forefront of everything we do. In an effort to reduce waste, increase transparency, and stand by our mission of "clean beauty for all" we created this Beauty Blooper listing. We see this as an amazing opportunity for everyone to try out and learn more about Beauty By Earth's signature formulas in a new and fun way...for less than half the price.
Throughout the skincare and beauty industry all brands face the dilema of receiving products that don't match their product packaging and description. Maybe the print is incorrect, or the box packaging is delivered damaged, or the cap is a bit wonky, or they shipped way too many units...either way, the product is no longer able to be sold at retail value. While some brands donate these items, gift them to employees, or even throw them away, this issue comes back up every time a shipment of products arrives.
While we absolutely adore our employees, and we often donate extra supplies and products as needed, we wanted to give our amazing customers the same chance to try something new.

Small vs. Large?
The "small" product is still a full sized Beauty By Earth product, it's just an item that may weigh less or be small in relation to bigger items like a body wash or bath bomb set. Think: Eye Cream, Moisturizer, Face Wash, Lip Balms, Beauty Tools etc.
The "large" products are still the same full sized Beauty By Earth products you know and love, just the ones that are a bit heavier or higher volume. The products in each category will also vary based on the formula and cost to source ingredients. Think: Body Scrub, Body Wash, Facial Rollers, etc.
How Do I Use The Product?
Since every mystery Beauty Blooper is still an actively sold product in our store, if you need tips or tricks on how to use your surprise product, just go to the search bar and find that product page to learn all about it!
If you have any questiosn never hesitate to send us an email, live chat, or DM!
*NOTE: ALL PRODUCTS SHOWN IN THIS LISTING ARE EXAMPLES. THE PRODUCTS FEATURED IN PHOTOS ARE NOT GUARANTEED. PRODUCT AVAILABILITY WILL VARY WEEK TO WEEK AS INVENTORY CHANGES CONSISTENTLY.*