New
"Makes me look like I've slept 8 hours." -Jenny S.
THE BOTANICAL ALTERNATIVE TO RETINOL
Free & Easy returns — all day, 'er day!
YouthRestoration Bakuchiol Face Toner
Harness the power of Bakuchiol! This lightweight toner helps improve skin's brightness, tone, and texture while minimizing pores and diminishing fine lines. It's perfect for helping you achieve firmer, plump-looking skin using some of nature's best ingredients! Loaded with antioxidants and anti-inflammatory properties, this effective yet gentle ingredient will take your skincare game to the next level – in an easy-to-apply toner!
We make it easy
30-Day 'Love it or Money Back' Guarantee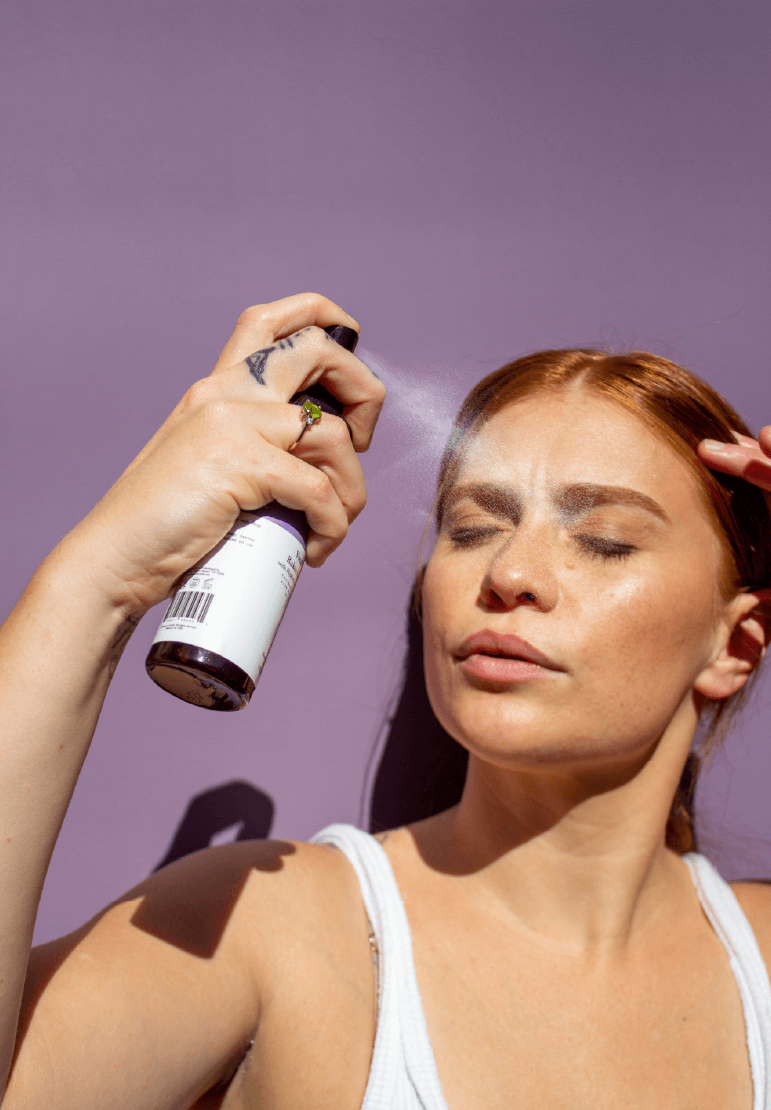 Perfect For. . .
MATURE SKIN LOOKING FOR A YOUTHFUL GLOW
DIMINISHING FINE LINES AND WRINKLES
ANYONE WHO WANTS TO EVEN OUT THEIR SKINTONE FOR A FLAWLESS COMPLEXION
PREVENTING BREAKOUTS AND TIGHTENING PORES WITHOUT IRRITATION
PREPPING SKIN FOR APPLYING YOUR FAVORITE SERUMS OR MOISTURIZERS
The DEETS
SKIN TYPE
This Bakuchiol face toner is safe for all skin types. Yes, even you sensitive babe!
SCENT & TEXTURE
This Bakuchiol face toner leaves your pores feeling clean and nourished without ever feeling sticky or greasy. It has a refreshing floral scent that never lingers too long on the skin after application.
AMOUNT
About 1-2 spritzes is just about right for most people! Use a bit more if you're (smartly) covering your neck and decolletage.
FREQUENCY
Use toner morning and/or night, right before applying your go-to serums and moisturizers. It's also a nice refresher mid-day to keep your makeup looking on point!
TIME TO RESULTS
You'll notice softer, cleaner skin after just one use! Keep it up though and you'll reap all of the benefits Bakuchiol can bring. We're talking refreshed, smoother, brighter, clearer, more even looking skin. Oh, and fine lines and wrinkles? They don't stand a chance.
REPLENISH
2-3 months is the recommended replenishment rate, depending on how many times a day you use your Bakuchiol face toner.
What's Inside
Select an ingredient to see where it's from, why we picked it, and other products with similar ingredients.
Babchi Seed Extract
(Psoralea Corylifolia)
Benefits:
Babchi Seed extract is your key ingredient for evening your skin tone and helping with hyperpigmentation. It also promotes blood circulation leaving your skin with added plumpness and glow. Due to its anitfungal and antibacterial properties, it also soothes and can help treat certain skin conditions like exzema and dermatitis.
Bakuchiol
(Psoralea Corylifolia)
Benefits:
Bakuchiol is a natural plant-based alternative to retinol and has been shown to help reduce fine lines and wrinkles, improve tone and texture, and even skin pigmentation making your skin appear more radiant and youthful. Bakuchiol overflows with antioxidants, (you know these babies as your skin's bouncers, keeping free radicals at bay). It's most frequently used in skin care to reduce the visible signs of aging. It's antibacterial properties make it also an effective defense against acne and breakouts. Because of its gentler effect on the skin, many people prefer using bakuchiol skincare products instead of harsher, retinol-based ones.
Organic Aloe Vera
(Aloe Barbadensis)
Located:
North Africa + Southern Europe
Benefits:
Brimming with antioxidants Vitamins A and C, and enzymes, Aloe Vera fights inflammation and soothes irritated and dry skin. Aloe also helps combat acne and eczema.
Hyaluronic Acid
(Sodium Hyaluronate)
Benefits:
A wonderful hydrator, Hyaluronic Acid helps your skin soak up moisture like a sponge soaking up water. As we age, the amount of Hyaluronic Acid produced by our bodies tends to decrease. This nourishing ingredient helps prevent fine lines and wrinkles, helping keep that youthful glow. It's hydrating and aids in reducing redness or irritation on the skin. Adding this natural substance back into our skincare products helps our overall skin health tremendously!
Witch Hazel
(Hamamelis Virginiana)
Benefits:
Witch Hazel relieves Inflammation and skin irritation, fights acne, shrinks pores, and helps remove excess oil. Due to its anti-inflammatory properties, it can help ward off infections and protect against skin damage. Witch Hazel will leave your skin feeling light and refreshed.
Niacinamide
Form of Vitamin B
Benefits:
Niacinamide is a multitasking hydrator that leaves your skin looking bright, plump, and glowy. How does it work? It helps your skin produce more ceramides which hydrate and support your skins barrier. You'll notice tightened pores, improved elasticity and overall skin texture.
White Jelly Mushroom Extract
(Tremella Fuciformis Sporocarp)
Benefits:
White Jelly Mushroom promotes an increase in collagen production, helping to strengthen your skin and keep it looking plump and youthful. Filled with antioxidants, it protects your delicate skin and helps with skin cell turnover.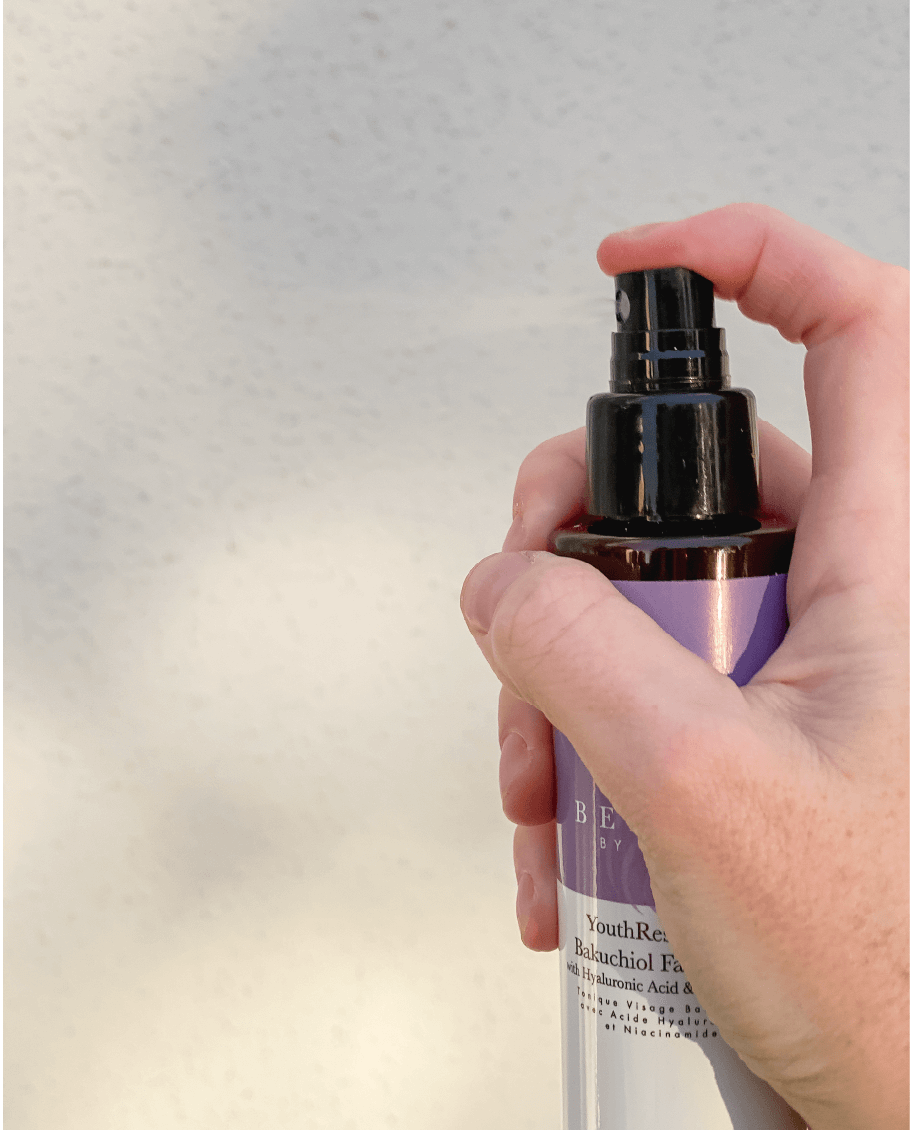 Smells like spring. Makes me look like I've slept 8 hours.
How to use
Step 1:

It's SO IMPORTANT to start with a clean slate. Wash your face with a gentle natural face wash (we're crushing on this one made with sea kelp) and dry off.




Step 2:

SHAKE WELL BEFORE USE. Day or night, spray toner, or apply with a cotton round, over entire face, neck, and décolleté. Follow with serum and facial oil or moisturizer. Can be sprayed over makeup during the day to freshen the skin or used as an all-over skin toner.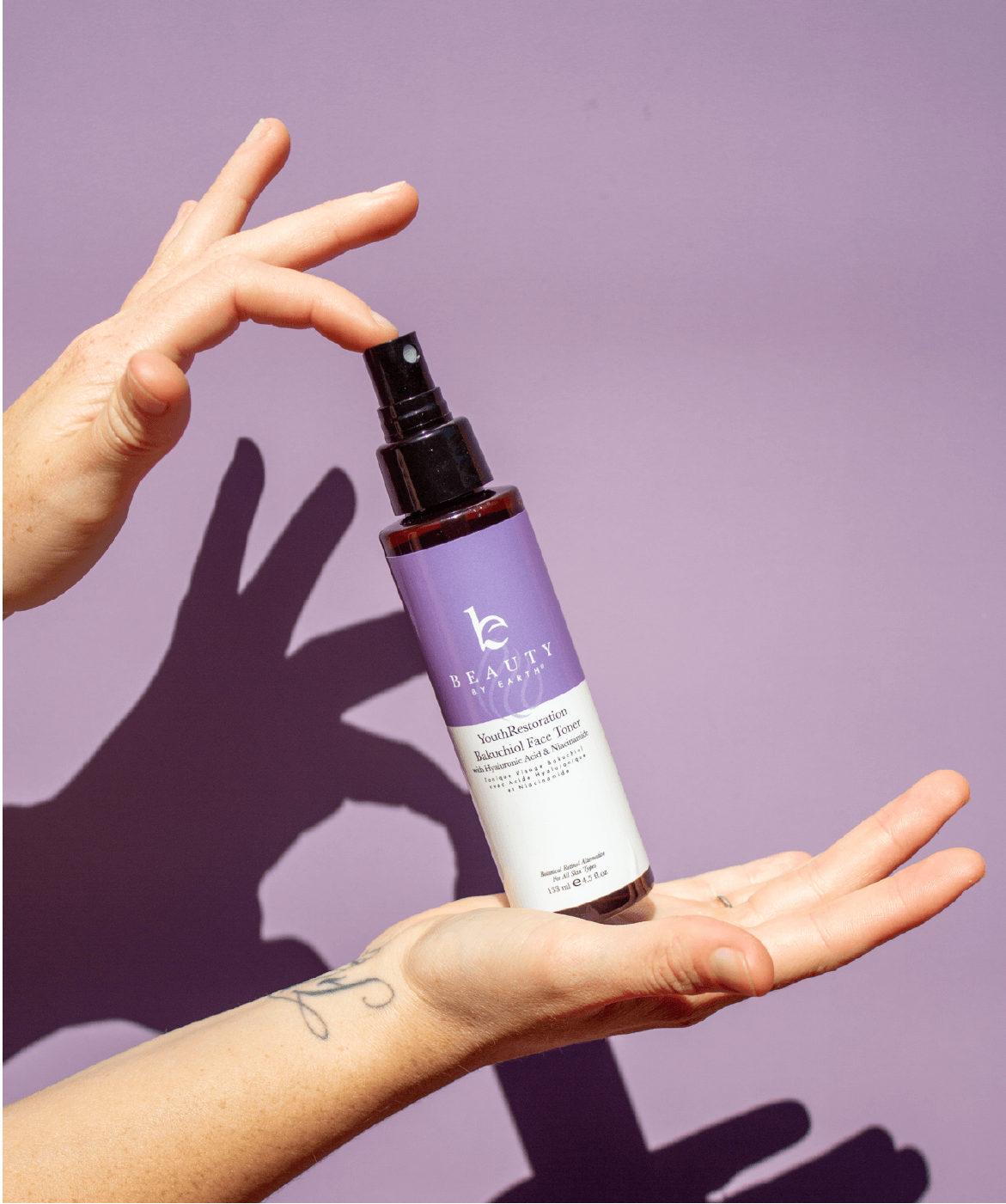 Our Bakuchiol Face Toner Serum Is Different
Formulated with organic, plant based ingredients
Doesn't sting or irritate the skin
Perfect for those looking for a retinol alternative
Our Bakuchiol Face Toner Serum Is Different
Formulated with organic, plant based ingredients
Doesn't sting or irritate the skin
Perfect for those looking for a retinol alternative
Our Bakuchiol Face Toner Serum Is Different
Formulated with organic, plant based ingredients
Doesn't sting or irritate the skin
Perfect for those looking for a retinol alternative
What Customers Are Saying
Frequently Asked Questions
YouthRestoration Bakuchiol Face Toner with Hyaluronic Acid & Niacinamide Ingredients:
Water (Aqua), *Hamamelis Virginiana (Witch Hazel) Extract, *Glycerin, Propanediol, Carthamus Tinctorius (Safflower) Oleosomes, Bakuchiol, Niacinamide, *Aloe Barbadensis (Aloe Vera) Leaf Juice, Sodium Hyaluronate (Hyaluronic Acid), Sorbitan Olivate, Psoralea Corylifolia (Babchi) Seed Extract, Populus Tremuloides (Aspen) Bark Extract, Vaccinium Myrtillus (Bilberry) Fruit Extract, Tremella Fuciformis Sporocarp (White Jelly Mushroom) Extract, Melia Azadirachta (Chinaberry) Flower Extract, Coccinia Indica (Ivy Gourd) Fruit Extract, Solanum Melongena (Eggplant) Fruit Extract, Ocimum Sanctum (Holy Basil) Leaf Extract, Corallina Officinalis (Red Algae) Extract, Caprylic Acid, Lauric Acid, Potassium Sorbate
*Certified Organic Ingredient
Babe, yes! We created this Bakuchiol face toner for everyone to enjoy. We use clean, effective ingredients that will never irritate your skin – we promise.
We used gentle yet effective organic ingredients in this Bakuchiol face toner that work to perfect the skin and prevent signs of aging without irritating even the most sensitive of skin types. Applying our Bakuchiol products won't sting and will feel soothing on your skin every time! Additionally, Bakuchiol is often referred to as the more gentle, natural alternative to Retinol for this very reason – it doesn't leave redness or irritation behind!
Yes and no, gorgeous. If you enjoy using a moisturizer and/or facial oil, our Bakuchiol face toner can often be paired along with them. We recommend cleansing your face first, then applying your toner, followed by your hydrating products of choice. However, we do not recommend using our Bakuchiol toner with Vitamin C products. This is because our Bakuchiol face toner contains Niacinamide, which can decrease the effectiveness of Vitamin C. If you're a Vitamin C loving babe, we recommend alternating between routines for the best results.
It doesn't get any easier than this! Simply spritz this Bakuchiol toner after cleansing your cute face, and voilà! You can also apply this toner with a reusable cotton pad, if that's more your jam.
Absolutely! We often use it on are arms and hands.
Not strong, babe. You'll enjoy a refreshing scent upon application that dissipates within a few seconds. No one wants a strong, annoying fragrance lingering around, #amirite?
We'll never put these bad dudes in any of our products.
Nope:

Parabens, Pegs, SLS, or SLES

No way:

Synthetic dyes or fragrances

Never:


Toxic Ingredients We Will NEVER Put In Our Products
Real reviews by real people