New
"This self tanner mousse is sooooo soft! It's much lighter [...] and distributes so evenly...The mit did a great job applying tanner for me!" -Leah M.
SUNSHINE IN A BOTTLE, MINUS THE DAMAGE.
Self Tanner Mousse Bundle (Medium to Dark)
You DONT need the sun damage to get an amazing tan. Especially when you have our self tanning mousse kit, filled with natural and organic ingredients. (For Medium to Dark Skintones)
We make it easy
30-Day 'Love it or Money Back' Guarantee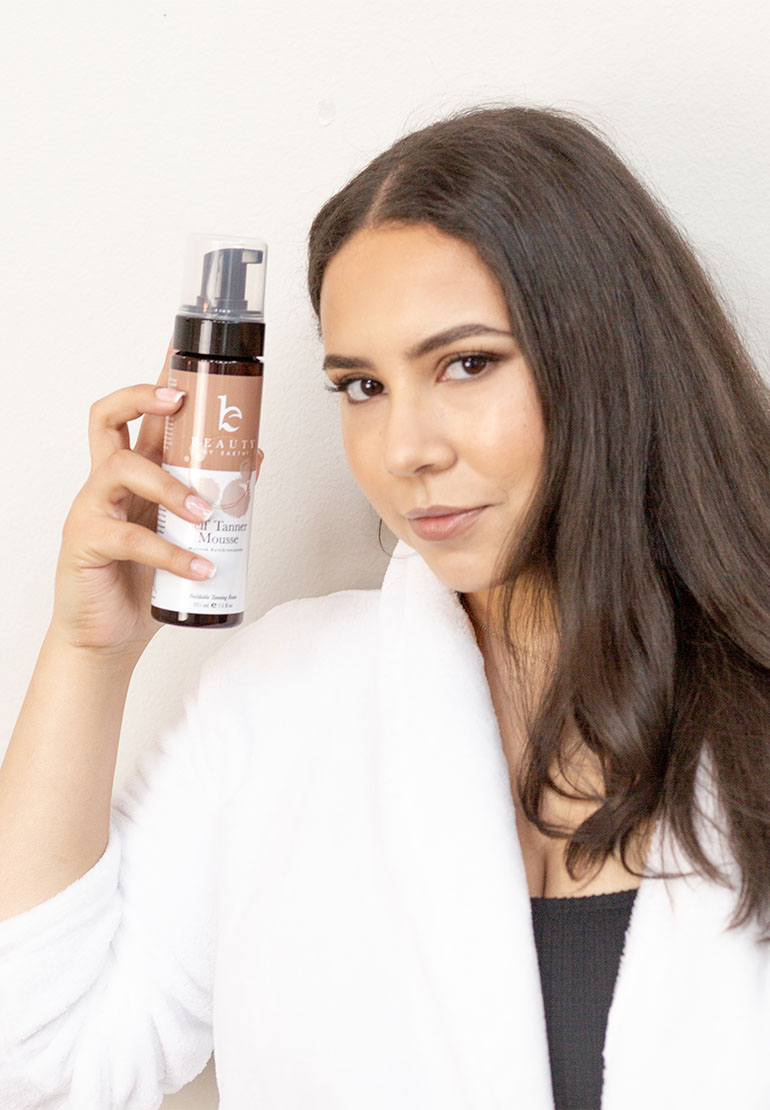 Perfect For. . .
Getting that sunkissed glow without the dyes, smells, or harsh chemicals
Tanning without the stinky fumes! (Smells clean & fresh)
Anyone looking for tanning set with all the essentials
The DEETS
SKIN TYPE
Great for all! (Sensitive skin, babe? Yup, it's good for even you.)
SCENT + TEXTURE
Subtle clean/fresh scent with a light, foamy texture.
AMOUNT
Use enough self tanner to cover your entire body thoroughly. (Remember to go easy on all joints, hands, and feet.)
FREQUENCY
Self Tanner lasts 4 - 6 days for most people, we recommend reapplying every 4-5 days to maintain color. It's buildable, so repeat sooner for a darker tan.
TIME TO RESULTS
You'll see results from your self tan within 4-6 hours.
REPLENISHMENT
2 - 3 months is usually the replenishment rhythm most beach babes prefer.
What's Inside
Select an ingredient to see where it's from, why we picked it, and other products with similar ingredients.
Matricaria Flower Extract
(Chamomilla Recutita)
Benefits:
The flower has so many wonderful benefits for our skin. With its natural soothing properties, this flower helps with skin irritation and inflammation and great for all skin types.
Organic Witch Hazel
(Hamamelis Virginiana)
Benefits:
Relieves Inflammation and skin irritation, fights acne, wards off infections and protects against skin damage.
Vegetable Glycerin
(Glycol)
Benefits:
Vegetable glycerin soothes irritated skin, guards against injection, and helps restore health. While there are numerous ways to make vegetable glycerine, we make ours from organic, ethically sourced Palm Oil.
Grape Seed Extract
(Vitis Vinifera)
Benefits:
This antioxidant-rich extract helps protect your skin from environmental hazards. Plus, grape seed extract is soothing to irritated or acne-prone skin, and is a great boost for sensitive types.
Vanilla Essential Oil
(Vanilla planifolia)
Located:
Central/South America
Benefits:
Vanilla is filled with anti-inflammatory agents so it works to soothe the skin and help treat inflammatory acne. It has anti-aging properties as well so it keeps your skin young and beautiful! Vanilla helps skin infections with their healing process and overall promotes healthy skin!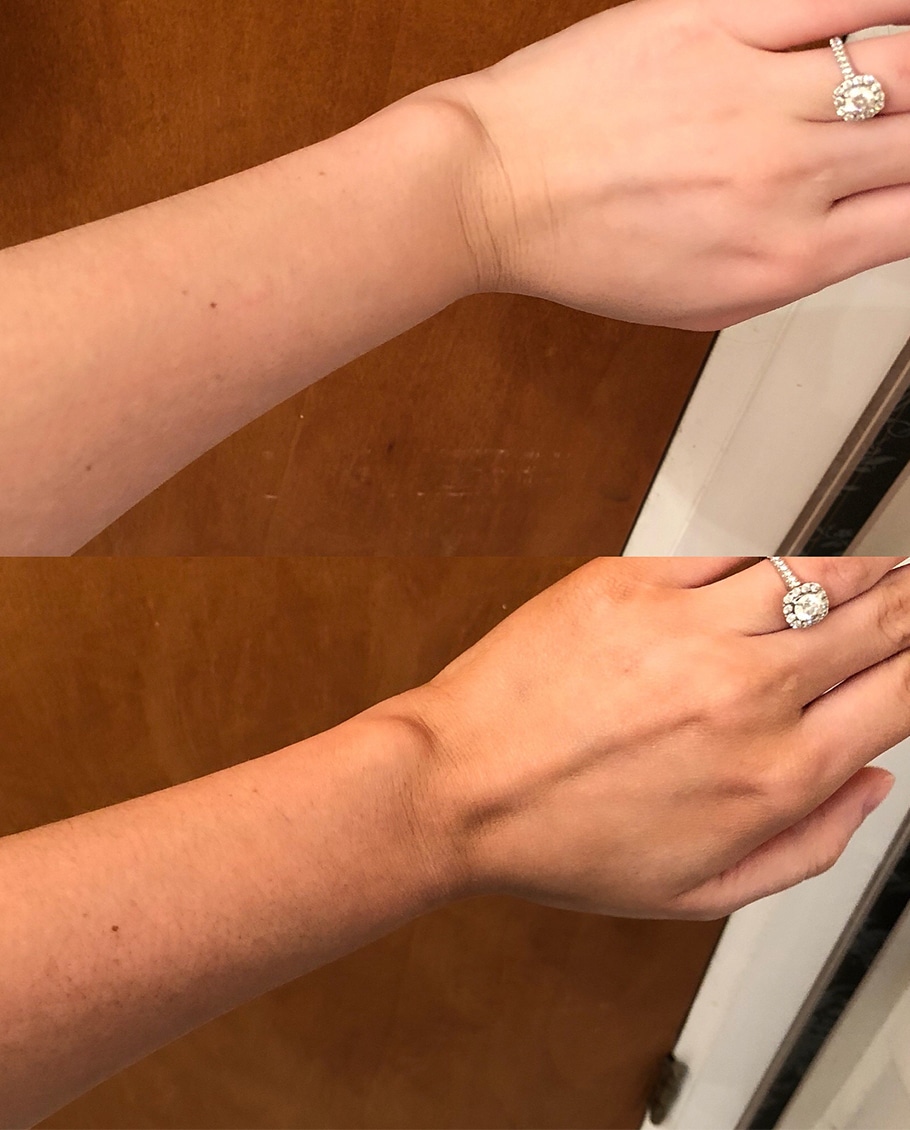 "I'm obsessed with this mousse, it's so incredibly easy to apply and leaves my skin so tan!"
How to use
STEP 1:

Ready to tan? Start by exfoliating your skin. Use a loofah, exfoliating pad, or a body scrub to gently get rid of dead skin cells – our self tanning application kit will give you all the tools you need for a perfect tan. This will help make sure your tan lasts as long as possible. Give your feet a little moisturizing love beforehand to help make sure they don't end up darker than your body.

(NOTE: We always recommend patch testing any new product before applying a full body tan.)

STEP 2:

When you're ready, apply a thin layer of self tanner mousse evenly over your legs, arms, and torso. Be careful when working on loose areas of skin (such as the elbows and knees). These areas are more absorbent, so it's easy to overdo it and end up with dark spots. Using our tanning mitts can help you get a more even tan, and will prevent colored palms. If you decide not to wear mitts, wash your hands immediately after tanning!




STEP 3:

Your skin should reach your desired color within 4-6 hours. If it doesn't, reapply the following day. We find that reapplying every 4-5 days is best for maintaining color, but do what works best for you. Enjoy your sunny, golden skin!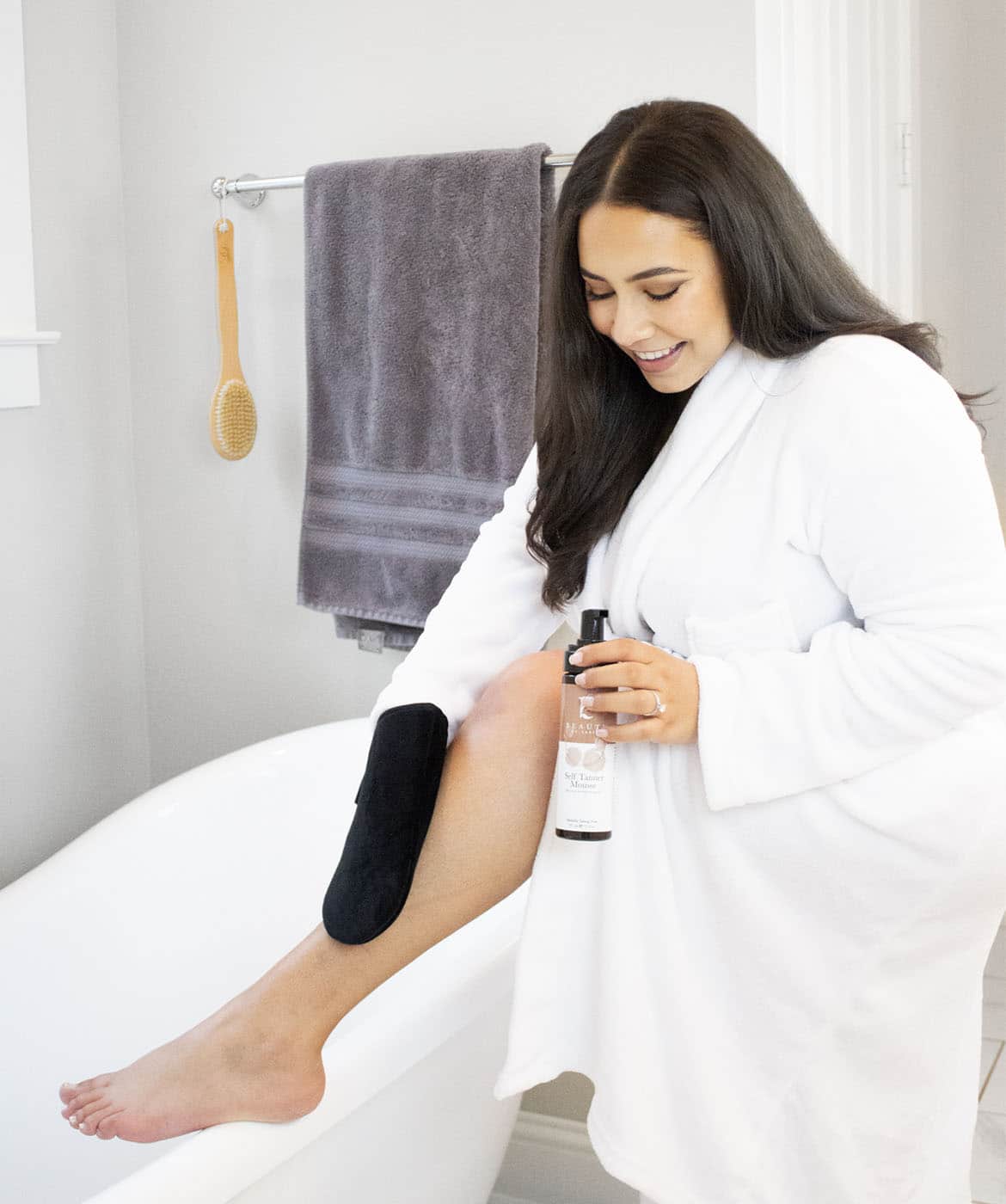 Our Self Tanning Mousse Is Different
No need to "wash off" the tanner.
No Dyes
No Artificial Fragrance
WONT stain or dye your sheets
Dries in minutes!
Our Self Tanning Mousse Is Different
No need to "wash off" the tanner.
No Dyes
No Artificial Fragrance
WONT stain or dye your sheets
Dries in minutes!
Our Self Tanning Mousse Is Different
No need to "wash off" the tanner.
No Dyes
No Artificial Fragrance
WONT stain or dye your sheets
Dries in minutes!
Frequently Asked Questions
While it is not certified organic, our natural self tanner is made up of 81% water and certified organic ingredients, the other 19% are naturally derived ingredients and it does not include any toxic or harmful additives.
We can't pinpoint the exact number of days – that will vary based on your application method, skin type, and how often you reapply. Many of our customers who have left self tanner reviews report that their tan lasted 5-7 days. We recommend doing a thorough exfoliation session with a dry brush or exfoliating glove before application for the longest possible tan.
We get this question all the time! So often, in fact, that we wrote a blog post about it. Check it out here.
Great question! The short answer is faster absorption and fewer hydrating ingredients. Our mousse absorbs faster into your skin than our tanner lotion. However, it doesn't have some of the hydrating ingredients present in our body self tanner, like coconut oil, aloe vera, and shea butter. So if you're looking for a quicker, even tan, you'll love this tanning mouse! If you're needing more hydration and aren't in a rush, try our tanning lotion instead.
As often as needed! Keep an eye on your tan, and when it starts to fade go ahead and reapply. Most customers find that their tan lasts about 7 days before fading, but if you notice a difference sooner, there's no reason not to reapply.
Great question! This bundle comes with:
1- Applicator Kit
1- 7.5 Oz Self Tanning Mousse
Take the time to apply it right – exfoliate first, be generous with the amount you use, and use a self tanning mitt. We find that we can extend the life of our tan by sticking to warm (not hot) showers and by moisturizing daily.
While its smooth + foamy texture easily glides onto the skin, if you feel dry or tacky after application apply lotion to moisturize the skin.
We'll never put these bad dudes in any of our products.
Nope:

Parabens, Pegs, SLS, or SLES

No way:

Tested on Animals. That's cruel, man.
Real reviews by real people
THE MOST BEAUTIFUL THING YOU CAN WEAR IS CONFIDENCE
Kick pale, pasty skin to the curb and greet the world with confidence with the best self tanner out there.
When you're rocking a safe, glowy tan, you'll face life with the certainty that comes from knowing you look your best. And when you use our dye-free, vegan, cruelty-free tanning mousse you'll have the added bonus of knowing your beauty will never cost you your health or your integrity.
So what makes our dye-free self tanner the quickest way to a brand new you? It starts with a few carefully chosen ingredients. We collect high quality, nourishing, and natural ingredients from around the world to create a tanner that gives natural color without exposing your body to anything harmful. Ingredients like organic shea butter, organic green tea extract, and organic coconut oil care for your skin while supporting a streak-free sunless tan. Add color one application at a time to build a glow that will make everyone wonder when you had time to take a tropical vacation.
We know you're picky about what you put on your skin. So are we! That's why we offer a 100% customer satisfaction guarantee. If you're not completely satisfied with your self tanning experience, just let us know.
We'll give you a full refund up to a month after your purchase. And if you're still not convinced, take a look at what other discerning tanning enthusiasts have to say. With over 1000 rave reviews, we're pretty sure we're doing something right! Remember – there's only a limited amount of our sunless tanner available, so don't wait any longer to add us to your cart and say "adios" to that ghostly skin.
SAY GOODBYE TO GHOSTLY WHITE SKIN: Pale, lifeless skin really isn't your best look. But that's why we're here. Our vegan, cruelty-free, and dye-free self tanner transforms even the palest skin from "meh" to "marvelous." Build your tan one layer at a time to get your ideal level of bronze (and cover up blemishes, veins, or imperfections) without any of those nasty streaks, blotches, or dark spots.
GET A SUN-KISSED TAN WITHOUT THE SUN DAMAGE: Love that sun-kissed glow but hate the thought of sunburns, early aging, and skin cancer? We think that sounds pretty reasonable. We also think that you don't have to put up with dangerous sun exposure to get the tan you want. Our self tanning mousse harnesses the power of natural ingredients to give you a beautiful, natural-looking tan – no radiation required.
DO YOUR SKIN A FAVOR: Ever read the back of a conventional tanner? You need a Ph.D. to pronounce all those ingredients. We use only simple, natural ingredients in our dye-free self tanner, so you'll never have to worry about what you're putting on your body. With ingredients like organic shea butter, organic coconut oil, and Japanese green tea leaf extract, your skin will thank you by looking and feeling incredible.
SAFE FOR EVERYONE (Even You, Mama!) AND YOU won't BE AN ORANGE OOMPA LOOMPA: If you have sensitive skin, maintaining that summer glow can be uncomfortable. Our self tanner's meticulously crafted formulation is free of anything toxic, so everyone can enjoy the confidence that comes from knowing your skin looks amazing. And who wants to look like an Oompa Loompa? Not you. Our self tanner gives you a glow so convincing your friends will wonder when you had time to go on a trip to the Bahamas.
GUARANTEE – LOVE IT OR MONEY BACK: We know you're gonna love what our self tanning mousse can do. We're so confident that we'll even guarantee it. Every product we sell comes with a 30 Day, 100% Customer Satisfaction Guarantee. If at any point over the next month you don't love your self tanner, send it back and we'll give you a full refund — no awkward questions required.