"Literally perfect! ...leaves me smelling so good, looking bronze (not orange), and it's perfectly even. " -Kristen S.
A BALI BRONZE WITHOUT THE PLANE TICKET.
Free & Easy returns — all day, 'er day!
Self Tanner Bundle
Who needs the sun for an amazing tan? Not you! Especially when you have our self tanning kit at your fingertips. This kit has absolutely everything you need for a professional-looking tan, including a bottle of our natural self tanner. Choose your perfect formula: For fair to medium skin tones, please select our "Fair to Medium" version. For Medium to Dark skin tones, select the "Medium to Dark" variation.
We make it easy
30-Day 'Love it or Money Back' Guarantee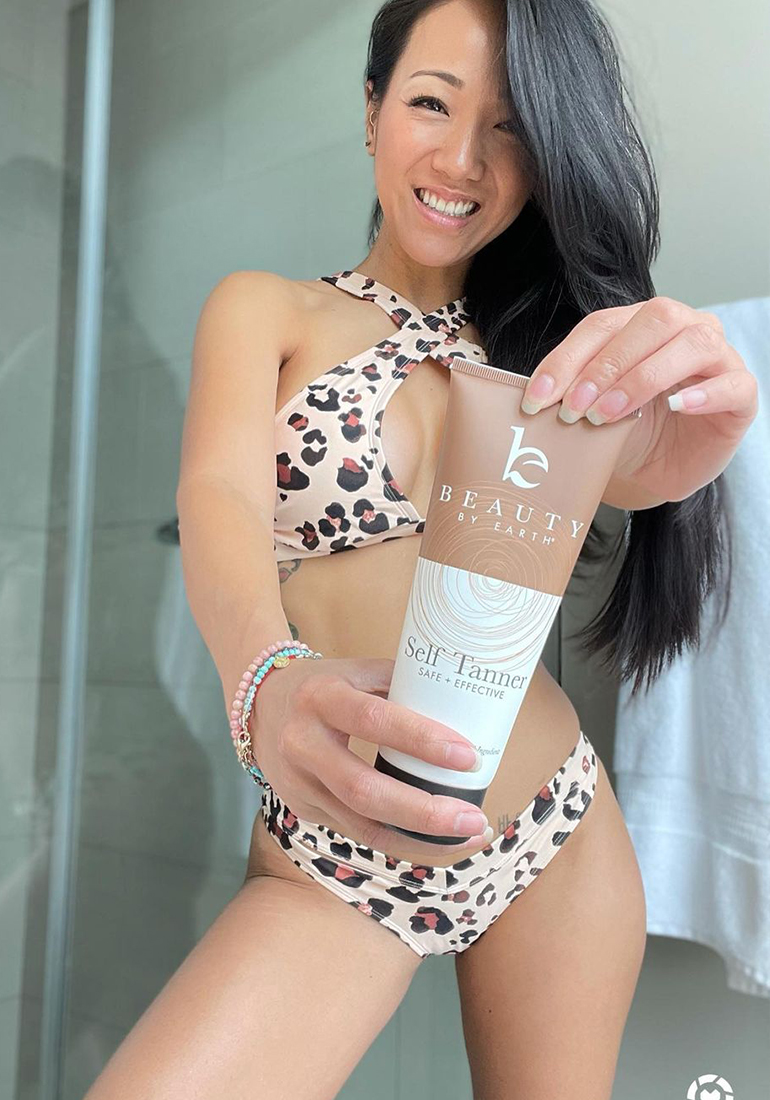 Perfect For. . .
Getting that buildable, natural-looking glow
Blurring stretchmarks, veins, imprefections, and hyper-pigmentation
Moisturizing formula with natural ingredients
A sunkissed look in just 6 hours
Sunless tanning with plant-based ingredients
The DEETS
SKIN TYPE
Great for all! (Sensitive skin, babe? Yup, it's good for even you.)
SCENT + TEXTURE
Subtle coconut scent with a smooth, creamy texture.
AMOUNT
Use enough self tanner to cover your entire body thoroughly. (Remember to go easy on all joints, hands, and feet.)
FREQUENCY
Self Tanner lasts 4 - 6 days for most people, so 1 time a week is usually just right. It's buildable, so repeat sooner for a darker tan.
TIME TO RESULTS
You'll see results from your self tan within six to eight hours.
REPLENISHMENT
2 - 3 months is usually the replenishment rhythm most beach babes prefer.
What's Inside
Select an ingredient to see where it's from, why we picked it, and other products with similar ingredients.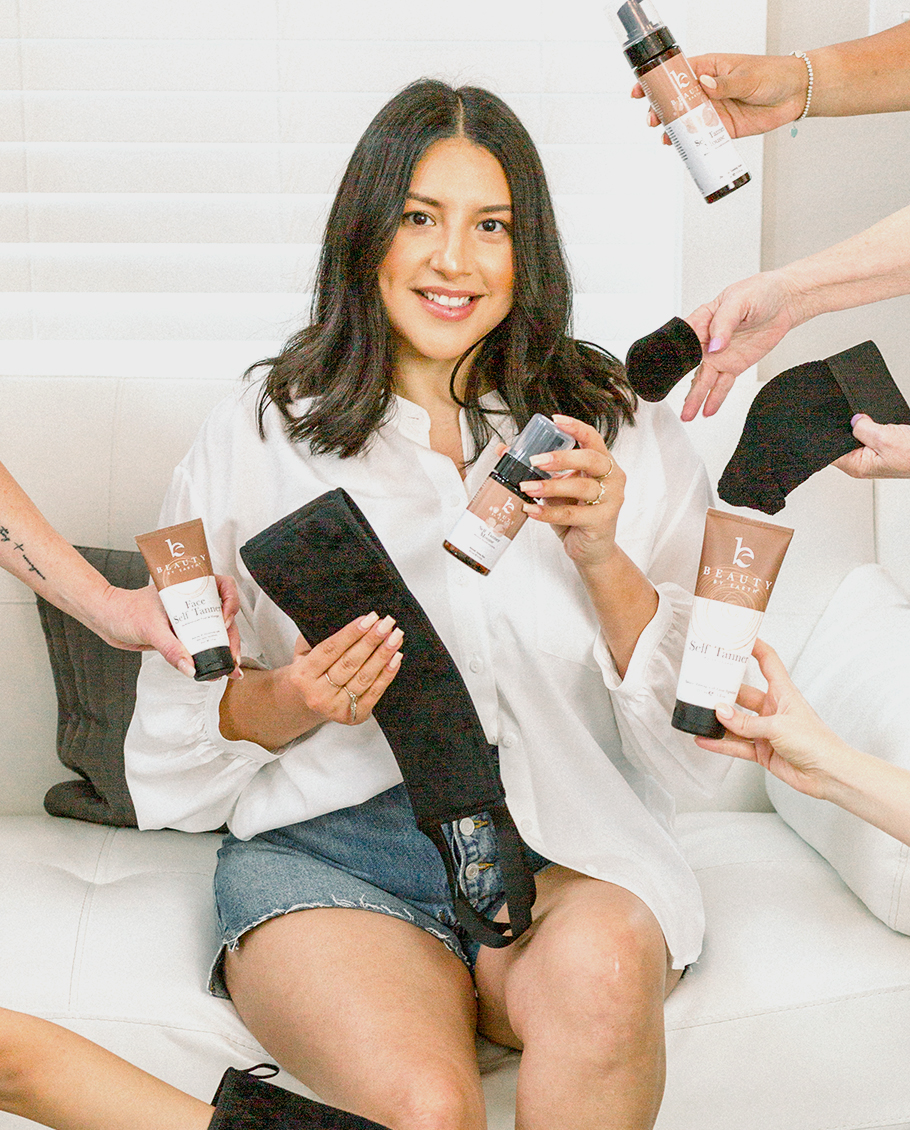 Literally perfect! When I say I have tried it all out there, I mean it! I have been orange, streaky, smelly, uneven, and anything else that can go wrong with a spray tan or bronzing lotion. This stuff is perfect though. On top of having the BEST ingredients, it also leaves me smelling so good, looking bronze (not orange), and it's perfectly even.
How to use
STEP 1:

Use a loofah, exfoliating pad, or a body scrub to gently get rid of dead skin cells – the self tanning application kit will give you all the tools you need for a perfect tan.This will help make sure your tan lasts as long as possible. It's also a good idea to paint your nails before applying your tanner – unless you like orange-y nails, that is. Give your feet a little moisturizing love beforehand to help make sure they don't end up darker than your body. Finally, wait a day or two after shaving before using our self tanner. If you apply to newly shaved skin, all of your pores will show up as little orange dots.

STEP 2:

When you're ready, apply a thin layer of natural self tanner evenly over your legs, arms, torso, and face (avoid your eyes). Be careful when working on loose areas of skin (such as the elbows, feet, hands and knees). These areas are more absorbent, so it's easy to overdo it and end up with dark spots. Wearing latex gloves can help you get a more even tan, and will prevent colored palms if you don't have a mitt. If you decide not to wear gloves, wash your hands immediately after tanning.




STEP 3:

Your skin should reach your desired color within six hours. If it doesn't, reapply the following day. We find that reapplying every 4-7 days is best for maintaining color, but do what works best for you. Enjoy your sunny, golden skin!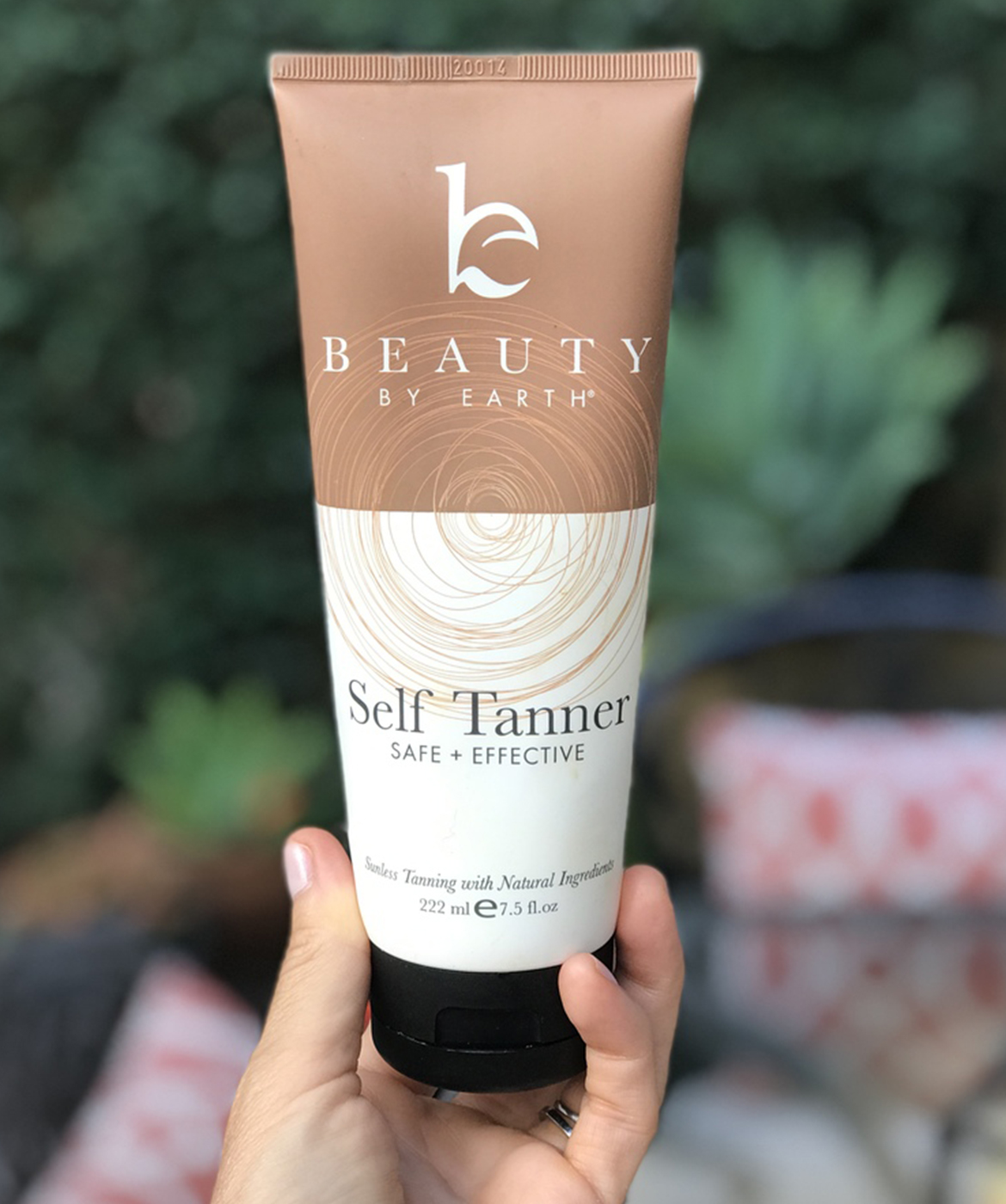 How to Recycle Your Self Tanner Tube
Our Self Tanner is Different!
Our self tanner has no dyes, artificial fragrances, and WONT stain clothing or sheets. Unlike other self tanners, you don't have to worry about horrible smells, nasty toxic chemicals, or streaks.
Nutrient-rich ingredients that nourish skin
Won't stain or streak
Won't leave you orange tomorrow
How to Recycle Your Self Tanner Tube
Our Self Tanner is Different!
Our self tanner has no dyes, artificial fragrances, and WONT stain clothing or sheets. Unlike other self tanners, you don't have to worry about horrible smells, nasty toxic chemicals, or streaks.
Nutrient-rich ingredients that nourish skin
Won't stain or streak
Won't leave you orange tomorrow
What Customers Are Saying
Frequently Asked Questions
While it is not certified organic, our natural self tanner is made up of 81% water and certified organic ingredients, the other 19% are naturally derived ingredients and it does not include any toxic or harmful additives.
The active ingredient in our self tanner is DHA, a sugar derivative that gives the top layer of the skin a bronzed glow. It's 100% natural and non-GMO. It's backed up by a carefully selected combination of supporting ingredients, including organic aloe vera leaf juice (for luscious hydration), organic shea butter (for maximum moisturization), and organic pomegranate and cranberry extract (because who doesn't love a bit of fruitiness in their self tanner?).
The full list of ingredients can be found below:
Self Tanner Ingredients
Water, Organic Aloe Barbadensis (Aloe Vera) Leaf Juice, Organic Butyrospermum Parkii (Shea) Butter, Dihydroxyacetone (Sugar Beet Derived DHA), Cetyl Alcohol, Stearyl Alcohol, Organic Cocos Nucifera (Coconut) Oil, Glycerin (Vegetable), Organic Camellia Oleifera (Japanese Green Tea) Leaf Extract, Organic Punica Granatum (Pomegranate) Extract, Organic Hamamelis Virginiana (Witch Hazel) Extract, Organic Vaccinium Macrocarpon (Cranberry) Fruit Extract, Organic Simmondsia Chinensis (Jojoba) Seed Oil, Organic Argania Spinosa Kernel (Argan) Oil, Radish Root Ferment Filtrate, Cocos Nucifera (Coconut) Pulp Extract, Vanilla Tahitensis (Vanilla) Fruit Extract.
We can't pinpoint the exact number of days – that will vary based on your application method, skin type, and how often you reapply. Many of our customers who have left self tanner reviews report that their tan lasted 5-7 days. We recommend doing a thorough exfoliation session with a dry brush or exfoliating glove before application for the longest possible tan.
Our self tanner bundle includes our self tanning lotion and our application mits set, including an exfoliator mitt, a finger mit, and a body mit. It has everything you need for the perfect glow.
We get this question a lot! Here's a helpful guide to applying self Tanner:
Step One: Do Everything Else
There are a lot of things that can mess with your self tanner if you don't do them first. Painting your nails, coloring your hair, and shaving your legs can all remove the tanner before it has time to do its work, so make sure you get these tasks done beforehand.

…but not too close beforehand. Before I knew how to apply self tanner I didn't realize that it's not a great idea to shave right before you use it. I ended up with all of my pores showing up as little orange dots. Not very classy. I definitely recommend waiting several hours after you shave before applying any self tanner.

Step Two: Exfoliate
Self tanner has a way of sinking in to dry skin and creating weird little dark patches. You can make sure you skip this problem by exfoliating your skin before applying self tanner. Use a natural exfoliating scrub to slough off any flakes, paying special attention to your knees, elbows, ankles, and other rough areas. Use a gentle exfoliator to make sure your face is clear as well.

Step Three: Start From the Bottom
If you start by applying self tanner to your shoulders and torso, you may end up with some weird streaks when you bend over to do your legs. Make sure you get a nice, even tan by starting from the bottom and working up.
When you get to your face, use the application finger mitt for more consistent results. Put about a dime-sized amount of tanner on your finger mitt and massage gently into your skin. don't neglect your neck and around your hairline and ears!

Step Four: Use Circles
Squeeze a small amount of self tanner (about a teaspoon or so) into a clean hand. If you prefer, you can wear latex gloves. Work the lotion into your skin using a circular motion. I usually apply tanner to my legs, arms, torso, and face, being careful to avoid sensitive areas like my eyes.

Step Five: Tread Carefully
Be especially cautious when applying self tanner to areas where skin tends to be loose and dry. This includes elbows, knees, and the areas around your nose and top lip. The skin in these areas tends to pick up more color than the surrounding skin, making it easy to end up with dark spots.

It is always a good idea to moisturize these types of areas prior to applying self tanner so you get a more even look. It will also help ensure these areas don't come out darker than everywhere else.
Step Six: Wash Up
If you decided not to use gloves to apply your self tanner, wash your hands immediately afterwards. This will keep you from ending up with off-color palms. If you end up with streaks or splotches, don't fear – rub the area with half a lemon then buff it away with a damp towel. It'll be like it never happened.

Step Seven: Repeat as Needed
You should reach your desired color within six hours. If you don't, just reapply the following day. I usually end up reapplying every 4-7 days to keep my color consistent, but that number may vary based on what works best for you.

Step Eight: Don't Forget Sunscreen
Self tanner does not protect against UV radiation. If you plan to spend any time in the sun after using a self tanner, be sure to apply sunscreen.
Sure you can! Just remember, though, that our self tanner is a bit heavier than our face formula. If you're prone to breakouts, we recommend using the face self tanner instead. It's non-comegenic and won't cause you any breakouts! If you've got easy-going skin, though, the body self tanner will work perfectly fine on your face!
Our self tanner can provide great color, but it won't protect you from the sun as it does not contain SPF ingredients. Make sure to keep up with your sunscreen routine no matter how often you use our tanner.
Absolutely. Self tanning is a much safer alternative to spending time in the sun or in tanning beds. Exposure to UVA and UVB radiation can cause premature aging, including age spots, fine lines, wrinkles, freckles, and more. With enough time it can leave your skin looking tough and leathery. And don't even get us started on the cancer risk… No way around it – self tanning with a natural tanner is the best way to go.
Our self tanner uses all-natural ingredients that are gentle on sensitive skin. However, with any new product, it's always a good idea to do a test patch before using it on larger areas. Take a look through our self tanner reviews to find out how other customers with sensitive skin reacted – the response has been overwhelmingly positive.
As often as needed! Keep an eye on your tan, and when it starts to fade go ahead and reapply. Most customers find that their tan lasts about 7 days before fading, but if you notice a difference sooner, there's no reason not to reapply.
Take the time to apply it right – exfoliate first, be generous with the amount you use, and use a self tanning mitt. We find that we can extend the life of our tan by sticking to warm (not hot) showers and by moisturizing daily.
We sure do! Find out more on our wholesale info page or drop us a line at wholesale@beautybyearth.com and we'll get you taken care of.
We'll never put these bad dudes in any of our products.
Nope:

Parabens, Sulfates, fillers, or other junk.

No way:

Synthetic Fragrances or Dyes
Real reviews by real people