"Seriously the most perfect pairing! It's the perfect pick me up for my skin." -Reilly B
THE DYNAMIC DUO YOU'VE BEEN MISSING
Free & Easy returns — all day, 'er day!
Rosy & Radiant Duo
We're pretty confident that rose quartz and coffee are a girl's best friend (who needs diamonds?!). That's why we've made the perfect pair: rose quartz roller and our award-winning Coffee Bean Eye Cream. Use this duo to help all of your favorite serums and moisturizers sink into your skin while brightening tired eyes. With regular use, you'll experience the benefits of facial lymphatic drainage for a beautiful, snatched complexion!
We make it easy
30-Day 'Love it or Money Back' Guarantee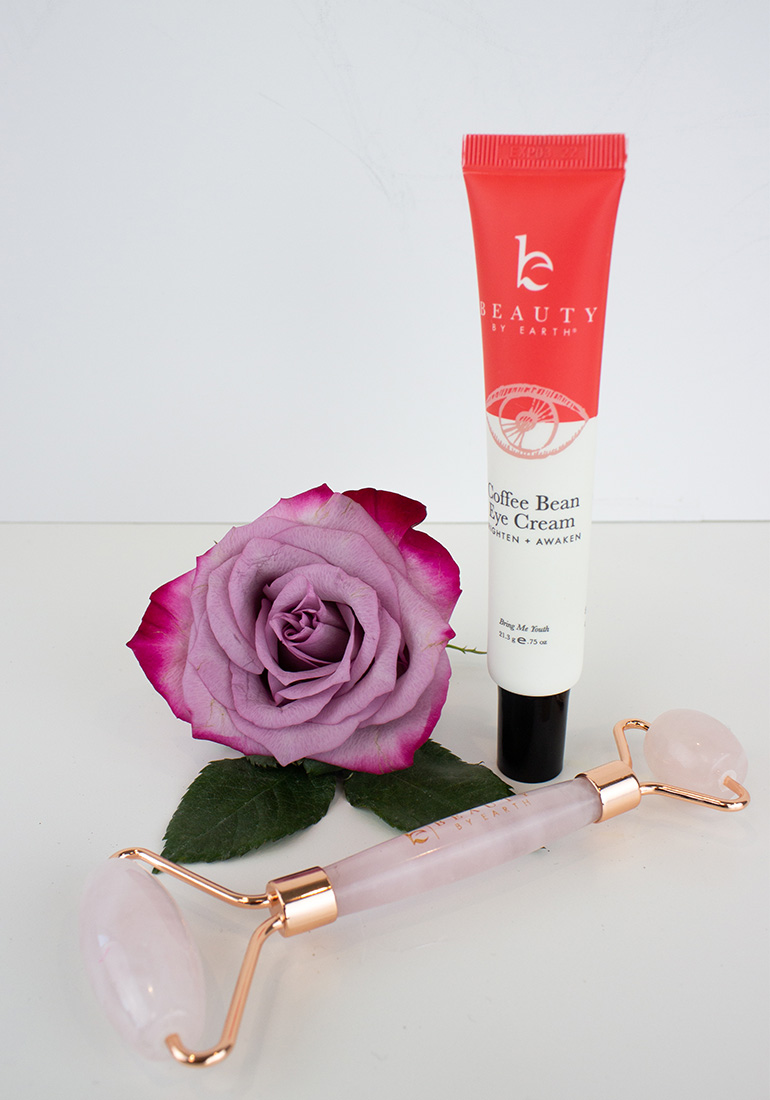 Perfect For. . .
PROMOTING LYMPHATIC DRAINAGE FOR CLEARER, MORE GLOWING SKIN
BRIGHTENING YOUR UNDER EYES
GETTING YOUR FAVORITE SKINCARE PRODUCTS TO SINK INTO YOUR CUTE FACE
PREVENTING WRINKLES AND ROLLING AWAY FINE LINES
REFRESHING TIRED EYES AND GETTING RID OF PUFFINESS
The DEETS
SKIN TYPE
Safe for everyone to use, even you sensitive babes! Both our rose quartz roller and our eye cream that make up this Rosy & Radiant duo are safe for all skin types.
TEXTURE + COLOR
This roller is made of a smooth, cool stone with a lovely rosy hue. Along side its trusted sidekick, our Coffee Bean Eye Cream, which absorbs easily into the skin with a delicious yet subtle hint of cranberry and jasmine scent.
AMOUNT
All you need is a little pea sized amount to moisturize that delicate skin around your eyes, and to feel brand new!
FREQUENCY
We recommend using our Coffee Bean Eye Cream morning and night, but suggest adding the rose quartz roller only to your nighttime routine.
TIME TO RESULTS
Many people notice the physical results of lymphatic drainage and reduced puffiness upon their first use of our rose quartz roller! For more visible results, we recommend 2-3 months of regular use. As for our Coffee Bean Eye Cream, with the help of your roller you'll notice brighter eyes within about 15 minutes of application! And after that 2-3 months we mentioned above, deep wrinkles will noticeably soften and be less visible. We know, pretty amazing right?
REPLENISH
Here's some more good news. With proper care, your rose quartz roller should last you indefinitely! As for your new favorite eye cream, replacing it ever 3-4 months is the common timeframe most BBE babes adhere to.
What's Inside
Select an ingredient to see where it's from, why we picked it, and other products with similar ingredients.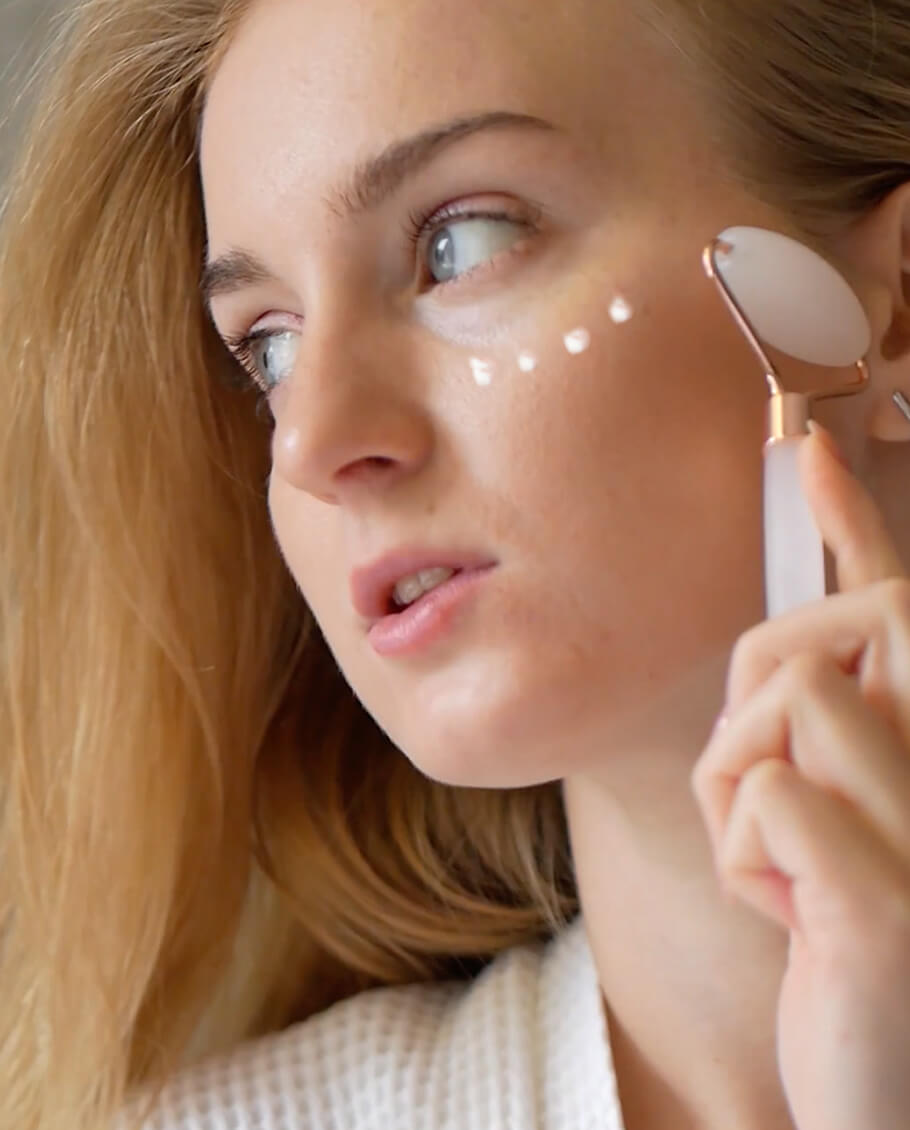 Seriously the most perfect pairing! It's the perfect pick me up for my skin.
How to use
STEP 1:

First thing's first: you don't want to roll dirt and bacteria into that precious face of yours, babe! Make sure you're starting with a clean slate, ready to apply your eye cream and to get rolling. We recommend a gentle foaming cleanser like this one, to really get your Rosy & Radiant routine started off on the right foot.

STEP 2:

Squeeze a very small amount of eye cream onto your fingertips. Transfer a few dots of cream underneath each eye. Use your ring finger to gently pat the cream into the skin around your eye area, and don't worry if there is a bit of residue because your rose quartz roller is here to help all the product sink into your skin. Be gentle, and don't get any in your eye!

STEP 3:

Take your Rose Quartz Roller and highlight these main areas; Forehead: Roll downwards towards your ear until you reach your temple. Eyes: Use the smaller end of your roller for the skin around your eyes. Begin by placing your roller on the inner corner of your under eye. Roll outwards towards your ear. Face: Roll your cheekbones, lips, and chin using the same basic method as your forehead and eyes. Starting at the center of your face (next to your nose, in the center of your upper lip, or the center of your chin), roll outwards towards your ears. Jawline: Set your roller on the center of your chin, then roll upwards towards your cheekbones. Repeat from your chin's underside towards your ears, then from the top of your neck down to your collarbones.
What Customers Are Saying
Frequently Asked Questions
Get excited! Your gift set includes our lovely rose quartz roller and award-winning Coffee Bean Eye Cream. These two brightening bffs come in their very own gift bag, too, so they'll always stay together. Win, Win, Win!
Our Rose Quartz roller is a beauty tool that makes it easy to give your skin the benefits of quartz. Each roller showcases two beautiful stones in a well-crafted roller. Every stone is 100% natural Rose Quartz.
Start with a clean face! Make sure you get your skin nice and prepped by cleaning it with a gentle face wash or facial soap. Next, apply small, pea-sized dots of eye cream to the skin under both your eyes and gentle massage in. Finally, get rolling! Starting from the center of your face, roll outwards towards your ears. Use the larger stone for your forehead, cheeks, jawline, and neck, and the smaller stone for the areas around your eyes. Repeat each section 5 times before moving on to the next. We like this video guide.
Yes. Many of our customers find that putting their roller in the refrigerator or freezer enhances their experience. This is perfectly safe to do and will not harm your roller.
Coffee (a.k.a. caffeine) is great for your eyes for numerous reasons! Its unique chemical framework helps constrict your skin's blood vessels (which show up as blue tones in your skin), hence reducing those dark circles and puffiness under your eyes. BIG WIN! Coffee also helps brighten your skin around your eyes. It gives you that bright-eyed and bushy-tailed vibe regardless of how much fun you had staying up late last night. 😘
We'll never put these bad dudes in any of our products.
Nope:

Parabens, Pegs, SLS, or SLES

No way:

Synthetic dyes or fragrances

Never:

Toxic Ingredients We Will NEVER Put In Our Products
Real reviews by real people