New
"Lightweight and great scent. " -Cory L.
ANTIOXIDANT FILLED, WRINKLE-FIGHTING CREAM
Free & Easy returns — all day, 'er day!
Hyperactive Anti-Aging Vitamin C Cream
Formulated with our exclusive HyperActive Anti-Aging blend, this intense blend of hydrating ingredients mingles with powerful anti-oxidants. The result is a rich moisture that repairs and protects the skin's barrier. Revive otherwise dry, lackluster, aging skin into a glowing, youthful complexion.
We make it easy
30-Day 'Love it or Money Back' Guarantee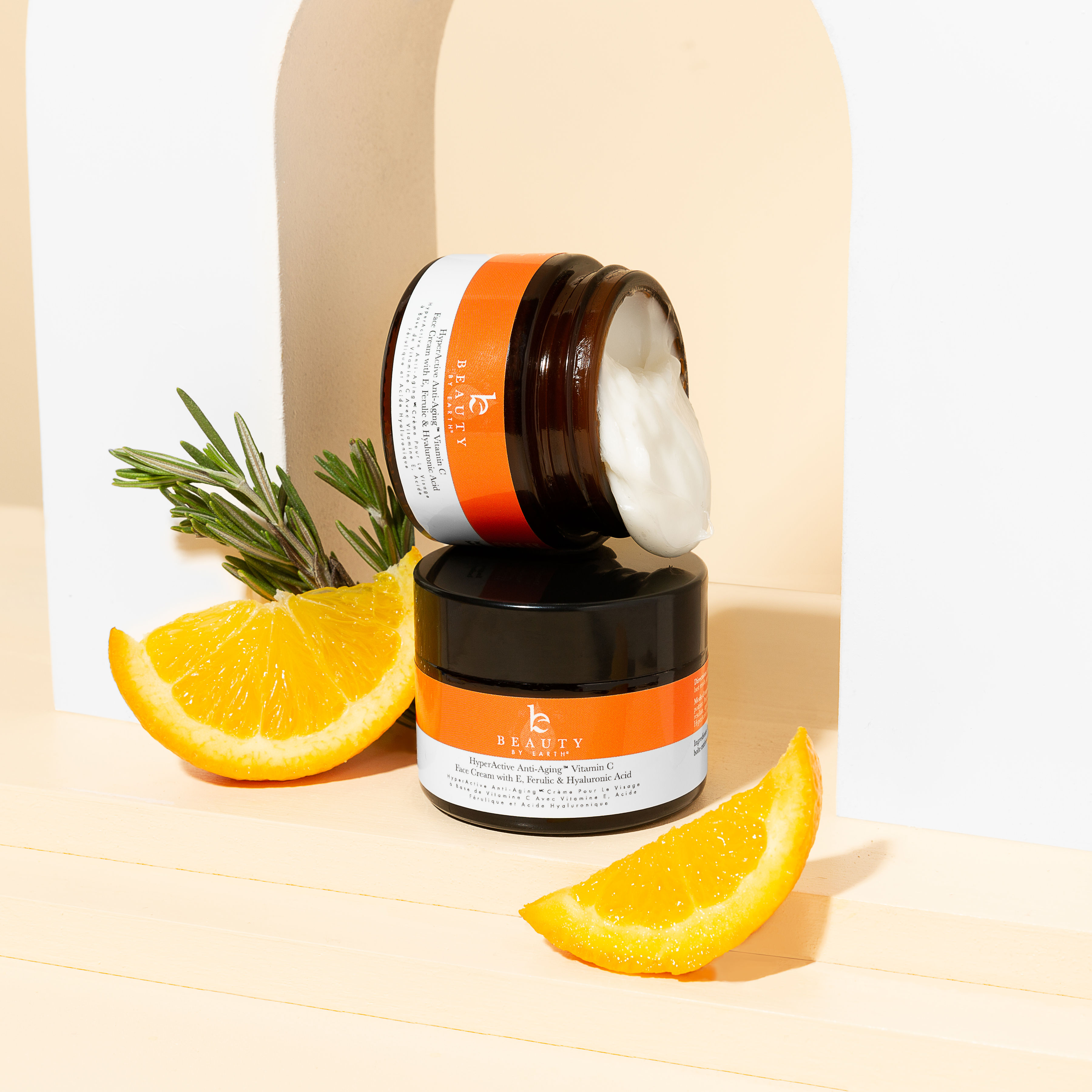 Perfect For. . .
Reviving dry, lackluster, aging skin into a glowing, youthful complexion!
Preventing fine lines, wrinkles, breakouts and reducing inflammation
Upping your daily dose of skin nourishing essential oils and powerful antioxidants
Making your skin glow and leaving it *super* smooth to the touch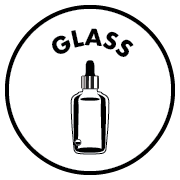 The DEETS
SKIN TYPE
This HyperActive Vitamin C Cream is great for all skin types. Yes, even you sensitive babe!
SCENT + TEXTURE
This cream is lightweight yet provides real hydration for dryer skin types as well. It smells fresh and refreshing thanks to its sweet orange oil, without lingering on your skin for too long afterwards.
AMOUNT
Just enough to cover the face and don't forget the neck!
FREQUENCY
Use this HyperActive Vitamin C cream twice a day, after you've cleansed and toned. If you use a serum, we recommend applying it before your cream. If you're facial oil obsessed, apply this product on top of your HyperActive Vitamin C cream as a last step. We recommend starting off by using this moisturizer once a day if you know your skin tends to be on the sensitive side.
TIME TO RESULTS
You'll notice brighter, more glowing skin after the first use. Stick with it though, and within 3-4 weeks you'll begin to notice dark spots fade away and hyperpigmentation reduced, and smaller more refined pores!
REPLENISH
Depending what your HyperActive Vitamin C cream ritual looks like, replenishing every 1-2 months should keep you right on track to having bright, smooth, more even looking skin.
What's Inside
Select an ingredient to see where it's from, why we picked it, and other products with similar ingredients.
Vitamin C
Sodium Ascorbyl Phosphate
Benefits:
The sun works hard but Vitamin C works harder. This component in building stronger, brighter, skin against UV rays and those pesky sun spots that have begun creeping up on your skin. Let this ingredient do the heavy lifting by boosting collagen production and giving your skin maximum security against antioxidants.
Also In
Aloe Vera Gel
Facial Sunscreen
Tinted Facial Sunscreen Toffee
Broccoli Seed Oil
(Brassica Oleracea Italica)
Benefits:
Yes - you read that right! Broccoli is more than just a side for a hearty dinner. Broccoli seed is rich in the antioxidant, Vitamin A which is key in fighting off outside intruders like free radicals and bacteria.
Willow Bark Extract
(Salix Alba)
Benefits:
This incredible ingredients has been used for centuries by physicians and midwives the world over. It contains a compound called salicin which is used to create salicylic acid. Willow bark's fame comes from it's antibacterial, anti-inflammatory, and acne soothing properties. It's also great at alleviating redness and irritation from skin.
Squalane Oil
Olea Europea
Benefits:
The hype around this ingredient in skincare is real. Squalane oil boasts numerous benefits for various skin types, such as balance oil production, powerful anti-aging properites, and anti-inflammatory properties for acne and eczema prone skin. Moreover, applying a product with squalane oil in it will give you an instant glow because this ingrediet boost blood circulation in the skin, making those cheeks look rosy and dewy in a cinch.
Hyaluronic Acid
(Sodium Hyaluronate)
Benefits:
A wonderful hydrator, Hyaluronic Acid helps your skin soak up moisture like a sponge soaking up water. As we age, the amount of Hyaluronic Acid produced by our bodies tends to decrease. This nourishing ingredient helps prevent fine lines and wrinkles, helping keep that youthful glow. It's hydrating and aids in reducing redness or irritation on the skin. Adding this natural substance back into our skincare products helps our overall skin health tremendously!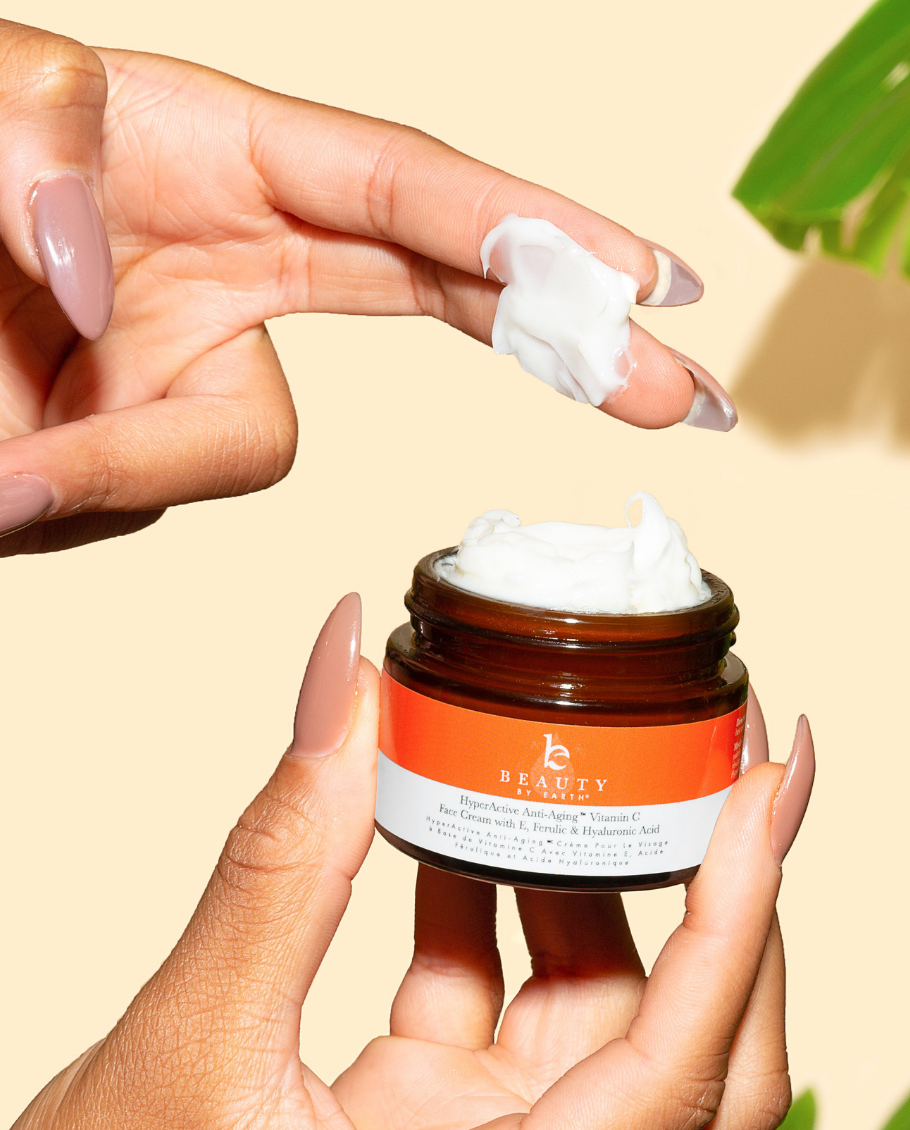 I am loving the Vitamin C products!
How to use
Step 1:

You'll want to use this bad boy on a clean canvas, babe. This is so your skin can truly soak up all of the benefits Vitamin C has to offer (they're endless, we promise!). Once you've gotten rid of any traces of makeup (and used your fave BBE cleanser and toner of course), you're ready to move on!

Step 2:

It will sink into your pores easily, without any greasy residue. Because really, who has time for that? We recommend massaging it into your face for a few seconds, and letting it sink in before moving on to your facial oil if you use one. If you're a serum loving babe, we recommend applying it under your HyperActive Vitamin C cream for the best brightening results.




Step 3:

As mentioned above, you can totally apply your fave BBE facial oil on top of your HyperActive Vitamin C cream if that's your jam. If you're skipping facial oil though, that's cool too. Hit the hay feeling moisturized and bright, babe. And if you're applying in the A.M.? This cream won't make your foundation look cakey or oily, and is the perfect canvas to move onto your usual makeup routine. But if we're being real here, our HyperActive Vitamin C cream will leave your skin so dewy and glowing that you likely won't even want to wear makeup when you're done applying it!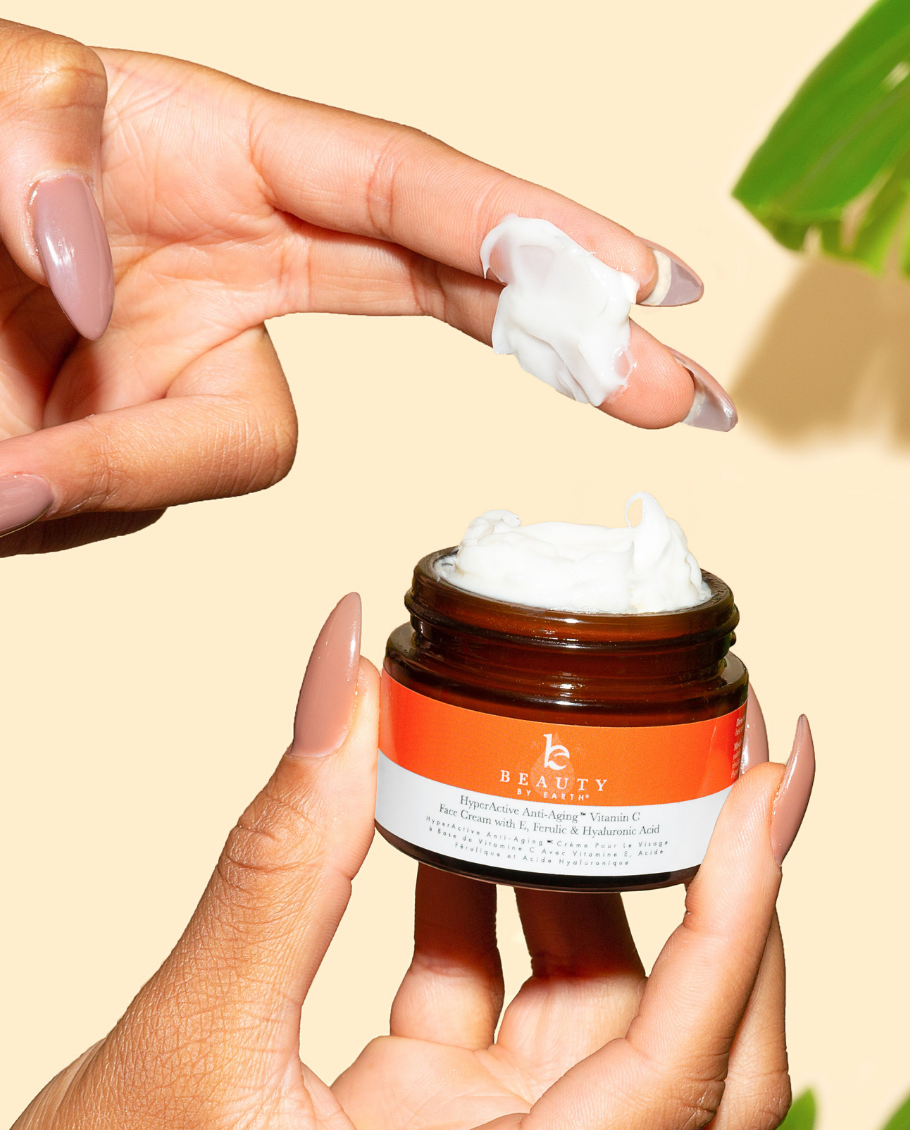 Frequently Asked Questions
Babe, yes! We created this HyperActive Vitamin C Cream so that everyone could enjoy its brightening benefits. We use clean, effective ingredients that will never irritate your skin – we promise.
Although many Vitamin C products can cause a stinging or an itchy effect to the skin, our HyperActive Vitamin C Cream is different. We formulated this product to be gentle on all skin types, while delivering real results. If you want to be on the safe side, we recommend patch testing it to a small area of the skin on your first use.
If you already use a Vitamin C toner, serum, or other, we recommend patch testing the cream and layering a small amount of product on top of it upon first use. This is because depending on the potency of Vitamin C in your other products, this could cause irritation.
Girl, it doesn't get any easier than this! Simply apply our HyperActive Vitamin C cream after cleansing and toning, and move on with your life! We love using our HyperActive Vitamin C serum under this cream, but you do you boo!
Nope. We're not fans of those guys.
Good news! Vitamin C has been shown to reduce redness and create a more even complexion.
Not strong, babe. You'll enjoy a refreshing scent upon application that dissipates within a few seconds. No one wants a strong, annoying fragrance lingering around, #amirite?
Yes! Want to learn more? Get in touch at wholesale@beautybyearth.com to get started.
We'll never put these bad dudes in any of our products.
Nope:

Parabens, Pegs, SLS, or SLES

No way:

Synthetic dyes or fragrances
Real reviews by real people