"I have noticed immediate results!" -Emily R.
A MINTY FRESH FACE WASH
Free & Easy returns — all day, 'er day!
Foaming Face Wash Peppermint Tea Tree
Wake up that face with our refreshingly simple peppermint tea tree foaming facial cleanser. Full of nourishing extracts and bacteria-busting tea tree oil, it'll keep you fresh, clean, and ready for the day.
We make it easy
30-Day 'Love it or Money Back' Guarantee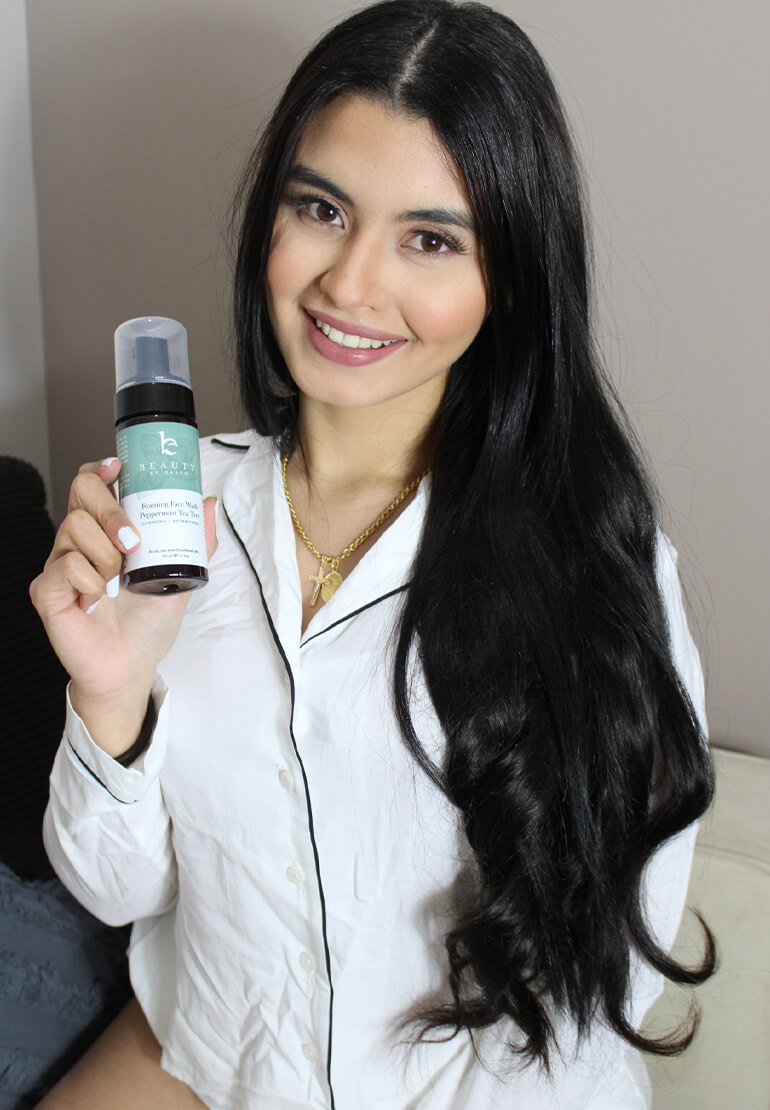 Perfect For. . .
A GENTLE CLEANSER TO CLEAR AWAY THE DAY AND OIL!
HYDRATING YOUR SKIN WHILE PREVENTING BLEMISHES!
ALL SKIN TYPES!
The DEETS
SKIN TYPE
This incredibly gentle cleanser is perfect for sensitive skin and those who have problematic skin - Anyone can use this face wash!
SCENT AND TEXTURE
It's minty, earthy, all natural scents and ingredients to keep you clean and balanced. So smooth and airy you'll love the way it feels on your skin.
AMOUNT
Just a pump or two should do the trick!
FREQUENCY
Anytime! We recommend morning, night, or even a mid-day refresh.
TIME TO RESULTS
Give this guy 2-3 weeks before he really starts to show his true colors. Everyone's skin will react differently so give or take a couple days, but know after that first use, this cleanser is working to keep that skin healthy!
REPLENISH
2-3 months is usually the replenish rate most babes prefer!
What's Inside
Select an ingredient to see where it's from, why we picked it, and other products with similar ingredients.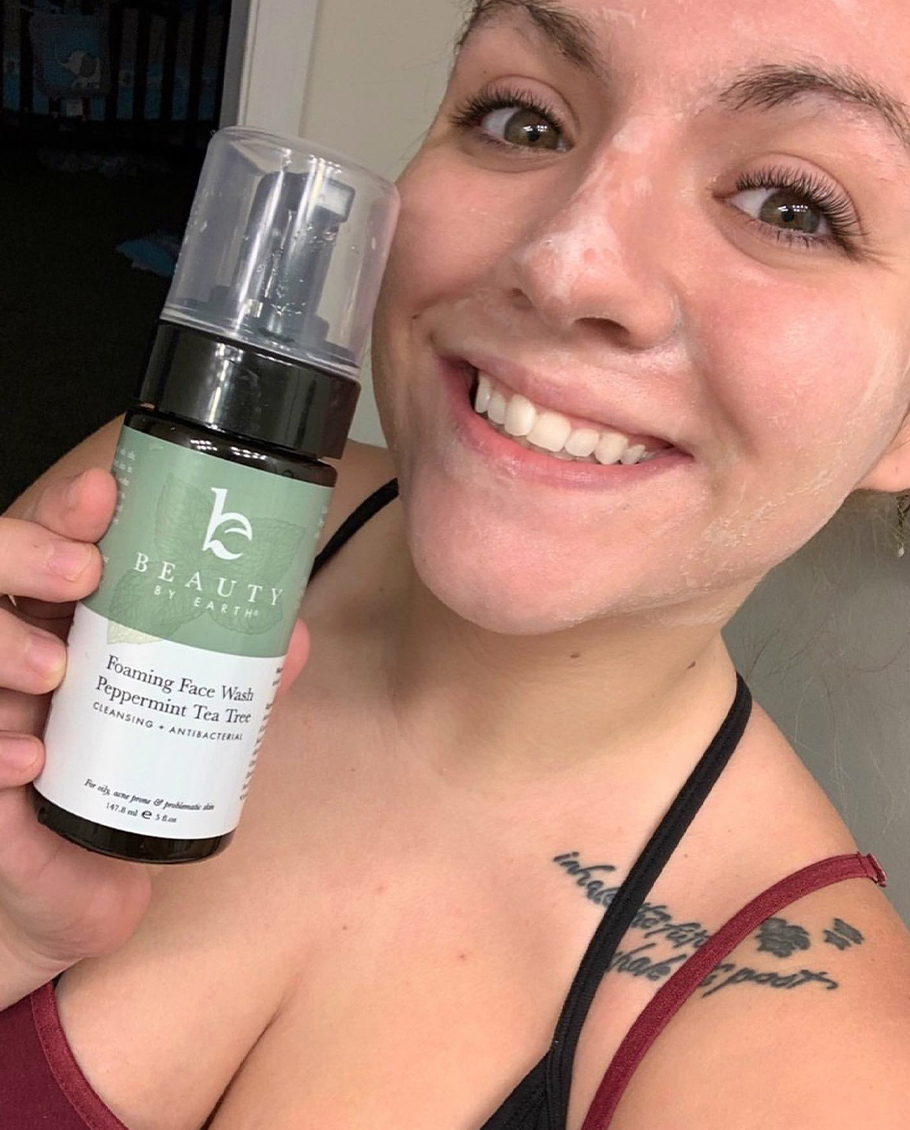 I wish I would have tried this product sooner..it has been AMAZING. I have noticed immediate results in the clarity of my skin.
How to use
Step 1:

Use a damp washcloth to wet your face, or just splash some water up there if that's your thing!

Step 2:

Apply cleanser to your face using circular motions. Be gentle, but don't be afraid to work up a good lather!

Step 3:

Follow up with your favorite toner, serums, moisturizer, and cosmetics.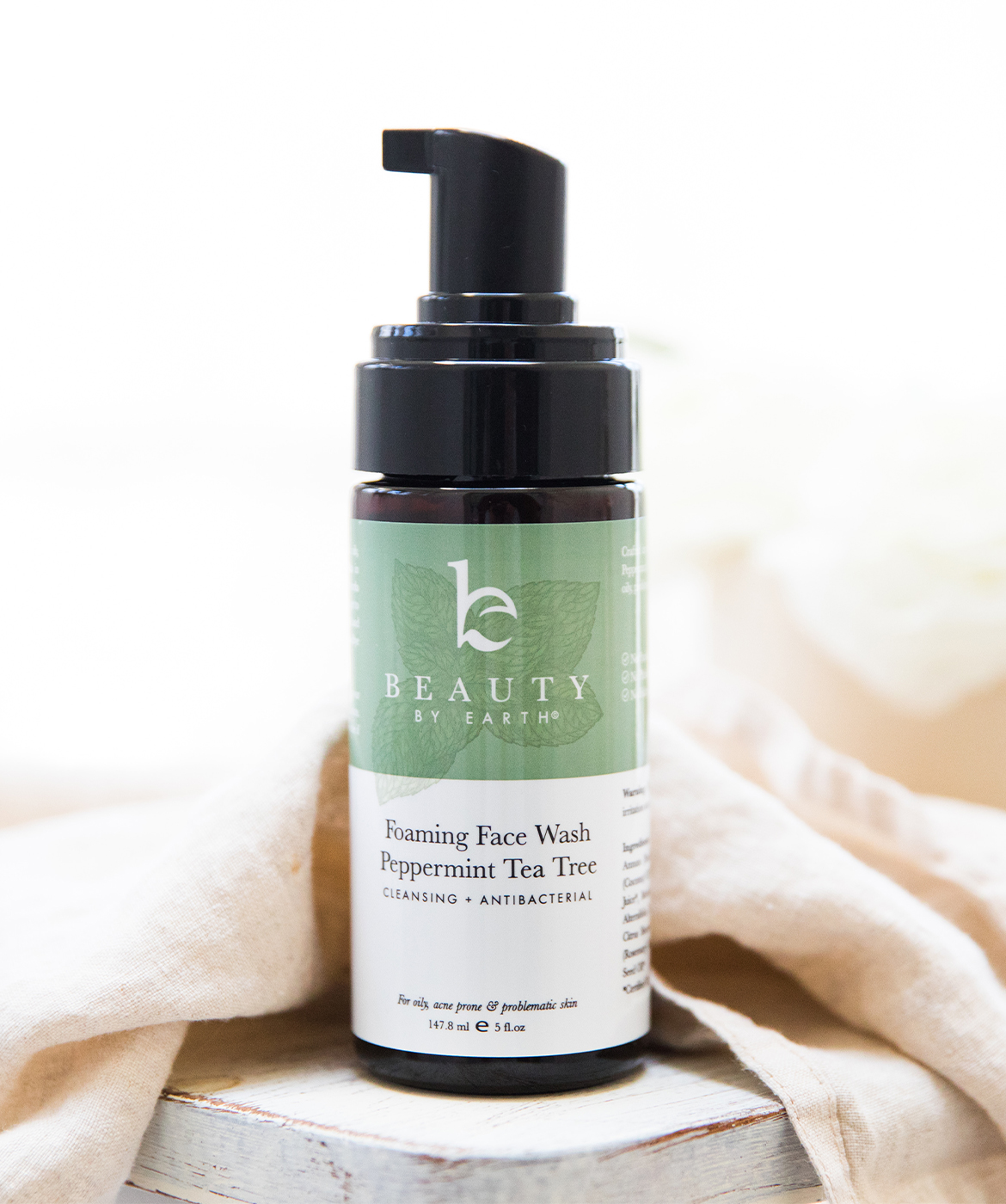 Our Foaming Face Wash Peppermint Tea Tree Is Different:
Perfect for Oily or Problemstic Skin
Suds and Cleans Like a Champ
Made with Certified Organic Ingredients
Our Foaming Face Wash Peppermint Tea Tree Is Different:
Perfect for Oily or Problemstic Skin
Suds and Cleans Like a Champ
Made with Certified Organic Ingredients
Our Foaming Face Wash Peppermint Tea Tree Is Different:
Perfect for Oily or Problemstic Skin
Suds and Cleans Like a Champ
Made with Certified Organic Ingredients
What Customers Are Saying
Frequently Asked Questions
While not all of the ingredients in this cleanser are certified organic, many of them are. Organic or not, all of the ingredients we use in our products are safe, natural, sustainably sourced, non-toxic, and amazing for your skin. It is made with over 75% certified organic ingredients.
It is! We never use parabens in any of our products. Instead, we choose safe, natural preservatives to extend our products' shelf lives.
Here's the full list: Aqua, Saponified Oils of Helianthus Annuus (Sunflower) Seed Oil* and Cocos Nucifera (Coconut) Oil*, Glycerin*, Aloe Barbadensis (Aloe) Leaf Juice*, Menthe Piperia (Peppermint) Oil, Melaleuca Alternifolia (Tea Tree) Oil, Litsea Cubeba (Litsea) Oil, Citrus Sinensis (Orange) Oil, Rosmarinus Officinalis (Rosemary) Extract, Simmondsia Chinensis (Jojoba) Seed Oil*. (*Certified Organic Ingredient)
Foaming face washes expand to make sure your pores are completely clean and clear. Our foaming washes are light, gentle, and natural, keeping your complexion fresh and residue-free
We designed this face wash with acne-prone skin in mind. While we're not saying it'll clear up any breakout, we will say that the tea tree oil it contains can reduce acne-causing bacteria.
It is! All of the ingredients included are gentle, natural, and generally well tolerated by sensitive skin. However, as with any new product, it's wise to test out a little bit on a small area of skin first.
The main fragrance for this cleanser is peppermint essential oil. We've also included orange oil, and tea tree oil brings its own special aroma to the party. The fragrance you end up with is refreshing, invigorating, and great for any gender.
Our natural foaming cleanser is safe to use every day as part of your skincare routine.
Lots! We recommend pairing it with konjac sponges for a little extra exfoliation while you cleanse. Follow up with a toner, a moisturizer, and your preferred cosmetics.
We do! Want to talk more? Get in touch with us at wholesale@beautybyearth.com to get started.
We'll never put these bad dudes in any of our products.
Nope:

Parabens, Pegs, SLS, or SLES

No way:

Synthetic dyes or fragrances
Real reviews by real people
BUBBLES THAT BUST BACTERIA FOR A CLEAR, EVEN COMPLEXION.
REFRESHINGLY CLEAN: Bid dirt, grime, oil, and other daily buildups a not so fond farewell. Our peppermint tea tree foaming facial cleanser cleanses away the stuff that builds up over the day. You'll be left with a face that's refreshingly clean – all without any dangerous synthetic ingredients.
FIND BALANCE: We've included tea tree oil in this foaming facial cleanser to give your skin a little extra boost. A powerful natural antibacterial, tea tree oil helps control the skin bacteria that can lead to acne. Reduce redness, puffiness, pimples, and eczema flare-ups without resorting to harsh chemicals.
GENTLE AND SAFE: Made with only safe, natural ingredients, our foaming facial cleanser is right for all skin types. Use it to help control breakouts on sensitive skin, or to clean faces of any age. Lightly scented with peppermint essential oil, this cleanser works well for any gender.
ONLY THE GOOD STUFF: Sick of nasty toxic junk in your facial cleansers? So are we. Our peppermint tea tree cleanser is made with certified organic ingredients, including coconut oil, aloe vera leaf juice, and jojoba oil. We've left out the parabens, sulfates, and artificial fragrances, so you can be sure you're only getting the good stuff.
LOVE IT OR LET US KNOW: We know you're gonna love what our peppermint tea tree foaming facial cleanser can do. We're so confident that we'll even guarantee it. Every product we sell comes with a 30 day, 100% Customer Satisfaction Guarantee. If at any point over the next month you don't love your cleanser, just send it back and we'll give you a full refund – no awkward questions required.
Refreshingly Clean. Naturally Clear. Authentically Beautiful.
That pretty face of yours deserves the best. Give yourself the care you deserve with our peppermint tea tree foaming facial cleanser. We've started with a base of naturally cleansing ingredients, then took things to the next level by adding peppermint and tea tree oils. The result is a lightweight face wash that cleanses without residue while naturally fighting acne and eczema.
Meet tea tree oil: your face's new best friend. This guy is a natural skincare powerhouse. Chock full of antibacterial, anti-inflammatory, and antifungal compounds, tea tree oil helps reduce redness, irritation, and dry skin. Use it to fight the bacteria that cause acne, and to help diminish the frequency and intensity of eczema and psoriasis flare-ups. The best part? You can do it all without the harsh (and sometimes toxic) synthetic chemicals common in conventional facial cleansers.
Safe, gentle, and refreshing, our peppermint tea tree cleanser is suited for all skin types and ages. We never test on animals, use responsibly sourced ingredients, and make all of our products in the USA. We're so sure you'll love the difference our foaming facial cleanser makes that we back it with our Love It or Let Us Know guarantee. Give it a try and see the difference tea tree oil can make for your complexion.
How to Use Our Peppermint Tea Tree Foaming Facial Cleanser
Wet your face. Use a damp face cloth, or just get splashing – whatever works for you!
Pump about half a pump of cleanser onto a facial sponge or your fingertips.
Use circular motions to apply your cleanser to your face. Work up a good lather, but be gentle!
Use warm water or a damp washcloth to rinse your face.
Complete your routine with your favorite toner, serum, moisturizer, and cosmetics.