"I love that it has no smell. This formula actually smooths and conditions my underarms, but provides protection from odor." -Debbie N.
FROM SWEATY TO SUBLIME IN A SWIPE
Free & Easy returns — all day, 'er day!
Aluminum Free Deodorant Unscented
Keep it fresh without distress. Our natural unscented deodorant makes sure you feel clean and dry. We're keeping it simple and sensible by skipping the aluminum, parabens, and fragrances.
We make it easy
30-Day 'Love it or Money Back' Guarantee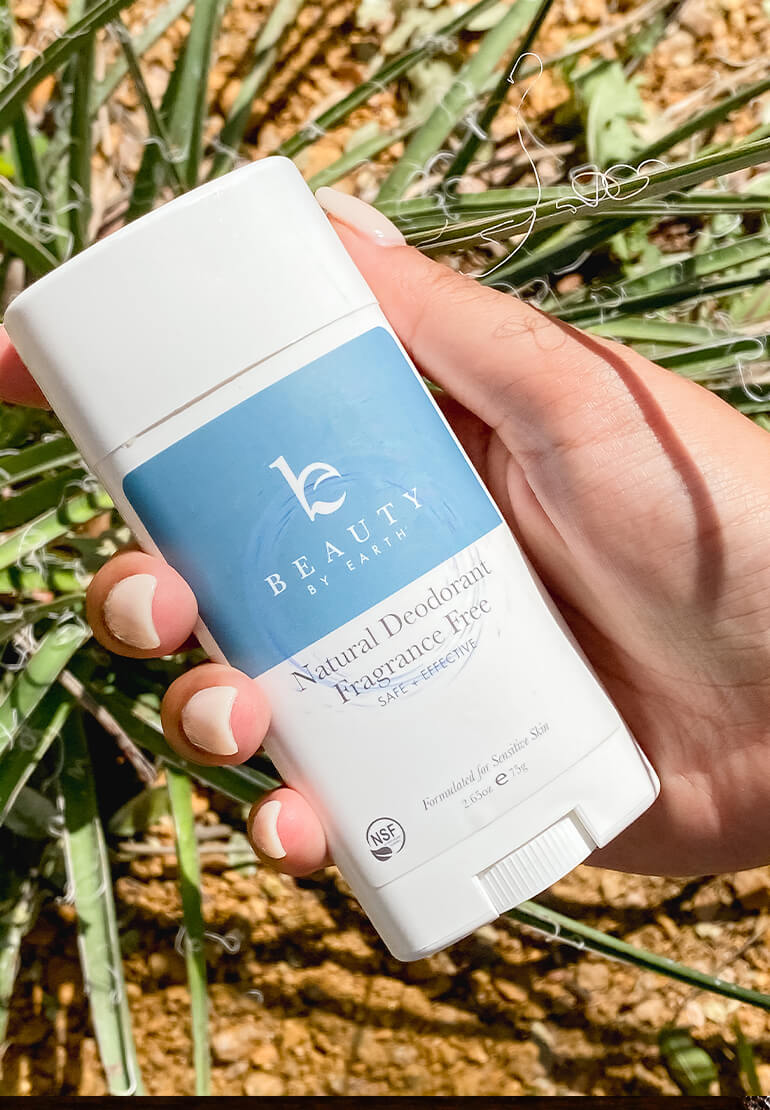 Perfect For. . .
ANYONE WHO SWEATS...
LASTING FRESHNESS WITHOUT THE ALUMINUM OR FRAGRANCE
ALL DAY PROTECTION FROM STINK
ANYONE WITH SENSITIVE SKIN
The DEETS
SKIN TYPE
This natural deodorant is perfect for all skin types! As an essential to our daily routines, we wanted everyone to be able to use this aluminum free deodorant - even those with sensitive skin.
SCENT + TEXTURE
No scent here, but it gets the job done, keeping you refreshed and dry throughout the day. The texture is smooth… heat can help it absorb into the skin. (pro tip: hold the stick under your arm for a couple seconds before applying)
AMOUNT
Just a couple swipes is all you need, a little goes a long way!
FREQUENCY
Apply one - two times daily. Reapply as needed when working out or breaking a sweat!
TIME TO RESULTS
After applying the deodorant, you're all set! It's already absorbing into your skin ready to keep you dry and clean!
REPLENISH
2-3 months is typically the sweet spot for replenishing your deodorant for most.
What's Inside
Select an ingredient to see where it's from, why we picked it, and other products with similar ingredients.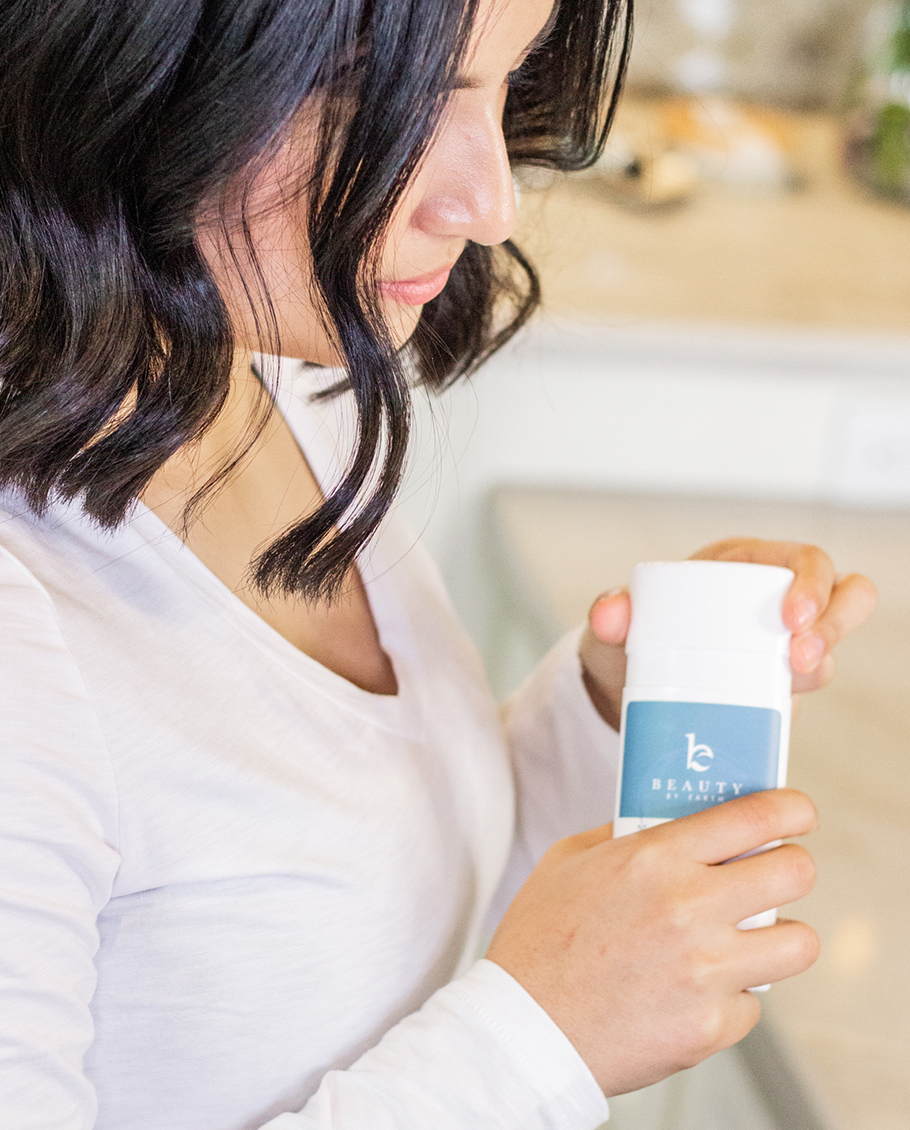 Finally! Natural deodorants have either left me stinky or left my underarms full of bumps. I am so happy to have finally found a natural deodorant that works!
How to use
Step 1:

Put it on after a shower, after a workout, or even after a long, hard day. Use as needed.

Step 2:

Hold the deodorant stick under your arm for a couple seconds before applying. Resist the urge to cake it on—a couple swipes is all you need.

Step 3:

If you've just shaved, your skin may be more prone to irritation. Our stick is gentle and non-irritating, but it's still smart to give yourself a few minutes before applying.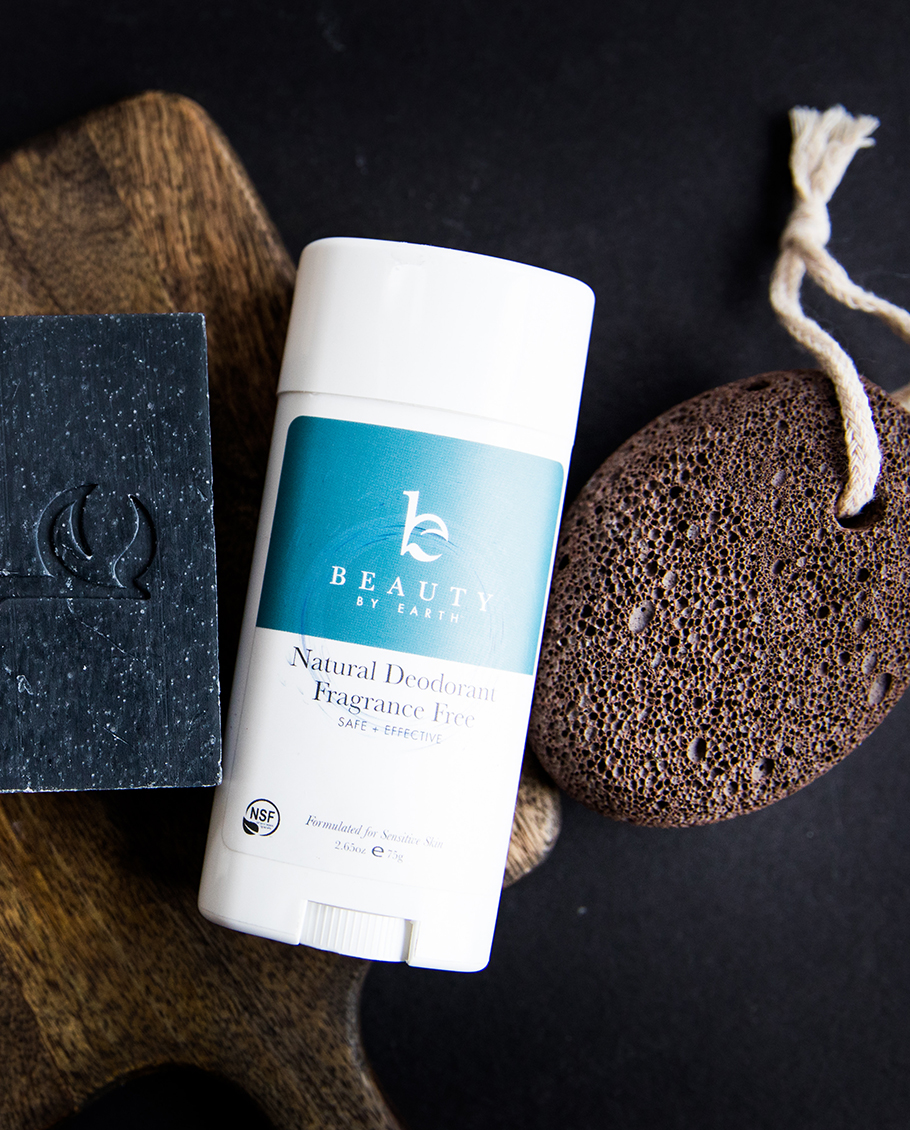 OUR DEODORANT IS DIFFERENT:
Aluminum Free
Vegan & Cruelty Free
Smooth Lasting Formula & Completely Unscented
OUR DEODORANT IS DIFFERENT:
Aluminum Free
Vegan & Cruelty Free
Smooth Lasting Formula & Completely Unscented
OUR DEODORANT IS DIFFERENT:
Aluminum Free
Vegan & Cruelty Free
Smooth Lasting Formula & Completely Unscented
What Customers Are Saying
Frequently Asked Questions
This product is a deodorant. It doesn't stop you from sweating, just stinking. Aluminum is the most common form of antiperspirant. Unfortunately, it can cause a lot of harm to your body by blocking in sweat and toxins your body needs to release. If you want to learn more, check out this great post on how to detox from toxic deodorants and switch to a natural alternative.
No, but it will help you feel dryer. Even better, it will help balance the ecosystem under your arms, reducing bad-smelling bacteria and helping you smell better 24 hours a day. That's the biggest advantage of switching to a natural deodorant.
No way. All of our deodorants are aluminum free.
There are a couple reasons. First, aluminum has been linked to some pretty serious health issues, including hormone imbalance, endocrine disruption, and even Alzheimer's Disease and cancer. We're still trying to fully understand the effects of this ingredient, so it makes sense to avoid it until research is complete. The other reason has to do with how aluminum works. An aluminum antiperspirant actively plugs your sweat glands. While this will keep you from sweating, it also creates an environment ripe for unhealthy bacteria. In the end, you'll smell worse than if you used an aluminum free deodorant.
Our unscented deodorant uses organic corn starch and sodium bicarbonate to help keep you feeling dry. We also use coconut oil and shea butter to create a soft, gentle product that goes on smoothly.
Our customers find that it takes a few weeks for any natural deodorant, including ours, to start working fully. This is because your body is adjusting to the impact of the chemicals found in conventional antiperspirants. Give our deodorant a try. If you don't notice a difference in a month, let us know for a refund.
Our deodorant comes as a stick.
Absolutely! The ingredients we use are gentle and safe for all skin types. However, we also like to suggest testing new products out on a small area of skin to see how you react. In the unlikely event your skin reacts poorly, let us know for a refund.
When used correctly, our deodorant won't affect your clothes at all.
Not much! Our unscented deodorant is just that: unscented. If you'd prefer a scented option, check out our lavender, sweet citrus, and vanilla coconut variations.
Absolutely not! We don't use parabens in any of our products.
No way. We're certified cruelty free and never, ever test on animals.
You bet it is! Get in touch with us at wholesale@beautybyearth.com to learn more.
We'll never put these bad dudes in any of our products.
Nope:

Parabens, Pegs, SLS, or SLES

No way:

Synthetic dyes

Never:

<a href="https://www.beautybyearth.com/toxic-ingredients-we-will-never-put-in-our-products/">Toxic Ingredients We Will NEVER Put In Our Products</a>
Real reviews by real people
FROM FOUL TO FRESH IN A SWIPE
Keep it fresh without distress.
Description
ALUMINUM? NO THANKS: Treat your body right all over. Our natural deodorant unscented is free of aluminum. Instead, you'll work with your body to stay fresh, clean, and smelling great. All it takes is a few natural ingredients and a commitment to a happier, healthier you.
THERE THROUGH THICK AND THIN: What's the point of a deodorant that doesn't work? Our stick is as effective as it is simple. Our thoughtful balance of drying components and skin supporting oils and butters means you'll keep fresh through even your longest days.
SENSIBLE AND SCENT FREE: Not everyone wants a scented deodorant. We think that's great! That's why we skipped the essential oils. Our unscented deodorant is smooth, non-sticky, and completely scent-free, giving you a simple, sensible, and entirely effective sweat solution.
JUST RIGHT FOR YOUR SKIN: Whether your skin is tough, sensitive, or somewhere in between, our natural deodorant unscented will work for you. All-natural and non-irritating, it's designed to be gentle on the delicate skin under your arms. And as an added bonus, it's just as gentle on your clothes as it is on your skin.
LOVE IT OR LET US KNOW: We know you're gonna love what our natural deodorant can do. We're so confident that we'll even guarantee it. Every product we sell comes with a 30 day, 100% Customer Satisfaction Guarantee. If at any point over the next month you don't love your unscented deodorant, just send it back and we'll give you a full refund – no awkward questions required.
Naturally Fresh. Naturally Dry. Naturally You.
Some people want to smell like a rose. Some people want to smell like themselves. But we all have one thing in common: no one wants to smell like sweat. That's where natural deodorant comes in. We'd like to introduce you to Beauty by Earth's natural deodorant unscented. We've blended our favorite drying components with a select few supporting ingredients to create a deodorant that's safe, sensible, and above all else effective.
Why choose a natural deodorant? It all comes down to what you don't get. We leave out harmful ingredients like aluminum, parabens, and fragrance. Instead, our stick is made of natural wetness fighters and luxurious oils and butters. The result is a one of a kind perspiration solution that leaves you feeling clean and fresh all day long.
Our biggest goal when designing our unscented deodorant was to work with your body. That's why it helps reduce unpleasant odors without interfering with what your body does naturally. Even better, every stick we make is made with natural and organic ingredients, cruelty-free, and proudly made in the USA.
Not sure if natural deodorant is right for you? We understand. Give it a try. If you don't love it, let us know.
How to Use Our Unscented Deodorant
We get it – you know how to put on deodorant. Here are just a few tips that will make your experience a little better.
Unlike conventional antiperspirants, you can apply our deodorant as soon as you hop out of the shower. Or after the gym. Or whenever you need a little extra protection. Apply whenever needed.
Our stick is all about quality over quantity. There's no need to cake on the layers – just a swipe or two is enough.
Be careful with shaving. Even though our stick is safe, gentle, and non-irritating, it may not hurt to give yourself a little time after shaving before applying your deodorant.