Alright girlfriend, we know what you're thinking. Running yourself a bath and throwing on a face mask is a (insert yawn right here) stereotypical way of starting off your self-care routine. But before you decide to exit out of this blog post, hear us out on this one. Indulging in a bath on a regular basis can do so much more than relax you. From soothing irritated skin to burning calories, bathing truly is an underrated part of any classic beauty regimen. There is only one way to take the benefits of a warm bath to the next level, babe. And that is with the goodness of cruelty free bath bombs. However, not all of these babies are created equal and we're here to tell you why. Keep reading to find out why should never, ever underestimate the power of bath bombs in your self-care routine. 
Why bathing does more than make you smell & feel fresh as a daisy…
It's no secret that lounging around in a warm bath will have you feeling refreshed and brand new, real quick. I mean, taking a bath is practically synonymous with the words "relaxation" and "unwinding". However, soaking in the tub has benefits most babes have no idea about. Especially when you opt for bath bombs that pack a serious amount of essential oils in them.
Taking a bath can help relieve muscle tension, stress and body pain. 
To this effect, you may have heard about adding Epsom salts to the tub when your body is feeling sore or tired. However, just the effects of warm water alone are sometimes enough to provide relief. This is because the heat of the water helps to get your blood moving, thus improving circulation.
If you have dry, itchy skin – bathing instead of showering can be a savior. 
So long as your water temperature isn't scolding hot (this will only further irritate your skin), a warm bath with the addition of a moisturizing bath bomb (more on this gem later) can seriously soothe itchy and flakey skin.
Bathing can burn as many calories as taking a walk. 
Isn't that the most glorious piece of information you've received today? You're welcome, sis. Research has shown that taking a long bath has similar benefits as taking a long (30 minutes to be exact) walk! So hey, don't feel guilty the next time you opt for a bathing session over some exercise. 
Baths can awaken your senses (or calm them right down for some stellar sleep). 
We'll get into this a bit more later but depending on how you set up your bath time ritual, soaking in the tub can either help wake you up or put you right to sleep! Choosing a bath bomb or essential oils makes all the difference here. Want to feel energized? Reach for some citrus. Ready to catch some serious Zzz's? Lavender will help you do just that.
Don't run to the bathroom just yet, gorgeous. Now that you're all caught up on the many reasons you should take a nourishing bath on the regular, it's time to tell you all about curating the perfect luxurious bathing ritual – with the help of bath bombs, of course.
Ditch the toxic bath products that are currently living in your bathroom.
First thing's first. Before you invest in the bath bombs that will up your self-care game, you need to do a bit of cleansing, babe. So many of us are exposed to toxic chemicals when it comes to our beauty products and these culprits often sneak into our showers and tubs the most. Don't worry, we have a ton of blog posts on these bad guys, right here. But for the sake of this bath bomb-centered blog, let's stick to giving you the lowdown on these babies specifically.
You've definitely seen those *super* colorful bath bombs that end up making a disastrous mess in your tub when you're done with them. But babe, the chaos doesn't stop there. These guys often contain phthalates and benzene derivatives that are linked to cancer, fertility issues, hormone disruption, and a decreased immune response. Not to mention, they are often loaded with fragrance that can be irritating to your skin or worse, masked as more toxic chemicals (more on that, right here). Not so relaxing or on par with a self-care routine, right?
If you currently have any of these types of bath bombs in your bathroom, we totally encourage you to chuck them, like, right now. No sweat, babe – this blog post will still be here when you get back.
When it comes to choosing the perfect bath bomb, always trust the ingredient list.
Now that you know exactly what you don't want in your next soak session, let's shed some light on the bath bomb ingredients that will make your heart (and the planet) sing.
When choosing a bath bomb you can feel good about, always look for plant-based ingredients that favor even the most sensitive of skin types. Essential oils and powders are some examples of these and can be found in all of BBE's, cruelty free healing bath bombs. Of course, different ingredients have different benefits so here is a quick rundown of (just a few!) our faves.
Comfrey Root
Comfrey Root helps fight inflammation on the skin and treat any type of irritation. This is because this ingredient carries a skin-healing agent called Allantoin, which works quickly to heal and soothe wounded skin. Overall, you can count on this bad boy for overall healing (even for sensitive skin!).
Turmeric Powder
If you thought this ingredient was only good in the kitchen, think again babe! Turmeric helps reduce signs of acne scars and various types of dark spots. The anti-inflammatory properties it boasts also help fight & prevent acne while clearing up current breakouts. Plus, it's packed with antibacterial agents that work to dig the dirt and toxins out of your pores.
Ground Rose Petals
This ingredient is as dreamy as it sounds, sis. Roses contain natural oils that your skin will love, keeping it glowy and nourished. Forget how they add an incredible aesthetic (hello vibrant colors!) to your spa night, roses actually keep your skin buttery soft and are an excellent choice for sensitive babes.
Kaolin Clay
This natural clay helps absorb excess oil from the skin which helps to stop breakouts, pronto. It clears pores dirt and toxins which is perfect for anyone who gets pesky acne breakouts on their body. Moreover, kaolin clay provides some light exfoliation which leaves you with smooth, clean, touchable skin.
Sage Leaves
Packed with antioxidants, sage leaves will keep your skin looking youthful and even help restore existing skin cells. This powerful plant also helps boost skin elasticity, making it a great option for preventing fine lines and wrinkles, and for naturally tightening the skin. Plus, sage leaves are on our list of calming and refreshing scents!
Curate a self-care routine that starts (or ends!) with a relaxing, beneficial bath.
Think of taking a bath that includes the perfect bath bomb as a "prep" for your self-care routine. You can also choose to make it the ending to your regimen, but here's why we prefer the idea of starting with it.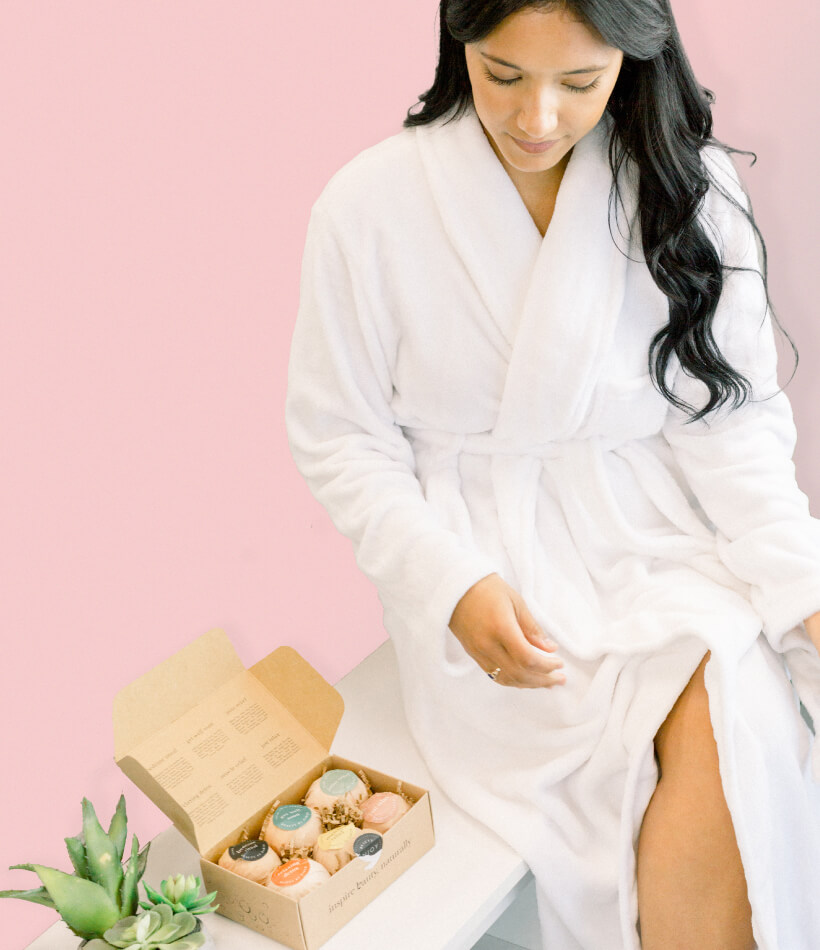 All of the ingredients we mentioned above (and the other gems you can brush up on, right here) have impressive moisturizing and nourishing effects on your skin. Therefore "prepping it" for products like body oils or moisturizers. What's more, starting your self-care routine with a bath does wonders for putting you in relax mode and of course, getting clean before you apply any additional beauty products.
However, if you want to use the power of bath bombs to put you into a deep sleep, that is totally cool too. If you choose to finish off your self-care ritual with a bath, just be sure to take a few minutes to apply a moisturizer that will lock in all of that bath bomb goodness before you drift off to dream those big dreams, babe. This brings us to our next pro-tip, below.
Pro Tip: Lock in moisture for your skin right after you're done bathing.
If there is one thing we think is *crucial* you do after bathing, it's moisturizing. Especially if you tend to run your baths on the (very) hot side. Hey, we're all sometimes guilty of this (mostly during those cold winter months!).
Lock in all of those amazing essential oils and powders by applying a lightweight body oil or moisturizing cream. This will make those bath bomb ingredients really go the extra mile, and your skin will feel like heaven, too. Plus, lathering up post-bath is another way to unwind and enjoy some me time.
Choose a bath bomb that fits your ever-changing needs.
Self-care routines should adapt to exactly what you need, on any occasion. We don't always have dry itchy skin, and we don't always have sore muscles (at least, we sure hope you don't!).
This is why BBE's bath bomb gift set can provide you with ideal options, no matter what the routine that day calls for. These babies are the perfect gifts for all your besties (including yourself, boo!). Check out the options we created that will personalize your bath, every time.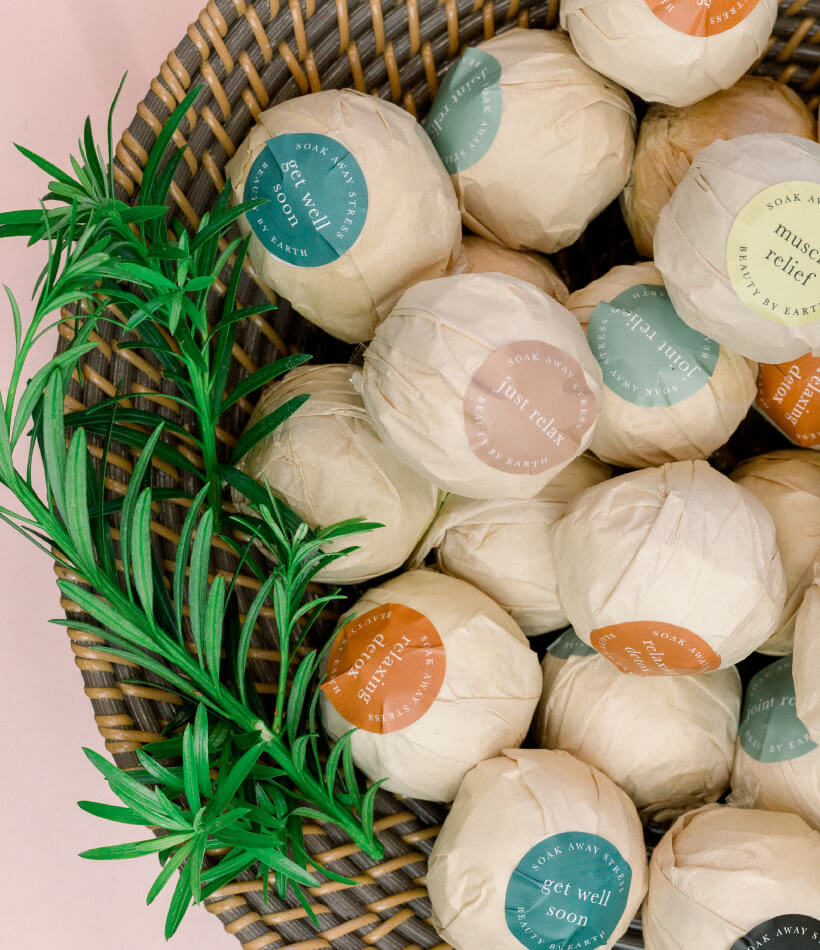 Relaxing Detox
Harness the detoxing power of lemongrass oil (another one of our fave scents) while moisturizing your skin with some glorious olive oil, too. This is one bath bomb that can create a seriously relaxing atmosphere and that you'll reach for any time you need a little renewing. 
Muscle Relief
What do you get when you mix Epsom salt and peppermint oil in a bath bomb? A very soothing and effective way to get rid of muscle pain, in a cinch. You'll want to fill your bath tub with this one, gorgeous.
Get Well Soon
Feeling a little under the weather? Packed with dead sea salt, this bath bomb will help draw impurities and toxins out of your skin while you soak.
Bedtime Ritual
Loaded with anxiety relieving chamomile and lavender oil, this bath bomb will have you drifting off to sleep in no time. Lavender is amazing for stress relief, detoxification, and so much more. Did we mention how much we love lavender? K cool, moving on.
Just Relax
It's all in the name, baby. BBE's "Just Relax" bath bomb is ideal for unwinding on a regular night in and is loaded with moisturizing cacao seed butter that will fill your bathroom with spa-like scents and leave your skin feeling *way* soft.
Joint Relief
The perfect present for right after leg day, or whenever your joints & muscles need a little extra TLC. We included Epsom salts in this one to help relieve tension, real quick.
There you have it, babe: A long list of reasons why locking yourself in the bathroom for an afternoon bath is a *terrific* idea.
Let us know down below what some of your bath time rituals are and while you're at it, treat yourself to a BBE bath bomb gift set collection (go on, click add to cart!). Trust us babe, you don't need it to be a December gift or a special occasion to indulge in bath time. After the long day (week, month, year!) you just had – you deserve it.
Carey <3