When it comes to mastering the art of a great gift, you need to know your audience, sis. Considering someone's interests and hobbies is one way to size up your gift recipient, however knowing what makes their heart really sing is another. Pet parents are a special kind of breed (pun totally intended). They know what their pets deserve and are beyond appreciative when someone else recognizes that, too. So, even if you're not a dog person, we strongly consider you keep reading this blog to uncover the best gifts for pet owners. Because chances are babe, there definitely are a few of them in your life!
Gifts for your favorite dog lover...
Dog owners know just how good it feels to treat their pets and they'll totally appreciate you thinking of their furry friend, too. From dog toys to that plush dog bed, there are so many options to choose from when it comes to dog gifts!
A gorgeous, custom dog pillow.
... Or a plush dog bed! Either options make for comfy, thoughtful gifts for the dog lovers in your life.
One thing is for sure: pups sure do love to lounge. Not to mention, sometimes make a mess in their bed of choice. You know, after they're done eating all of those dog treats in them! Replacing a dog bed regularly is always a good idea for cleanliness reasons and the holiday season is a perfect time to do so! 
Opt for a machine washable bed or pillow that can easily be cleaned on a regular basis. Be warned though, it is *extremely* easy to fall down the doggie bed hole with the amount of options out there. We narrowed it down to a few cute, plush, and dog lover approved options below.
The Brindle Soft Memory Foam Dog Bed
You read that right, gorgeous. A pressure relieving memory foam dog lounge that dog owners everywhere are coveting (and that you can get delivered right to their door thanks to Amazon #gottalovePrime).
The FurHaven Minky Plush Velvet Luxe Lounger
Say that one ten times fast! Perfect for those precious golden retrievers or any big dog for that matter, this is one dog lounger that will have you rethinking the quality of your own mattress!
A unique custom pet portrait.
Dog lovers everywhere need one of these, pronto. I mean, what could possibly beat a custom portrait of their best friend? Not much is the answer, babe.
There are tons of online services who take a pet's image and make it into a beautiful portrait they will keep forever. This truly is an ideal gift for the dog owner in your life that is completely obsessed with their furry friend and it is totally unique & thoughtful.
Let's just say, don't be surprised if this one puts you at numero uno on their list of fave friends.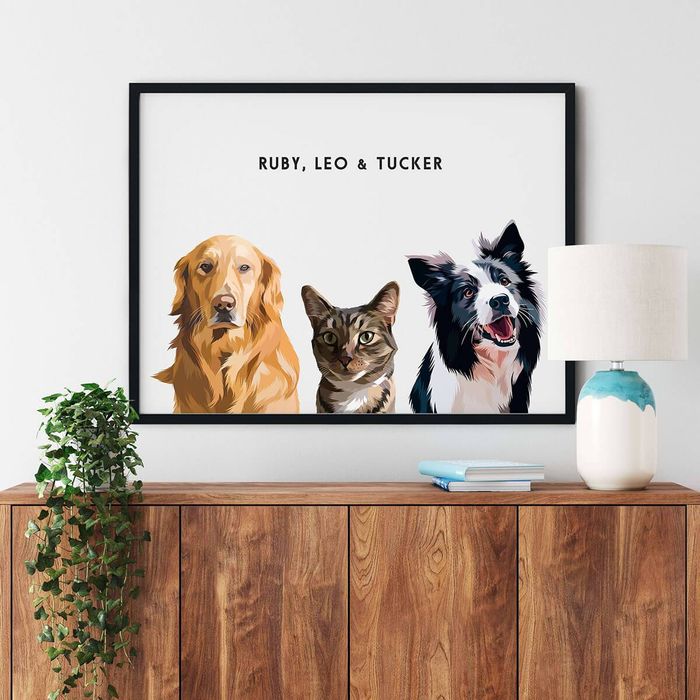 A safe, deliciously scented gift to get rid of wet dog smell.
Because honestly, who the heck enjoys wet dog smell? Or any type of not so cute animal related smell for that matter, right? Pet deodorizer is *way* underrated and can make a perfect gift for dog owners and that other pet owner, too (we see you, stinky hamsters).
If you think your friend's dog could benefit from a little spruce up, check out these options below that are completely safe and completely effective for getting rid of smells, instantly.
Natural Rapport Dog Cologne Spray
Because their favorite fur ball deservers a little spritz of heaven every once in a while. Pick from a variety of scents and make bath time a distant memory whenever necessary. 
Nature's Miracle Freshening Spray for Dogs
A go-to refresher for in between bath sessions that is safe for furry friends. Just a few spritzes and bam - their doggo will be fresh to death.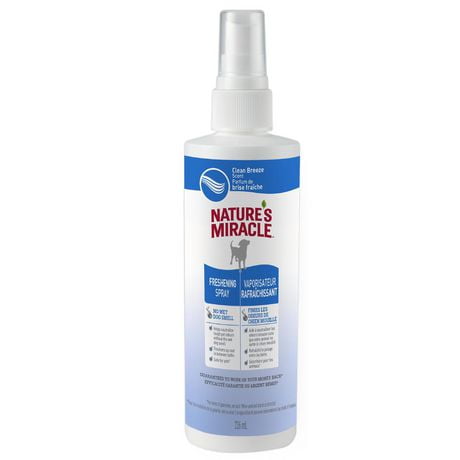 Tasty treats that are way healthy too.
Every dog parent knows that going through a bag of treats is easier than falling down a YouTube rabbit hole at 1 a.m. Therefore when it comes to gift ideas for pet owners, don't underestimate the beloved dog treat!
We must admit that there is one caveat to this must-have gift idea, though. Not all dog treats are created equal and we think those four legged family members deserve nothing but the best. Consider gifting the dog owner in your life a bag of Vitamin rich treats they can feel good about giving their pup. We love this option called Pet Nutrients, right here. These chews are packed with essential nutrients that are safe for all dog breeds (and there are some for cats, too!).
And if you really want to go the extra mile, consider getting them a subscription so that they never have to worry about Rover having that sad "no more treats?" look on his face again.
A dog puzzle (yes, this is a thing).
Just like humans, dogs need mental stimulation. And while playing fetch is great, (I mean hey, what dog doesn't love receiving a few tennis balls) there are tons of other options out there many dogs enjoy.
This next one on our list of gifts for dog lovers is especially great for active dogs who have trouble settling down. Every dog owner can relate to the restlessness their precious pup gets when they can't go out to play, be it for weather-related reasons or other. In these cases, having a dog puzzle on hand can be a serious life-saver. These toys are great for all dog breeds and make a great addition to any pet starter (read survival) kit. 
A reusable water bottle for easy access to some h2o.
Most dog owners already know how important it is to keep their pets hydrated. And sometimes, this isn't as easy as it seems. Especially when they're on a long walk or traveling!
Having a pet-friendly water bottle is an absolute essential for any dog lover. Not only are these super easy to wash and carry around, but they also provide a built-in bowl for easy pouring. No mess, no stress - just a cute pet-approved gadget they won't want to leave home without! 
A donation in their name to their favorite animal shelter.
Rescue dogs need our help all year 'round. However, the holiday season is the perfect opportunity to give back to local shelters who need support. In fact, many pets are surrendered to shelters during this time of year because people are overwhelmed or unable to care for them. Sad? Very. But is a reality across many countries which makes it even more important to contribute to this cause. Even if you aren't a dog lover, making a small donation in the name of someone who is makes for a beyond excellent gift this year. In our books, any chance to help our four legged friends is a welcomed one. 
You didn't think we'd forget the cat lovers, did you?
Dog owners are everywhere, we know. But so are cat lovers, babe! And when it comes to picking the perfect gift for felines, well, we did our homework on that, too. Whether your gift recipient is a new pet owner or has had their cat for a while, these next ideas are sure to make them (and their precious pal) smile this holiday season.
An interactive mouse.
Need we say more? Talk about a perfect present to make any cat go wild on Christmas morning. It's one thing to give just any old cat toy, but an interactive one? Well, that's taking your pet gift power to another level, sis. Gift them an interactive mouse that is easy to recharge and that will keep them entertained for hours on end!
A multi-level cat tower.
Or a cat condo, whatever you want to call them really. Gifting one of these babies to the cat owner in your life will have you literally feeling like Santa Claus, minus the reindeer.
A very adorable cat carrier.
...That is of course airline compliant. Because you just never know when the cat owner in your life will need to pack up and hit the road! In those cases, it's always best to have one of these guys on hand - even for quick trips to the vet!
A cat water fountain.
Alright, hear us out on this one. We know this sounds lavish, but cats are known to be terrible water drinkers which can often lead to dehydration and health issues later in life. Gifting a cat-friendly water fountain to the cat lover in your life is an easy way to show how much you care and teach them something new! 
An air-tag collar, because... cats.
They roam and seem to disappear, like all the time. Any cat owner can relate to this and having an air-tag on their furry pal can take the heart attack out of not being able to find them in that box in the basement. And honestly, these are great for all pet owners. Simply put them on, sit back, relax, and know that you'll never have to worry about your cat or dog's location again.
A cat scratcher lounge.
Because sometimes, a bed just isn't enough for our feline friends. Gifting a cat scratcher lounge is one present you'll be thanked for over and over again. You know, when it helps avoid having scratch marks on that antique chair they dished out a few pretty pennies for in the living room.
Add in a bonus leash and a plush toy.
And you've got yourself a great gift and pet kit for this holiday season, girlfriend. Not only are these appropriate for dogs and cats alike (hey, cats can go for walks, too!), but they'll make the pet owner in your life feel like you totally get them.
This list of the Best Gifts for Pet Owners is all you need...
To make your holiday gift giving complete! Let us know down below what kind of gifts you love to receive if you're a pet owner or, what kind of presents we might have missed. I mean, there's always next year but do we really need the holiday season as an excuse to spoil our pets? We didn't think so, either. 
Until next time,
Carey <3