You know what they say, babe. Love thy neighbor and don't forget them on your list of Christmas gifts! When it comes to gift ideas, we've got you seriously covered. From homemade hot cocoa to simple gifts that will make their day, BBE has all the holiday season inspo you need. So if you're stumped on what to put in that gift basket for the gem next door who always gives you a hand shovelling, keep reading! Here are the holiday gifts your neighbors will love.
Did we mention homemade hot cocoa already?
Alright, we know that's what we opened with. But babe, that's because gifting some delicious hot chocolate is one Christmas gift that always feels right!
If you're handy in the kitchen, you can make your very own version that is sure to impress your best neighbor. And if not? Well, don't sweat it. We can't say that we're exactly hot cocoa mix experts, either. Check out some of our fave hot chocolate options to gift, below!
Williams Sonoma Classic Creamy Hot Cocoa
Available right here.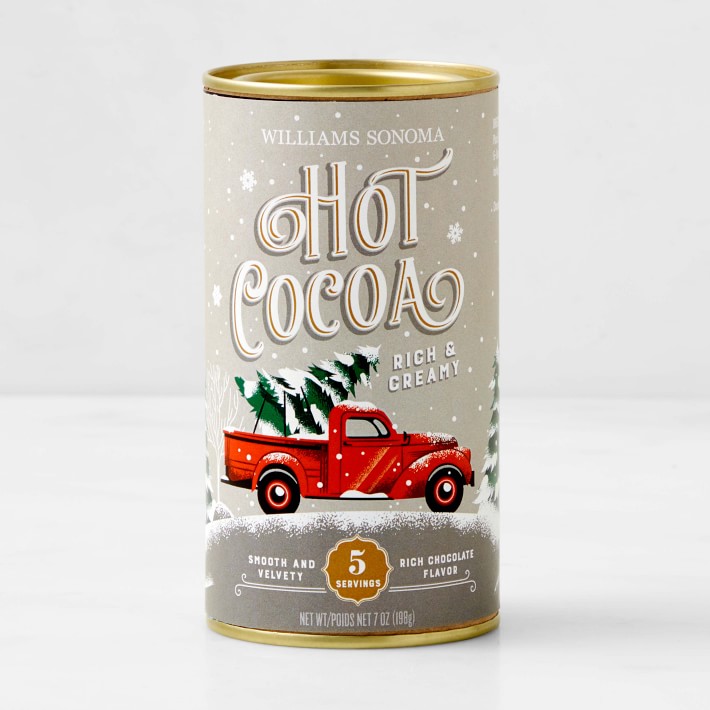 Etsy Hot Chocolate Gift Sets
You'll want to browse through all the options, trust us!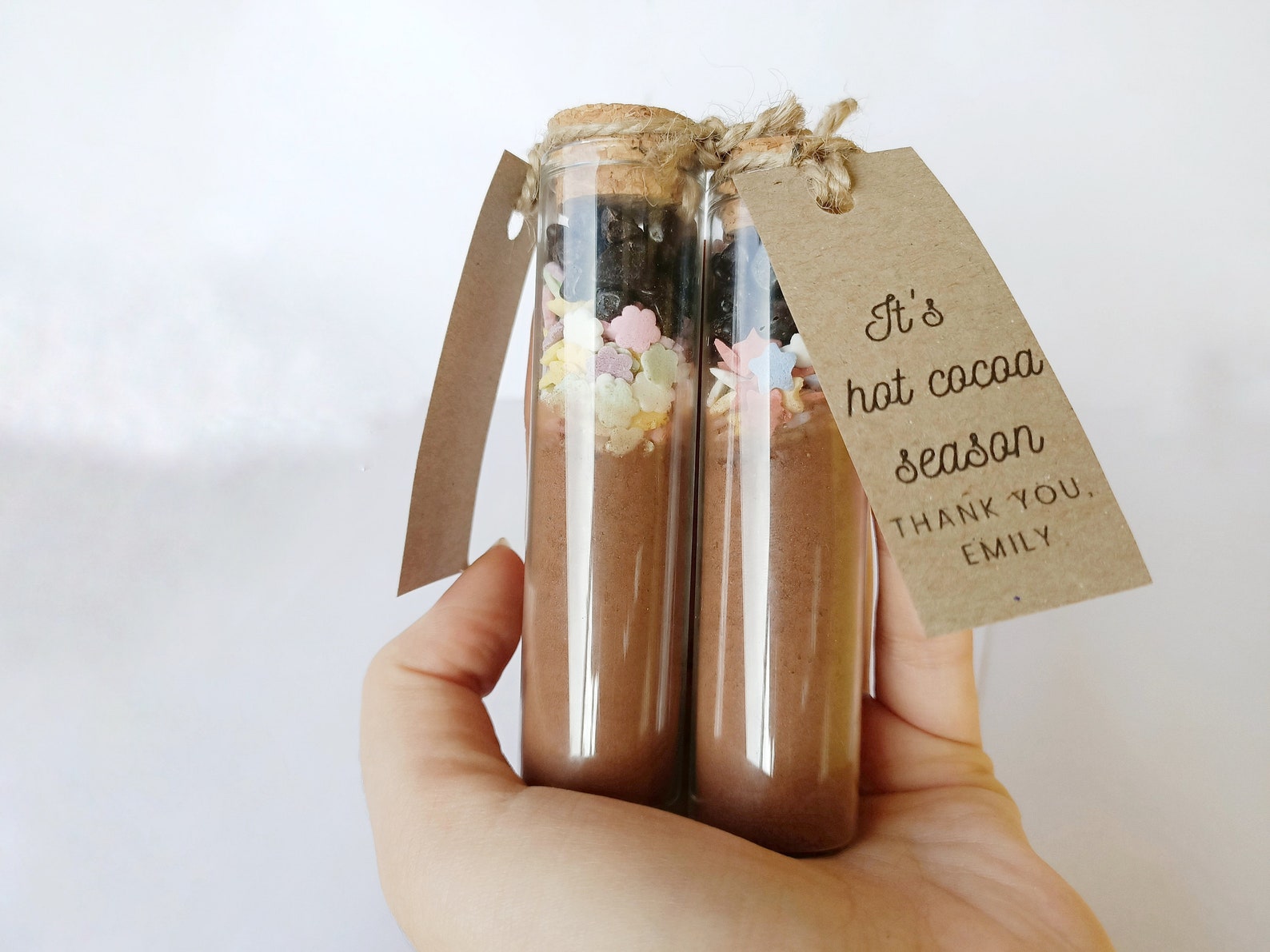 The Amazon Option
You know, for when Prime saves the day when you've just got too much on your plate.
Once you've chosen one of these bad boys, all you need to do is add a gift tag and voila! Oh and pro-tip, when it comes to gift tags, opt for the free printable ones you can find online. You're welcome.
For the neighbor you can always count on...
You know, the one who always lends you a cup of sugar when you need it. Or a toilet plunger, right?
Treat these guys to a delicious dinner this year. You can of course opt to have them over to your place depending on your relationship, or you can opt for a gift card to a local restaurant you know they'll love. Not only does this show your appreciation, but it gives them a reason to treat themselves and well, you know, get out of the neighborhood for a night!
Homemade gifts that will get any neighbor in the holiday spirit...
The DIY Mason Jar Gift
Around here, we're big fans of the mason jar when it comes to creating a personalized gift that is both easy to put together and eco-friendly. This is because a mason jar can be filled with practically anything and can be reused!
From Christmas candy to lip balm, fill up your mason jar with items that make for a practical gift. I mean, who doesn't love a candy cane or some white chocolate covered pretzels this time of year? And lip balm? Well, there's nothing more practical than gifting an item that will prevent dry lips all winter long, #amirite? Once again, add one of those free printable gift tags we mentioned above and you've got yourself a fun gift that neighbors, friends, and family will love!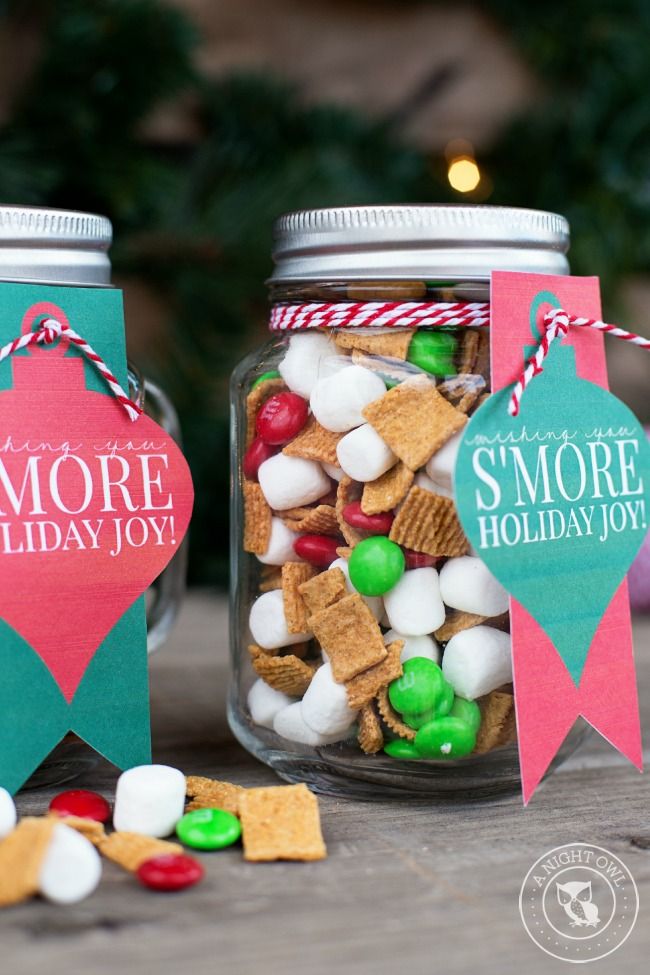 The Classic Homemade Bread Loaf
Nothing feels quite as cozy as a freshly baked loaf of bread (or baked goods) around the holiday season. Not only is this a *super* sweet gesture for old and new neighbors alike, but it's an easy inexpensive DIY type gift that is way appropriate for neighbor Christmas gifts.
You can this gift idea to the next level by wrapping up your bread in a reusable dish towel or cloth. This makes another perfect gift for the eco-friendly babes who want to produce a little less waste this year. Plus, choosing a Christmas appropriate towel is just another way to spread some of that holiday cheer!
The Candle They Won't be Able to Buy at the Store
Babe, if you haven't heard of making your own candles, where have you been? Homemade candles are one the easiest DIY gifts out there and are especially perfect for Christmas time. You can choose to pour Christmas colors that are Santa approved or simply add some cute red and green ribbon to a more neutral color. This is one neighbor gift that will create a sweet ambiance in their home and is an easy alternative if you are over the idea of giving people edible treats.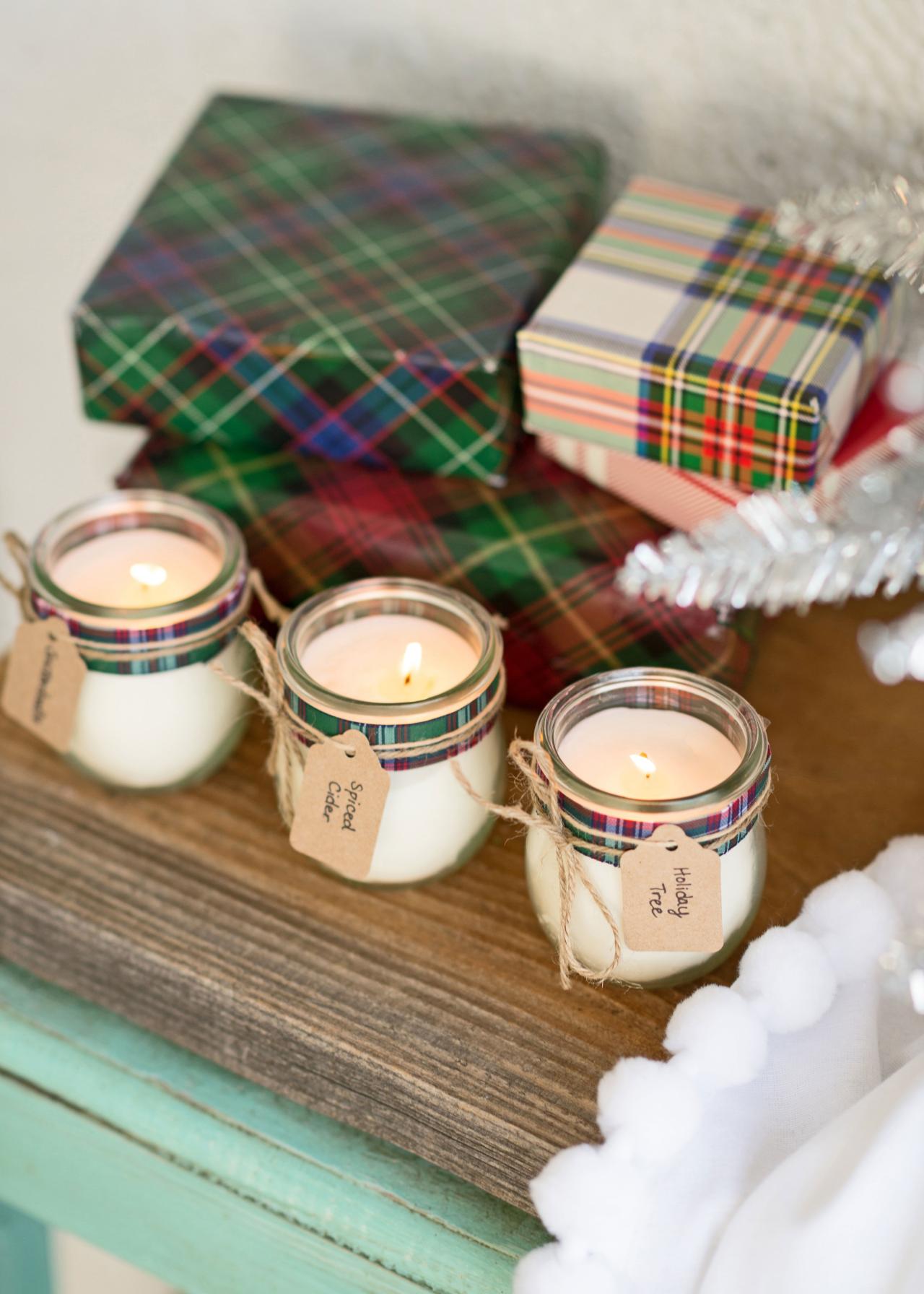 Holiday Gifts for Neighbors... If you're not so into the DIY life.
What kind of friends would we be if we didn't bring you great ideas that didn't require you to be crafty? Gift giving shouldn't be difficult, and we totally get that you just might not have time to pour your own candles. Below, we have some of the best gifts you can simply click add to cart on for all your good neighbors this year.
A bottle of hooch
Because after handling the neighborhood racoon, Gary next door sure deserves a break. Whether they enjoy root beer or real beer, gifting a bottle of something special is always an easy option for the holidays.
A cute kitchen item
That is dishwasher safe, of course. A beautiful vase, bowl, or set of glasses is a practical gift idea that any neighbor can appreciate. And if you want to go the extra mile, you can create more of a kit with this idea by adding in some extra items. Think candy in the vase or maybe a bottle of wine with those glasses!
A BBE gift card
We love this gift idea for the busy mom on your street who might not always get the chance to treat herself. Put her onto clean beauty and self-care by gifting her a BBE gift card! This is without a doubt the perfect way to get this babe to indulge oh and, to thank her for all that car pooling last year.
A personalized mug
Because any old mug just wouldn't do for the neighbor you love most. Instead, opt for a personalized option or even a humorous one that will get the whole family laughing. Real friends gift fun mugs - just saying!
But wait, babe! We've got more great ideas for this year's holiday gifts...
We know, we know - it's easy to get carried away with all of these amazing gifts. And Christmas gifts for neighbors are no exception! From small DIY projects to quick and affordable gifts you can run over to them in a flash, we think your neighbors should definitely not be forgotten this Christmas. So before we sign off, we're sharing a few more gift ideas we hope will serve you!
A "have your own spa night" kit
Because honestly babe, who doesn't want to treat themselves to a luscious night in with the help of some natural beauty products? BBE has a *ton* of gift sets to choose from or you can even curate your own! Your fave neighbor is sure to find a product they'll love and end up repurchasing again and again.
Healthy-ish pancake mix for Christmas morning
Make their Christmas morning that much more seamless by gifting a delicious pancake mix they can use! We love protein packed options that favor whole ingredients and still taste scrumptious.
A cute plant
Because who doesn't love receiving a little green bundle of joy? Plants are one gift you can be sure won't go to waste and that will liven up the home of any neighbor or friend. And if you thought you couldn't purchase one of these babies online, think again! Just click here.
A personalized tumbler
Perfect for those hectic mornings when coffee must be had in the car or those late night football games when there's no bar in sight! A personalized tumbler is a neighbor approved gift they're sure to reach for on the daily!
A pour over coffee maker or French press
These kitchen essentials are way cute and way affordable. Whether you opt for a slow drip pour over coffee maker or an adorable French press, you can be sure that your java loving neighbor will enjoy this gift e-v-e-r-y morning.
A wreath they'll keep for years to come
This one is pretty self-explanatory, babe. Nothing says Christmas and nothing says holidays like a gorgeous wreath your neighbors can hang over their door year after year. This is another one you can DIY if you'd like, or purchase at your local craft shop.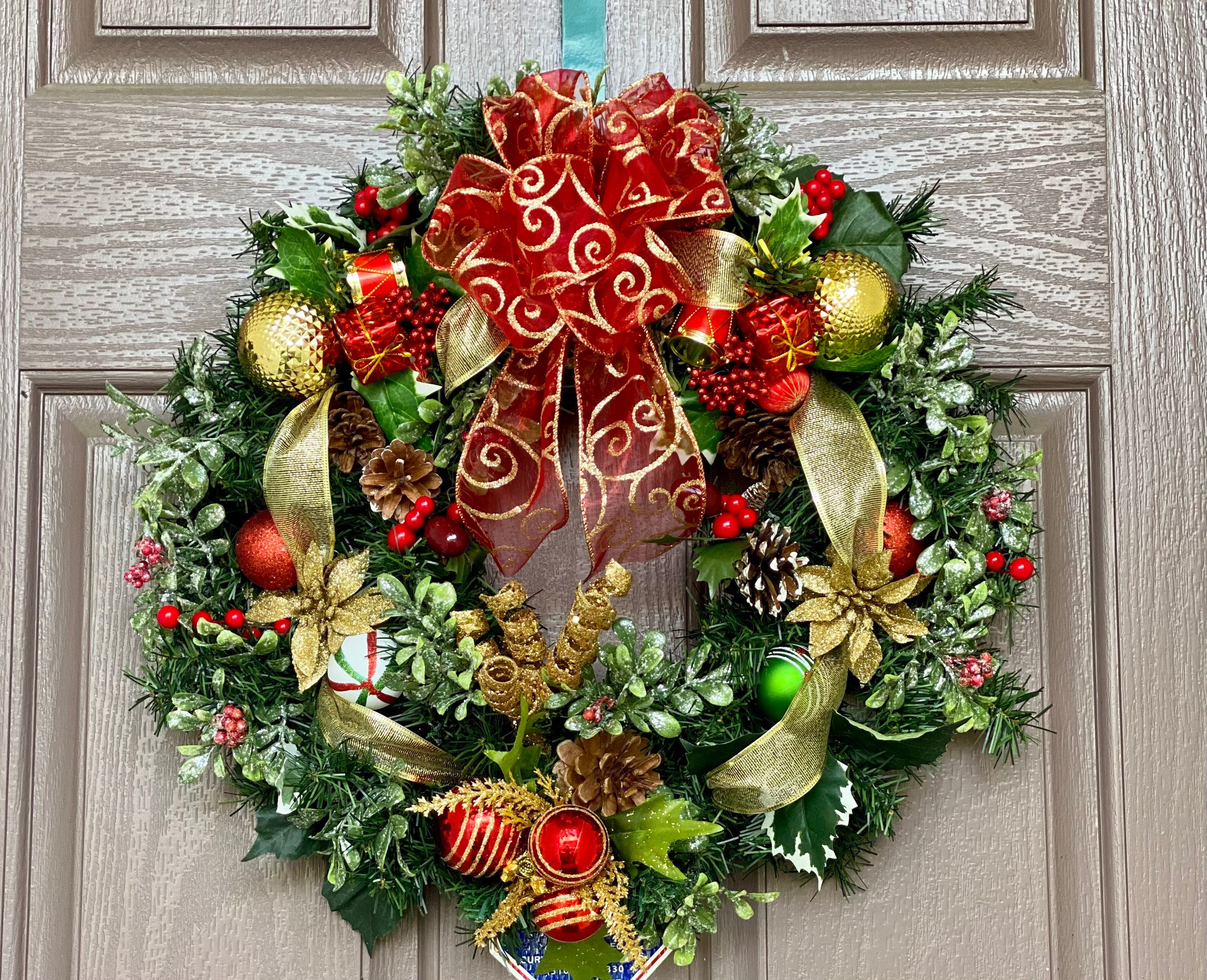 A personalized welcome mat
These can be as personal or as hilarious as you'd like. You can browse Etsy for a ton of ideas on this gift or even Amazon. When it comes to neighbor gift ideas, personalization is the way to go!
A cozy sweater
You know, one they'll reach for the minute they get home and want to curl up on the couch. A cozy sweater is a holiday essential and doesn't have to fit the ugly Christmas sweater mould! Check out these options, right here.
An even cozier blanket
If you know how to knit, you could make this next gift idea yourself! But if you don't, there are so many gorgeous blankets out there you can purchase in a cinch. They'll love getting cozy with this Christmas gift, all year long.
A really, really good book
Once they're wrapped up in that cozy sweater or blanket, they'll need a good book to read. A book makes a great Christmas gift for the neighbor you love or the neighbor you don't know that well yet. Consider gifting something you've already read and loved to create a fuzzy and warm holiday bond between you both!
There you have it, gorgeous.
Neighbor Christmas gifts that are sure to please no matter how well you know each other! Some things are universal and when it comes to the holidays, certain items just hit different. I mean, hot chocolate in July just isn't the same as when enjoyed curled up in a blanket watching Hallmark movies. That is just how the Christmas cookie crumbles, babe.
Christmas gifts & Holiday cheer,
Carey <3