New
"Absolutely am in love with this product! Improvement to my skin and texture were almost immediate." -Beth N
BRUSH UP ON YOUR EXFOLIATION SKILLS AND SCHOOL CELLULITE.
Dry Brush With Cellulite Massager
Give your skin a chance to be its best. Our round body brush smooths, exfoliates, and rejuvenates, all with a few simple strokes. It's a seamless addition to any morning routine.
We make it easy
30-Day 'Love it or Money Back' Guarantee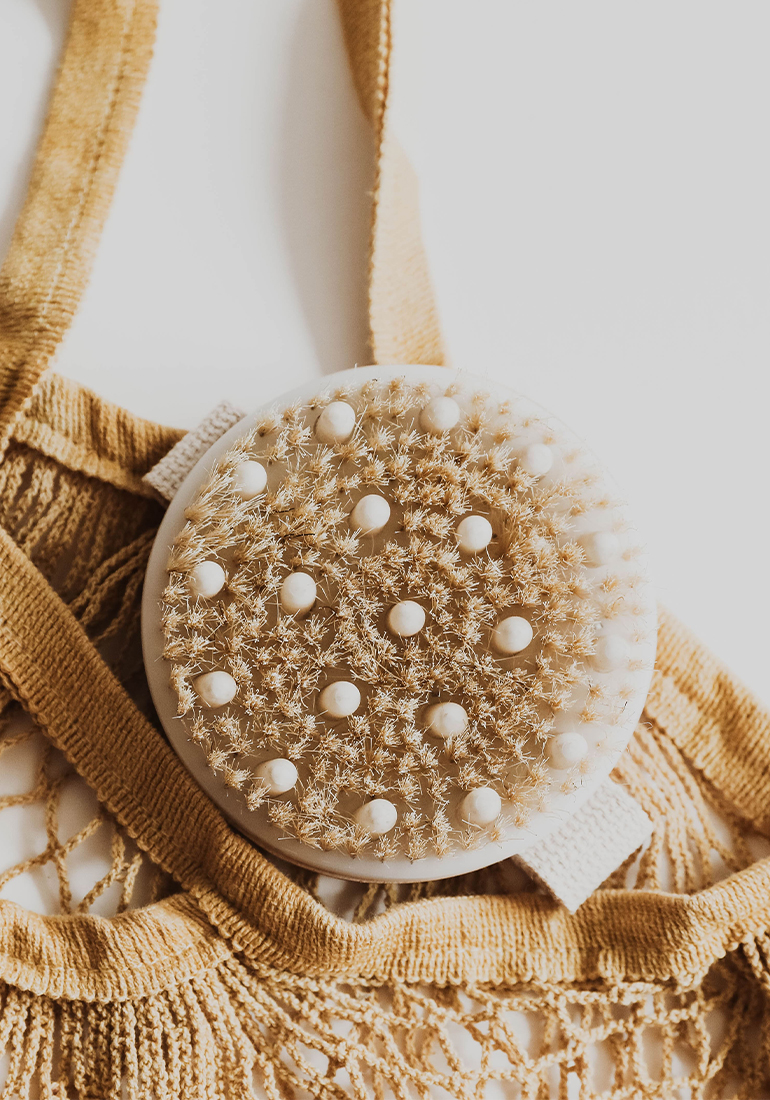 Perfect For. . .
GETTING GLOWING, REJUVENATED SKIN
KICKING CELLULITE TO THE CURB
KEEPING SKIN MOISTURIZED AND EXFOLIATED
GIVING YOUR BODY A LITTLE RELAXATION + LOVE
The DEETS
SKIN TYPE
Great for anyone with dry, flakey skin, clogged pores, blackheads or cellulite. So basically everyone, right?!
MATERIALS
Natural wood head and ethically sourced boar brush bristles paired with a hemp-weave handle.
DURATION
5-10 minute dry brushing sessions are just about perfect.
FREQUENCY
Daily, babe! Cellulite and dry skin has no business on your body
TIME TO RESULTS
Instantly - 1 Week
REPLENISH
Most dry brushing aficionados purchase new dry brushes about 1 time every 6 months to a 1 year.
What's Inside
Select an ingredient to see where it's from, why we picked it, and other products with similar ingredients.
Boar Bristles
Boar Hair)
Located:
China and East Asia
Benefits:
Boar bristles are loved by beauty enthusiasts for their natural flexibility and durability. Boar hair's stiff anatomy offer an invigorating brushing session.
Grass Tree Wood
Xanthorrhoea
Benefits:
Despite its name, this slow-growing flowering plant isn't actually a tree at all. But it's beautiful marbled stem offers sustainable, light-weight material for crafting many household goods, from tables to dry brush heads.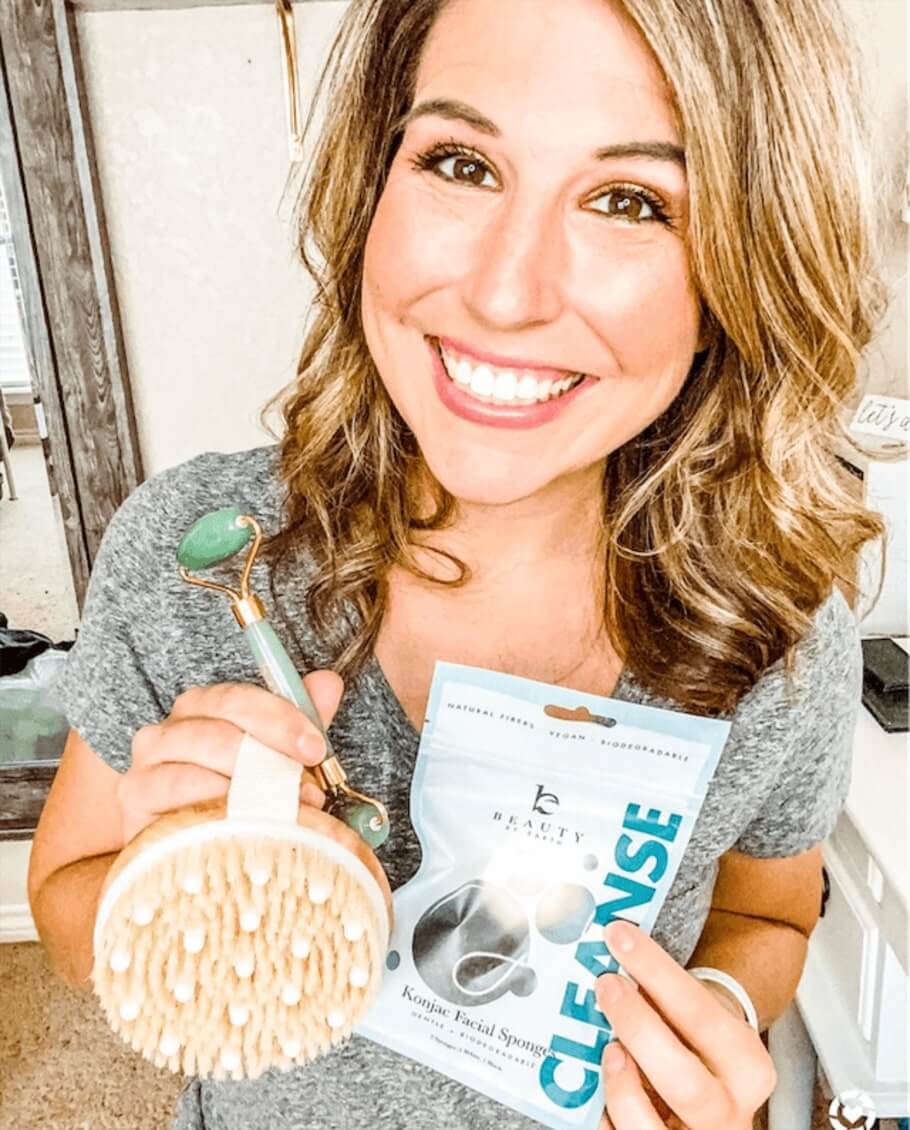 I have used this for 2 weeks now and it's made such a difference in my skin texture and reduced the appearance of my cellulite. My skin even feels firmer. Love this brush!
Our Dry Brush is Different
HIGH QUALITY BOARS HAIR THAT'S CERTIFIED CRUELTY FREE
DURABLE WOODEN HANDLE
Our Dry Brush is Different
HIGH QUALITY BOARS HAIR THAT'S CERTIFIED CRUELTY FREE
DURABLE WOODEN HANDLE
Our Dry Brush is Different
HIGH QUALITY BOARS HAIR THAT'S CERTIFIED CRUELTY FREE
DURABLE WOODEN HANDLE
What Customers Are Saying
Frequently Asked Questions
Dry body brushing is just like it sounds. You stroke a brush over your skin before you shower.
People use dry brushes to improve lymphatic drainage, reduce swelling, get rid of dead skin cells, improve circulation, reduce cellulite by breaking up the fascia, and improve skin texture. It also feels amazing, making it a favorite part of many people's self-care routine.
If you look under your skin, you'll see a system of organs, nodes, ducts, and vessels that aid your immune system. That's your lymphatic system. Dry brushing helps to move lymph through this system, encouraging detoxification and overall great health.
The short answer is you can dry brush any time your skin is dry. We recommend brushing in the morning before you shower since dry brushing helps any products you use to penetrate a little better. But lots of our customers like to dry brush before bed too. It's a relaxing ritual that can help you wind down and get ready to sleep.
Wash your brush on a regular basis. We recommend washing in soapy water at least once a week if you brush daily. Sit your brush out to dry in a well-ventilated place with the bristles facing down to prevent water from collecting on the handle.
Gently brush your skin once or twice a day.
After you get the hang of it you'll probably spend 3-5 minutes on each session.
Sure thing! Give it a try with body oil after you shower.
Unfortunately, we don't have a one size fits all answer for this. Some people with sensitive skin are able to dry brush without any side effects. Others find that dry brushing irritates their skin. We recommend sticking to a small area to see how you react before doing a full brushing session.
It is! Reach out at wholesale@beautybyearth.com to find out more.
We'll never put these bad dudes in any of our products.
Nope:

Parabens, Pegs, SLS, or SLES

No way:

Synthetic dyes or fragrances
Real reviews by real people
BRUSH UP ON YOUR EXFOLIATION SKILLS AND SCHOOL CELLULITE.
Dry Brush With Cellulite Massager
REJUVENATE YOUR SKIN: When you look great, you feel great. Take a moment for yourself and improve the way your skin looks and feels: all in one simple tool. Our round body brush leaves skin soft, smooth, healthy, and just plain amazing.
BRING OUT YOUR BEST: Our round dry brush features cellulite massagers surrounded by natural boar hair bristles. That means every time you use it, you'll fight back against cellulite while reducing dead skin cells. You'll prime your skin to get the most out of your products while paving your way to smoother, happier skin.
DAILY INDULGENCE: Add a little indulgence to your morning routine. Dry brushing with our round body brush gives you the same experience as a spa treatment. Enjoy a gentle, rejuvenating massage before every shower to show yourself that little extra bit of love.
LYMPHATIC SUPPORT: Your lymphatic system is an important part of your body's ability to remove toxins. Dry brushing supports a healthy lymphatic system. Regular use may help reduce swelling, improve skin tone, and assist in detoxification.
LOVE IT OR LET US KNOW: We know you're gonna love what our round dry brush can do. We're so confident that we'll even guarantee it. Every product we sell comes with a 30 day, 100% Customer Satisfaction Guarantee. If at any point over the next month you don't love your brush, just send it back and we'll give you a full refund — no awkward questions required.
Treat Your Skin The Way It Deserves
How's your skin these days? Smooth, soft, and happy? Or maybe it needs a little love. Meet the body brush. It's your new best friend. Use it before you get into the shower for a healthier lymphatic system, better exfoliation, less cellulite, and more bang for your buck from your skin products. Best of all? Dry brushing feels amazing. It's like a little spa retreat every time you use it.
Our round brush is designed to give you two benefits in one. First, the natural boar bristles stimulate lymphatic drainage and slough away dead skin cells, leaving your skin smoother and sleeker. Nestled in between the bristles are cellulite massages, which give you an extra tool in your cellulite-fighting belt. Since they're both on the same round brush head, you get both benefits in a single brushing session.
Ready to give dry brushing a try? You're gonna love it! Give our durable, responsibly sourced round brush a go today. If you're not thrilled with how it works, let us know. We'll give you a full refund.
How to Dry Brush
Plan to use your brush before you shower — you want your skin to be dry.
Starting at your feet, place the brush bristles against your skin. Brush upwards using smooth, long strokes. Go over each portion of skin 12 times before moving on to the next.
Use the same process to brush your legs and arms. Always move towards the center of your body.
Use circular motions to brush your back, stomach, and armpits.
Be gentle! Your skin may look a little pink after you brush, but it should never be painful or red.
Complete your routine with a shower and your favorite body moisturizer.