"I don't know if I'll ever try a different brand, the bar has been set too high." -Jessica F.
UNWRAP THIS LITTLE PIECE OF HEAVEN.
Free & Easy returns — all day, 'er day!
Bath Bomb Gift Set - 6 Pack
Is your bathtub your peaceful corner of the world? It's about to be. Beauty By Earth's Healing Bath Bomb Gift Set is here to fill even the most humble of bathtubs with luscious, natural ingredients to leave you (or a special someone) feeling relaxed, restored, and rejuvenated.
We make it easy
30-Day 'Love it or Money Back' Guarantee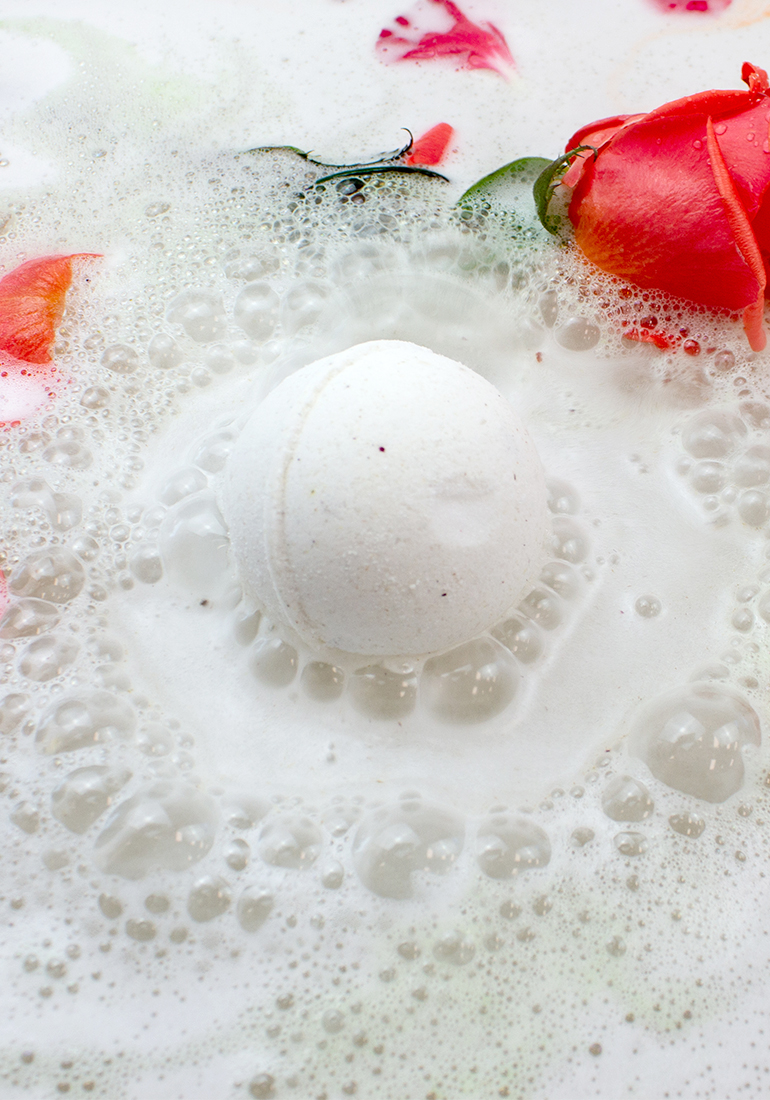 Perfect For. . .
MAKING YOUR BATHROOM THE ULTIMATE OASIS
HAVING A RELAXING NIGHT AFTER A LONG DAY, (YOU DESERVE IT!)
LEAVING YOUR SKIN SMOOTH, HYDRATED, AND NOURISHED
The DEETS
SKIN TYPE
Our bath bombs are crafted with all earth-friendly ingredients, meaning these guys are perfect for any skin type!
SCENT + TEXTURE
Each bath bomb has its own unique scent. From roses and lavender to citrus and essential oils.
AMOUNT
1 bath bomb per bath will do the trick!
FREQUENCY
This one's up to you! No limit on an at home spa day... Once a month? Once a week? Hey, no judgment here!
TIME TO RESULTS
Once you drop your bomb, let it fizz out… From here your oasis awaits and your skin will thank you.
REPLENISHMENT
We recommend replenishing as needed but typically once a month oughta do the trick!
What's Inside
Select an ingredient to see where it's from, why we picked it, and other products with similar ingredients.
Sea Kelp Powder
(Macrocystis pyrifera)
Benefits:
Sea kelp works to hydrate your skin by locking in the moisture and soften dry skin. Kelp is a anti-inflammatory and helps improve symptoms of acne.
Kaolin Clay
(Hydrated aluminum silicate)
Benefits:
This natural clay helps absorb excess oil from the skin which stops breakouts in their tracks! It clears pores of any dirt and pulls toxins from the skin, has light exfoliation which leaves you with smooth, clean, skin.
Baking Soda
(Sodium Bicarbonate)
Benefits:
Sodium bicarbonate, or a fancy way of saying baking soda, is great for the skin because it's a light exfoliant that helps remove dirt from the surface and clean those pores out. It always has properties that help dry out acne and prevent further breakouts.
Turmeric Powder
Curcuma longa
Benefits:
Turmeric helps reduce signs of acne scars and other various dark spots. The anti-inflammatory properties help fight and prevent acne while clearing up current breakouts. It's packed with antibacterial agents that work to dig the dirt and toxins out of your pores.
Ground Rose Petals
(Rosa)
Benefits:
Roses contain natural oils that your skin will love, keeping it glowy and nourished. More than just adding aesthetic to your spa night, Roses keep your skin buttery soft and are wonderful for sensitive skin.
Sage Leaves
Salvia officinalis
Located:
The Mediterranean
Benefits:
Packed with antioxidants, sage leaves keep the skin looking youthful and restore skin cells. Adding elasticity to your skin, sage leaves help prevent fine lines and wrinkles as well as naturally tightening the skin.
Comfrey Root
Symphytum officinale
Benefits:
Comfrey Root helps fight inflammation on the skin and treat any irritation. Comfrey carries a skin-healing agent called Allantoin, it works quickly to heal and soothe wounded skin. This plant works great for overall healing even for sensitive skin.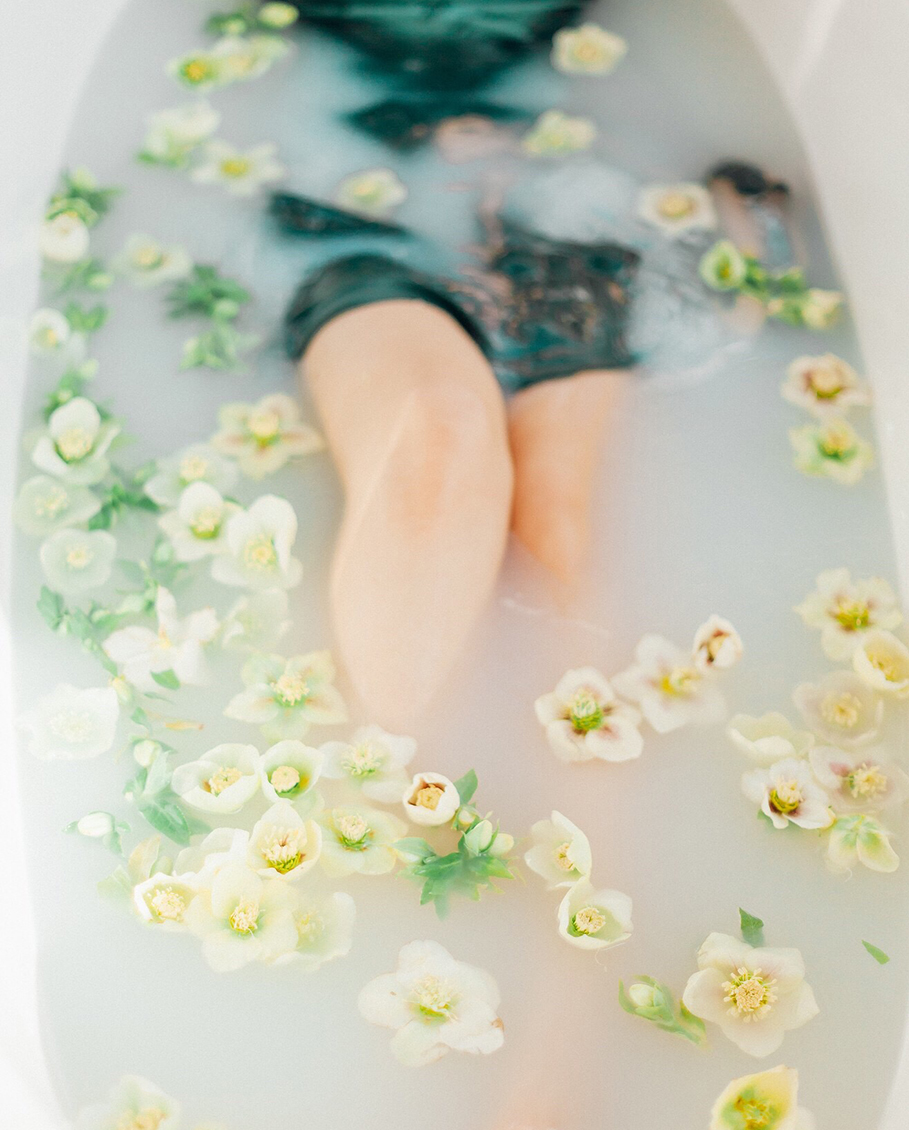 I don't know if I'll ever try a different brand, the bar has been set too high.
How to use
STEP 1

Find that perfect temperature! However you like it.

STEP 2:

What kind of mood are you in? Need to detox or relax? Time to unwind before bed? Pick the one that is speaking to you and… bombs away!

STEP 3:

Drop the bath bomb in your filled tub and let the fizzing take over. No need to wait before it's finished dissolving, go ahead - hop in!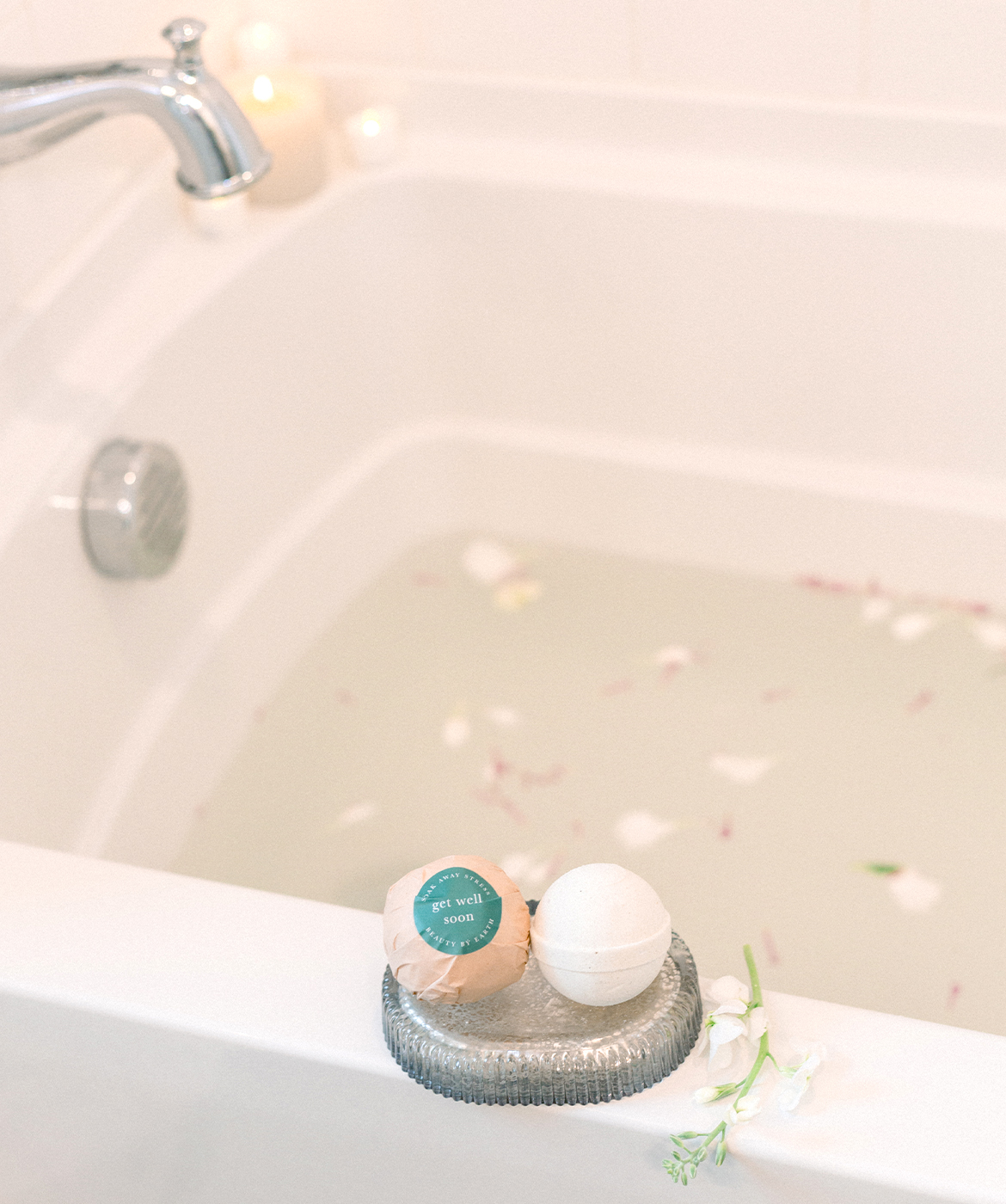 OUR BATH BOMBS ARE DIFFERENT
Detoxifing Clays and Salts
Essential Oils for Aromatherapy
Organic Oils and Butters for Smooth Delicious Skin, Makes the Perfect Gift
OUR BATH BOMBS ARE DIFFERENT
Detoxifing Clays and Salts
Essential Oils for Aromatherapy
Organic Oils and Butters for Smooth Delicious Skin, Makes the Perfect Gift
OUR BATH BOMBS ARE DIFFERENT
Detoxifing Clays and Salts
Essential Oils for Aromatherapy
Organic Oils and Butters for Smooth Delicious Skin, Makes the Perfect Gift
What Customers Are Saying
Frequently Asked Questions
Our bath bombs are not certified organic. Clays and certain minerals are not certified organic and make up a large portion of our bath bombs, however the butters, oils, and essential oils we use are certified organic when available.
The Healing Collection set includes 6 bath bombs.
Yes, they are each approximately 4.2oz in size. They are just the right size for an average bath size.
Nope! All of our colorful bath bombs use ingredients that won't color your tub. If there is any sediment left over once you're done relaxing, just rinse it away.
For the best results, we recommend using a full bath bomb per bath. These soothing bath bombs use ingredients designed to provide relaxation, soothe away muscle pain, and support the immune system. To get the best results, use a full bomb.
We do our best to avoid ingredients that cause allergic reactions. However, if you have allergies we recommend reading through each bomb's list of ingredients to make sure it doesn't contain anything that might cause a reaction.
Definitely. Our bombs provide plenty of fizz and aroma on their own, but if you like some extra bubbles in your bath, more power to you.
Our bath bombs are happy to stay in their packaging until you decide to use them. Store them in a cool, dry place. If you want to get extra creative, try tucking one in your t-shirt drawer – you'll enjoy the fragrance all day.
Well, ours do not contain any SLS, dyes, colorants, or artificial fragrance. Lush bath bombs contain all of these ingredients and while they may be hand made, these ingredients are known carcinogens.
Yes, we sure do. Simply email wholesale@beautybyearth.com and we will get you a response.
We'll never put these bad dudes in any of our products.
Nope:

Parabens, Pegs, SLS, or SLES

No way:

Synthetic dyes or fragrances

Never:




Toxic Ingredients We Will NEVER Put In Our Products
Real reviews by real people
TREAT YOURSELF!
The Fizz You Need to Destress from the Longest of Weeks.
TREAT YOURSELF! Let's face it: you're amazing. So amazing that you deserve a little something special at bath time. How do all-natural bath bombs sound? Crafted from ingredients that naturally support the skin and entice the senses, they're the perfect treat after a long day. Turn your bathroom into an oasis and prepare to indulge – you're worth it!
CHOOSE YOUR FLAVOR: No two days are the same, so why shouldn't your baths be just as unique? We've packed six different bath soak flavors into one set, so you'll always be able to choose how you relax. Got sore muscles? There's a bath ball for that. Feeling under the weather? There's a bomb for that. Just want to chill out? We've got you covered. This kind of selection means your soaks will never be dull.
THE GIFT OF RELAXATION: We all know someone who deserves a little relaxation. Our bath bomb gift set is the perfect way to say "you're amazing." Each set is gorgeously packaged and filled with a variety of lush bath bombs. Whether you're looking for something pretty to put under the tree, want to find the perfect Mother's Day gift, or just want to let someone know you care, there's no better way to say it than with bath bombs.
ALL-NATURAL INDULGENCE: Your skin should feel soft, smooth, and luxurious. Your mind should feel free and clear. You should be able to get there without harsh, toxic, and unsustainable junk. Our bath fizzies are made of only safe, natural, earth-friendly ingredients. Your skin will be moisturized, your muscles relaxed, and your senses pampered, and you'll never have to worry about what you're exposing yourself to. We don't think there's any better way to indulge.
LOVE IT OR YOUR MONEY BACK: We know you're gonna love what our bath bombs can do. We're so confident that we'll even guarantee it. Every product we sell comes with a 30-day, 100% Customer Satisfaction Guarantee. If at any point over the next 30 days you don't love your gift set, just send it back and we'll give you a full refund — no awkward questions required.
Our Bath Bomb Gift Set – Do Something Just for You
When was the last time you did something just for you? Our bath bombs bring "me time" to a whole new level. Drop one of our six flavors into the tub and transform your bathroom into a spa. Each bomb is carefully crafted with only the highest quality natural ingredients, supporting your skin and indulging your senses every time you take a soak.
Each of our bath bomb gift sets includes six different flavors, so whether you're feeling sick, want to soothe away sore muscles, or are just hoping to relax, there's a bomb for you. Or a friend. Each set of six large bath bombs comes in beautiful, earth friendly packaging. If there's someone you know who deserves to unwind, our bath bombs make the perfect Mother's Day, Christmas, or birthday gift.
Like all of Beauty by Earth's products, our bath bombs don't contain anything toxic or unnecessary. No fillers, no junk, just ingredients that will make you look and feel amazing. And because we're Leaping Bunny certified you can be sure that our bombs have never, ever been tested on animals. So whether you're looking for a responsible way to pamper yourself or need the perfect gift, add our bath bombs to your cart. We hope you're ready to indulge!
How to Use Our Bath Bomb Gift Set
1. Pour a bath!
2. Choose the flavor you like best from the 6-pack.
3. Unwrap your bomb and drop it in the tub.
4. Get in, relax, and enjoy!