"I honestly could not be happier with it! It leaves me feeling clean, smelling good, and it is even clearing up my acne! This is absolutely a new favorite for me." -Haley U.
DREAMS OF LAVENDER FIELDS AND FRESH-SQUEEZED JUICE CAPTURED IN A FOAMY WASH.
Free & Easy returns — all day, 'er day!
Body Wash Lavender Citrus
Indulgently fragrant and completely natural, our Lavender Citrus Antibacterial Body Wash is a sure way to start your day off strong.
We make it easy
30-Day 'Love it or Money Back' Guarantee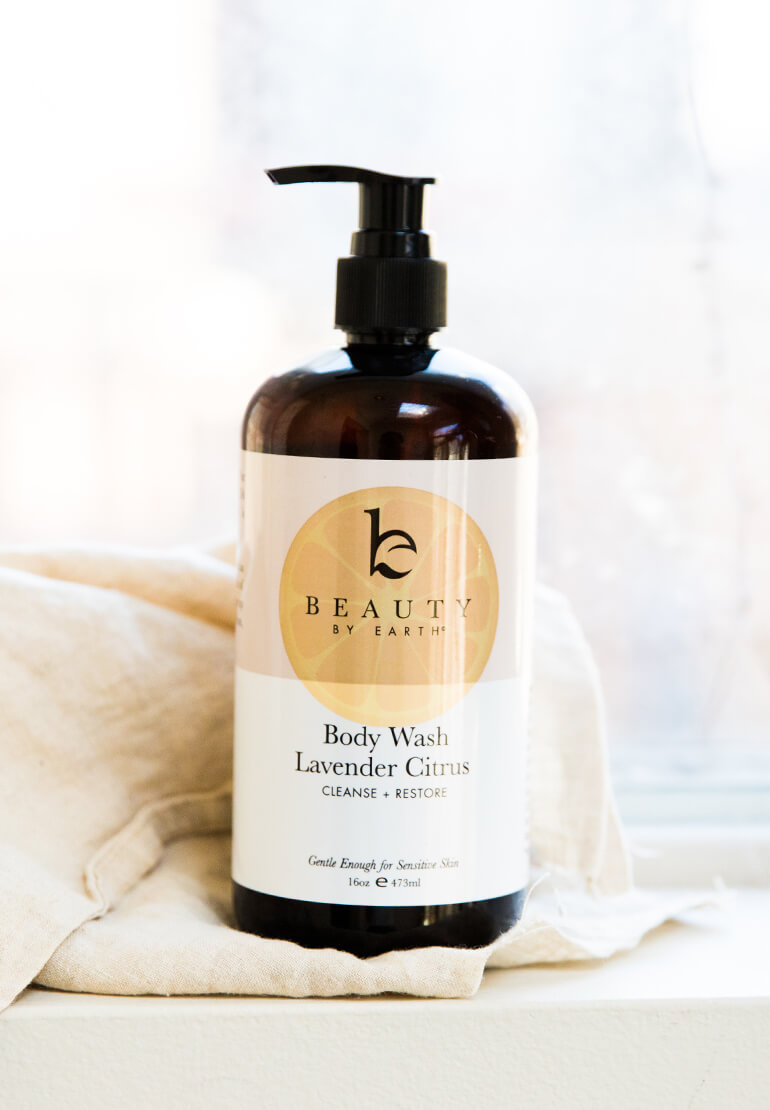 Perfect For. . .
WASHING AWAY THE DAY...
CLEANSING THE SKIN OF DIRT & OILS WITH A FLORAL SCENT
THE SOOTHING AROMA OF ESSENTIAL OILS TO COMPLETE YOUR SHOWER OASIS
The DEETS
SKIN TYPE
This incredibly gentle body wash is perfect for sensitive or problematic skin - but anyone can use this body wash!
SCENT + TEXTURE
This lightweight formula lathers up into a soapy floral citrus foam that glides across the skin.
AMOUNT
Just a pump or two should do the trick! A little wash goes a long way!
FREQUENCY
Use it when ya need it!
TIME TO RESULTS
Waste no time here! This body wash works immediately cleaning all over the body - no days work left behind.
REPLENISH
2-3 months is usually the replenish rate most minty fresh babes prefer
What's Inside
Select an ingredient to see where it's from, why we picked it, and other products with similar ingredients.
Great body wash! Lathers up nicely on my loofa and my skin didn't feel dry after getting out of the shower. The scent is refreshing and helps wake me up in the morning. Love this stuff!
How to use
Step 1:

Have your favorite sponge, face cloth, or loofah handy (like our konjac body sponge!).



Step 2:

Gently apply body wash all over your body, starting at your neck and moving down.

Step 3:

Pat your skin dry, and follow up with your favorite moisturizer or face oil. While our gentle body washes are safe to use on your face, you'll get better results pairing it with one of our natural facial cleansers.
OUR LAVENDER CITRUS BODY WASH IS DIFFERENT:
Great For Even The Most Sensitive Skin
Concentrated Formula So It Lasts Longer
Formulated with Certified Organic Ingredients
OUR LAVENDER CITRUS BODY WASH IS DIFFERENT:
Great For Even The Most Sensitive Skin
Concentrated Formula So It Lasts Longer
Formulated with Certified Organic Ingredients
OUR LAVENDER CITRUS BODY WASH IS DIFFERENT:
Great For Even The Most Sensitive Skin
Concentrated Formula So It Lasts Longer
Formulated with Certified Organic Ingredients
What Customers Are Saying
Frequently Asked Questions
We do our best to use certified organic ingredients whenever they're available. While this body wash isn't certified organic, it does contain organic sunflower seed oil, organic coconut oil, organic aloe vera leaf juice, and organic jojoba oil. It is made with over 75% certified organic ingredients.
No way! We don't use sulfates in any of our products, nor do we use parabens, phthalates, or artificial fragrance. Our body wash uses saponified oils to create a lather, so there's no need for any sulfates.
Here's what you'll find in this body wash: Aqua, Saponified Oils of Helianthus Annuus (Sunflower) Seed Oil* and Cocos Nucifera (Coconut) Oil*, Water, Vegetable Glycerin*, Aloe Barbadensis (Aloe Vera) Leaf Juice*, Citrus Sinensis (Sweet Orange) Oil, Cyamopsis Tetragonoloba (Guar) Gum*, Lavandula Angustifolia (Lavender) Oil, Cananga Odorata (Ylang Ylang) Essential Oil, Citrus Tangerina (Tangerine Peel) Oil, Simmondsia Chinensis (Jojoba) Oil*, Rosmarinus Officinalis (Rosemary) Extract. (*certified organic)
We don't use any artificial fragrance to add aroma to our body wash. Instead, you'll notice the scents of lavender, ylang ylang, and citrus essential oil. We like to think it's the perfect combination of soothing and invigorating – just right for starting out a long day!
Our kids do! Every ingredient we put in Beauty by Earth products has to be something we'd be willing to let our own kiddos use. This body wash is safe, gentle, and free of anything that could be harmful for young skin.
To our knowledge there is nothing in our body wash that would make it unsafe for pets. However, we recommend doing your own research (and checking with your vet) before using any new product on your furry pals.
Definitely. The gentle natural ingredients that make up our wash are generally well tolerated by all skin types. However, it's always a good idea to test out new products on a small area of skin before moving on to further use.
No way. Beauty by Earth is Leaping Bunny certified and dedicated to remaining cruelty free. Nothing we produce is ever tested on animals.
Yes! And we'd love to talk with you more about it. Get in touch at wholesale@beautybyearth.com to get started.
We'll never put these bad dudes in any of our products.
Nope:

Parabens, Pegs, SLS, or SLES

No way:

Synthetic dyes or fragrances
Real reviews by real people
DREAMS OF LAVENDER FIELDS AND FRESH-SQUEEZED CITRUS CAPTURED IN A FOAMY WASH.
Simply Clean. Simply Beautiful. Simply You.
A POWERFULLY GENTLE CLEANSE: Love clean, nourished skin but hate the toxic ingredients found in most conventional body cleansers? We've got you. Our lavender citrus body wash combines the cleansing powers of saponified organic oils with the enticing aromas of lavender and citrus. The result is a one of a kind cleanser that's as effective as it is indulgent.
START YOUR MORNING WITH SOMETHING SWEET: Transform your morning shower into a luxurious oasis with our thoughtfully scented body wash. A balanced mix of organic lavender, ylang ylang, and citrus essential oils will leave your mind soothed and your body invigorated: the perfect way to start (or end) a day.
A WASH THAT ANYONE CAN LOVE: Be honest: how many half-empty bottles of body wash are in your shower right now? Forget the product pileup and switch to a body wash the whole family can love. Our wash is gentle enough for all skin types and ages, while its relaxing aroma is fun for all genders.
ALL THE CLEAN, NONE OF THE JUNK: Most conventional body washes are chock full of junky, cheap, and sometimes downright toxic ingredients. That's why we only put the good stuff in our cleanser. Instead of parabens, phthalates, sulfates, and artificial fragrance, we use a thoughtful combination of organic and natural oils and extracts.
LOVE IT OR LET US KNOW: We know you're gonna love what our Lavender Citrus Body Wash can do. We're so confident that we'll even guarantee it. Every product we sell comes with a 30 day, 100% Customer Satisfaction Guarantee. If at any point over the next month you don't love your body wash, just send it back and we'll give you a full refund – no awkward questions required.
The way you start your morning sets the tone for your day. Start out strong with our Lavender Citrus Body Wash. We've combined a selection of saponified organic oils with some of our favorite aromatic oils and extracts. The result? A natural wash that cleanses deeply while nourishing your skin and your senses. Breathe in deep: today is going to be a great day.
Take a look at the ingredients list on most body washes and you're in for a shock: they're filled with parabens, sulfates, artificial fragrances, and other toxic junk. That's not a strong way to start a morning. Our wash takes a different approach. We've crafted it from high quality natural and organic ingredients to give you a safe, gentle, and fragrant way to keep clean. In fact, it's so gentle that it's safe for any skin type and any age.
Here's something else to help you start your morning right: all of our products (including this wash) are cruelty free, sustainably packaged, responsibly sourced, and proudly made in the USA. Still not convinced? We understand. Give it a try risk-free. If you don't love the difference it makes in your routine, let us know.
How to Use Our Lavender Citrus Body Wash
Grab your favorite sponge, loofah, or face cloth and hop into the shower.
Squeeze a bit of body wash onto your cleansing tool.
Apply all over. Don't forget behind your ears!
Rinse off any suds that are left over.
Get out of the shower, pat yourself dry, and follow up with a moisturizer.
Our body wash is gentle enough to use on your face, but we recommend using one of our facial cleansers to really care for your complexion.