Bundle & SAVE Up To 30% Today

YOUR SHOWER GAME IS ABOUT TO GET STEAMY
Feel the invigorating rush! No more stuffy sinuses or boring showers.
Proudly made in the USA – not that "other place" (wink, wink).
Dye who? We don't know her. These are gloriously dye-free.
Zero synthetic fragrances – only the good, natural stuff.
Vegan vibes & cruelty-free. Because we love our furry friends! 🐰
60-Day Satisfaction Guarantee | Made in the USA
YOUR SHOWER
ISN'T READY FOR THIS

Wait . . . is this Springtime in Provence or just your shower?
A little Zen in Your Shower
Made with the best natural ingredients, these steamers bring zen to your shower routine. We're talking full-on mental bliss kinda stuff. No need to stop when the shower's through. Your shower steamer will last for up to 2 showers of luxurious tranquility.
Let our unique blend of natural essential oils transport you. From invigorating citrus, to refreshing eucalyptus, and soothing lavender, curate your mood with every shower. Breathe in deeply. Feel your bathroom dissolve away to blooming fields in Provence.
Unlike most leading brands, our luxurious shower steamers are lovingly made in the USA. Those other steamers really can't say the same. Don't believe us? Go check for yourself. We'll wait.
FEEL GOOD about what's inside (& what's not)
No sodium lauryl sulfate, parabens, dyes, synthetic fragrances, glitters, or other harsh chemicals commonly found in leading brands. That stuff doesn't belong in your shower.
60-Day Satisfaction Guarantee.
*Shower Steamers pictured smell even better than they appear
BUILD YOUR BOX OF BLISS
Build your own bundle and save.
2 products • 10% OFF3 products • 15% OFF4 products • 20% OFF5 products • 25% OFF
BUILD YOUR BOX OF BLISS
Get up to 25% off and, up to 3 free products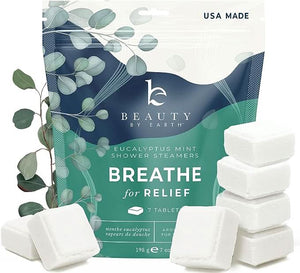 BREATHE - Shower Steamers (7-Pack)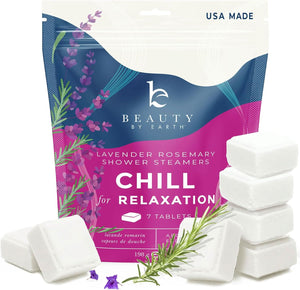 CHILL - Shower Steamers (7-Pack)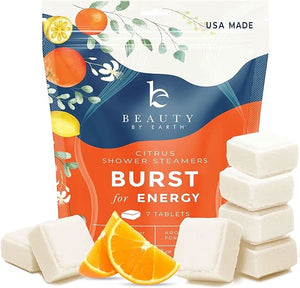 BURST - Shower Steamers (7-Pack)
0 Products Selected
<< Add at least 2 to build your bundle
<< Add at least 2 to build your bundle
60-Day Satisfaction Guarantee
We're so confident you'll love your order we give you 60 days to return it for a full refund.
4.8/5 rating - 20,209 reviews
"Um... what.... how did I just learn about shower steamers? These are now my must for tired Monday mornings or after looooooong days at work."

"BURST has become a staple for my mornings! It's truly better than coffee and no jitters or icky side effects."


"We love these! 💕 My kids even love these steamers so much I haven't seen them since they arrived. I had to purchase another bag just so I could enjoy them myself. #mominainteasy"

"I get sinus infections all of the time. This is my go-to. I'm stocking up and never looking back!"
Time to Toss those toxic steamers.
Natural & Organic Ingredients
Vibrant AROMATHERAPY EVERY TIME YOU SHOWER
No Parabens, No Dyes, No Perfumes, No Toxic 💩
100% chance You'll find excuses to shower more often
Parabens, Dyes, Perfumes, Toxic 💩
Synthetic chemicals & fragrances
Bad, cheap perfume smells
100% chance a review of ingredients
will cause you to ditch it for good
Pick up a shower steamer and escape to a luxurious, natural oasis.
60-Day Satisfaction Guarantee.
Which ingredients are in these shower steamers?
BREATHE INGREDIENTS:
Sodium Bicarbonate (Baking Soda), Citric Acid, Menthol, Mentha Arvensis Leaf (Wild Mint) Oil, Eucalyptus Globulus Leaf Oil, Polysorbate 80, Aqua (Water).

BURST INGREDIENTS:
Sodium Bicarbonate (Baking Soda), Citric Acid, Citrus Aurantium Dulcis (Orange) Oil, Menthol, Citrus Reticulata (Mandarin) Oil, Melaleuca Alternifolia (Tea Tree) Leaf Oil, Polysorbate 80, Aqua (Water)

CHILL INGREDIENTS:
Sodium Bicarbonate (Baking Soda), Citric Acid, Lavandula Officinalis (Lavender) Flower Oil, Rosmarinus Officinalis (Rosemary) Leaf Oil, Menthol, Polysorbate 80, Aqua (Water)
Are these shower steamers made in the USA?
Yes they are :)
We are also...
- Leaping Bunny certified, meaning there's zero animal testing with any of our products.
- Plastic Neutral

How do I use shower steamers?
1. Choose your Shower Steamer
Select a scent that suits your mood or the experience you want to create.

2. Start Your Shower
Begin by turning on your shower. Let it run for a bit until it becomes warm and steamy. You don't need to have it at its hottest setting; you just want enough heat to generate steam.
3. Place the Shower Steamer
Place the shower steamer on the shower floor, but not directly under the water stream. Ideally, it should be in a location where it gets occasionally splashed or is in contact with the runoff. Too much direct water can cause the steamer to dissolve too quickly, while too little might not activate it enough.
4. Enjoy the Aroma
As water hits the steamer, it will start to dissolve and release its aromatic essential oils into the steam. Breathe deeply and allow the fragrances to envelop you. The combination of the steam and the scents will provide a therapeutic effect.
5. Extend the Experience (Optional)
If you find that your shower steamer is dissolving too quickly, you can move it to a drier spot on the shower floor. Conversely, if you want a more intense aroma, you can move it to an area with more water exposure.
6. End Your Shower
Once you've finished your shower, rinse away any residue from the shower steamer. If there's still a significant portion of the steamer left, you can save it for your next shower by placing it on a dry spot or shelf outside of the shower.
7. Store Remaining Steamers Properly
If you have more than one shower steamer, make sure to store the unused ones in a dry place, away from moisture, to prolong their shelf life.
Which natural ingredients are used in this product?
We use essential oils in our steamers from plants like:
- Wild Mint
- Eucalyptus
- Orange
- Tea Tree
- Lavender
- Rosemary


How long does each brick last?
On average, our shower steamers last about 10 minutes. However many customers find that adding only a little water to their steamer is enough to transform their shower experience and reuse the steamer for multiple showers. It's all up to you!
#shopify-section-announcement-bar, #shopify-section-header { display: none !important; visibility: hidden !important; } .sales-header__wrapper { top: 0; }