Hyaluronic Acid Serum
"My skin is looking so plump and glowy!" -Jenny S.
Save 15% on every renewal order

VIP Customer Support

Free $25.99+ gift on 3rd replenishment

Vacation mode for when you're 🌊☀️🏖
Hyaluronic Acid Serum
Single
Delivery Every:
Every 30 Days
FREE SHIPPING US Orders $75+
Ready to get radiant? Look no further than this mighty serum! Hyaluronic Acid Serum hydrates skin by attracting and locking in moisture. It plumps, firms, and smoothes skin while diminishing fine lines and wrinkles, giving your face the dewy, youthful glow of yesteryear.
ORGANIC ALOE VERA (Aloe Barbadensis)

Brimming with antioxidants Vitamins A and C, and enzymes, Aloe Vera fights inflammation and soothes irritated and dry skin. Aloe also helps combat acne and eczema.

NONI FRUIT EXTRACT (Morinda Citrifolia)

Extracted from the star fruit of a small tree, this unique ingredient is brimming with antioxidants. It's primary benefits lie in soothing irritated skin and protecting it from environmental hazards. (FUN FACT: While the ingredient we use doesn't retain a scent, the tropical fruit this mighty ingredient is derived from is a real stinker! That's why some called it "Starvation Fruit," implying that indigenous peoples would reserve the yellow fruit for emergencies.)

WHITE TEA LEAF EXTRACT (Camellia Sinensis)

White Tea Leaf is abundant in antioxidants + anti-aging properties that help keep your skin youthful by preventing fine lines and wrinkles. White Tea Leaf is also beneficial in helping sooth and clear breakouts as it's antibacterial properties work to fight off those unwanted bacterias and germs.

HYALURONIC ACID (Sodium Hyaluronate)

A wonderful hydrator, Hyaluronic Acid helps your skin soak up moisture like a sponge soaking up water. As we age, the amount of Hyaluronic Acid produced by our bodies tends to decrease. This nourishing ingredient helps prevent fine lines and wrinkles, helping keep that youthful glow. It's hydrating and aids in reducing redness or irritation on the skin. Adding this natural substance back into our skincare products helps our overall skin health tremendously!

GREEN TEA LEAF EXTRACT (Camellia Sinensis)

Japanese Green Tea does wonders for sensitive skin! Pumped with antioxidants, Green Tea contains six different types of catechins (a fancy science term for a molecular superhero that combats aging, cancer, and cell death). It's your skin's BFF for reducing redness, irritation, and premature aging.

GOTU KOLA EXTRACT (Centella Asiatica)

Considered for centuries a medicinal wonder plant, Gotu Kola is derived from a small, creeping herb. It's known for treating a host of skin concerns including repairing sun damage and protecting skin with its powerful antioxidants. In recent years, Gotu Kola has gained well-desereved renown within the Korean Beauty community (K-Beauty, anyone?) You'll love how it soothes and protects your skin.
Benefits
"It works so well! Is beginner friendly. It goes on like a regular white lotion so you know where it is going."
watch video
Before / after
real results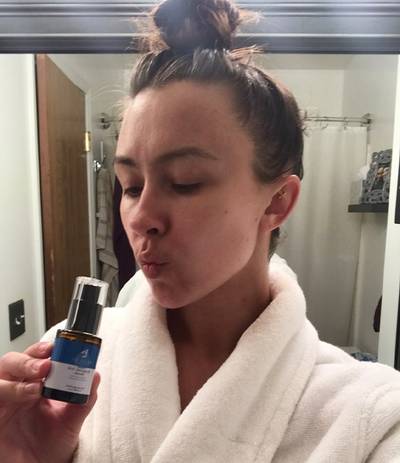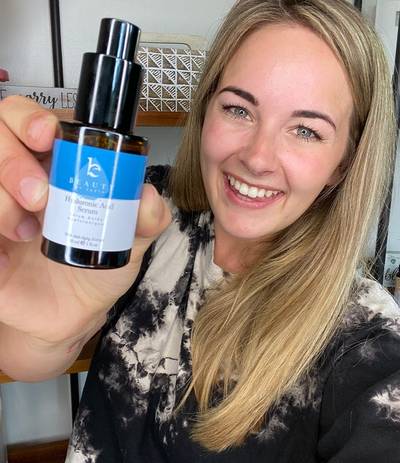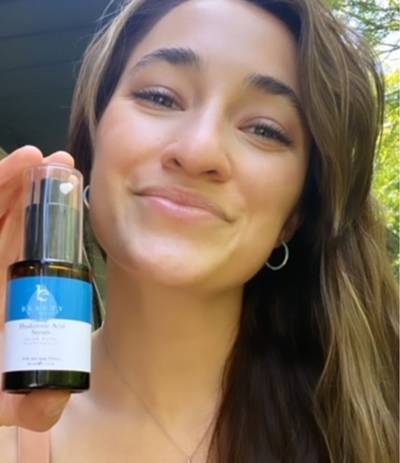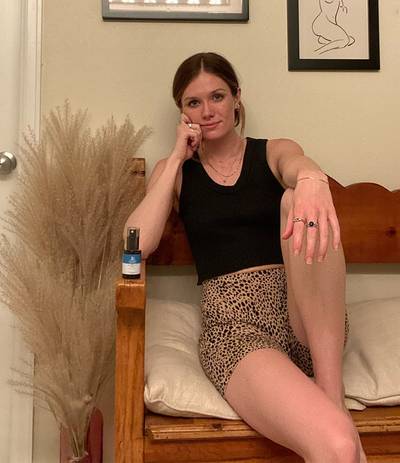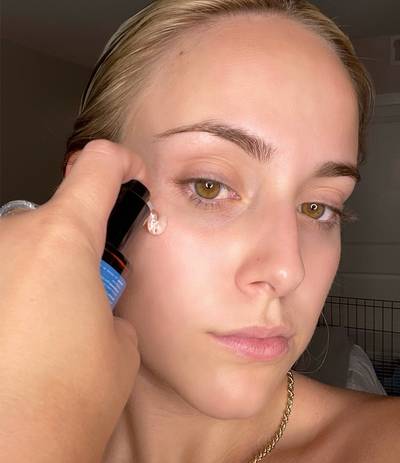 Babe, Wash Your face. Use a gentle natural face wash and cool, clean water.
It's SO IMPORTANT to start with a clean slate. Wash your face with a gentle natural face wash (we're crushing on this one made with sea kelp) and dry off.
Ensure your face is damp + apply 1-2 pumps of serum to face, neck, and décolletage‬.
Your skin must be damp when using it, or right after application! Hyaluronic Acid attracts water so you want to make sure its pulling water into the skin - not out! Massage serum gently into skin. Don't neglect your neck and chest! (You'll thank us in a few years 😘 )
(Note: If using alongside our Vitamin C Serum, the Vitamin C Serum will be applied first and then the Hyaluronic Acid Serum on top!)
We're devoted to promoting people and the planet through clean beauty.
Best clean ingredients
Recyclable packaging
Plastic Neutral partnership
Leaping Bunny cruelty-free certified
Powered by clean air
Minimal Waste
Learn More
Frequently asked questions
You can apply this serum morning and night on your face and neck. Be sure to wash your face first! Your skin must be damp when applying!

Yes! Hyaluronic can be used alongside any serum or line of products. When used alongside another serum like our Bakuchiol or Vitamin C, we recommend using those first and the Hyaluronic Acid Serum second.

ie: Face Wash, Toner, Vitamin C/Bakuchiol, Hyaluronic Acid Serum, Moisturizer, SPF

This serum plays well with others! Apply it before putting on moisturizers or facial oils for best results!

Our Hyaluronic Acid is vegan and derived from plants.

A wonderful hydrator, Hyaluronic Acid helps your skin soak up moisture like a sponge soaking up water. As we age, the amount of Hyaluronic Acid produced by our bodies tends to decrease. This nourishing ingredient helps prevent fine lines and wrinkles, helping keep that youthful glow. It's hydrating and aids in reducing redness or irritation on the skin. Adding this natural substance back into our skincare products helps our overall skin health tremendously!

Our Hyaluronic Acid is derived from plants and vegan. Contrary to what the name implies, hyaluronic acid actually has a fairly low ph level. Best of all, it's a great booster for your moisturizing products. So pair it with a great glow oil or facial moisturizer for best results!

No, it should only be applied to the face and neck, avoiding the eye area.

*Aloe Barbadensis (Aloe Vera) Leaf Juice, *Glycerin, Sodium PCA, Sodium Hyaluronate (Hyaluronic Acid), *Morinda Citrifolia (Noni) Fruit Extract, *Camellia Sinensis Leaf (White Tea) Extract, *Camellia Sinesis (Green Tea) Flower Extract, *Centella Asiatica (Gotu Kola) Extract, Radish Root Ferment Filtrate




*Certified Organic Ingredient