"An essential for application!" -Kelli K.
THE PERFECT TAN EVERY TIME.
Free & Easy returns — all day, 'er day!
Self Tanning Mitts
Skip the streaks – get the natural-looking tan you want with our self tanner mitts. This professional-grade applicator kit includes everything you need for a perfect tan, including self tanner applicator mitts for the body and face and an exfoliating mitt.
We make it easy
30-Day 'Love it or Money Back' Guarantee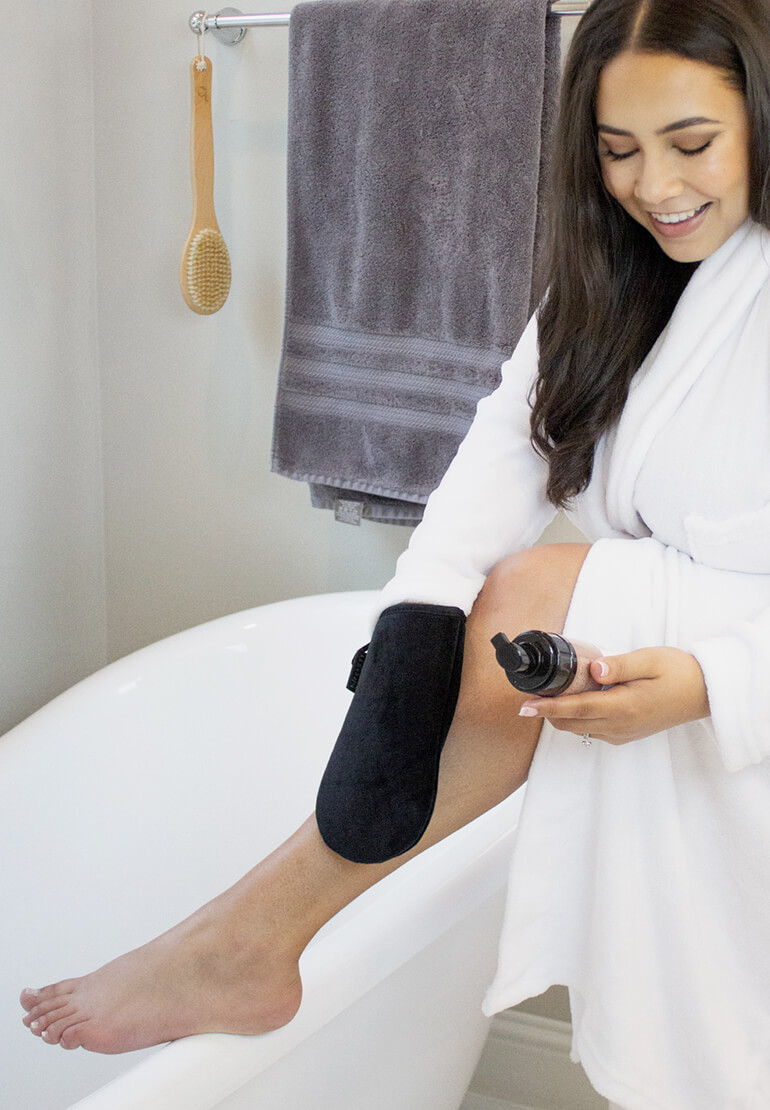 Perfect For. . .
GETTING A BEAUTIFUL TAN WITHOUT THE SUN DAMAGE!
THAT GORGEOUS TAN FOR FACE & BODY!
INFUSE A HEALTHY GLOW IN PALE, SALLOW SKIN!
The DEETS
SKIN TYPE
Great for all! (Sensitive skin, babe? Yup, it's good for even you.)
TEXTURE
Velvet-smooth applicator feels so gentle and soft on skin!
MATERIALS
Made from super soft velvet and polyester weave, your back applicator will give your skin all the love it's been missing.
FREQUENCY
Self Tanner lasts 4 - 6 days for most people, so 1 time a week is usually just right. It's buildable, so repeat sooner for a darker tan.
TIME TO RESULTS
You'll see results from your self tan within six to eight hours.
REPLENISH
4 - 5 months is usually the replenishment rhythm most beach babes prefer.
What's Inside
Select an ingredient to see where it's from, why we picked it, and other products with similar ingredients.
Velvet
(Hello, Super Soft!)
Benefits:
Grips self tanner lotion without absorbing it. Helps prevent streaks or blotches during self tanner application.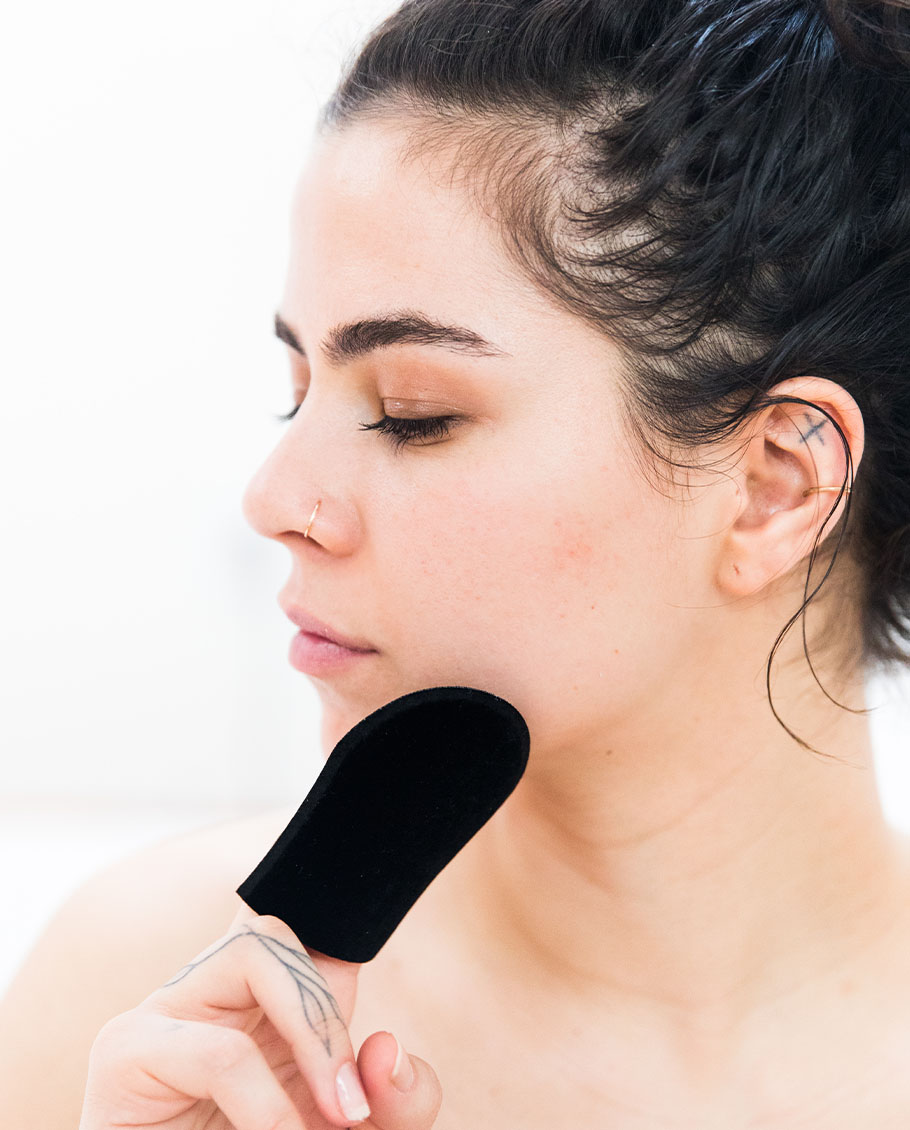 The mitt is essential for application!! Worked great and didn't leave streaks.
How to use
STEP 1:

Gently massage your skin in a circular motion, paying extra attention to your heels, knees, elbows, and other areas where skin tends to harden. Rinse and dry off.

STEP 2:

Gently massage tanner into your face, using small circular motions.

STEP 3:

Apply a moderate amount of self tanner to your mitt. Massage tanner into the rest of your skin, starting at your feet and moving up. Be especially careful when applying tanner to elbows and knees – these areas tend to absorb more tanner, which can cause dark spots. When your tan is complete, rinse out your gloves and hang them to dry in a well ventilated area. Wash your hands thoroughly. If any tanner ended up on them while you were rinsing your gloves, it may lead to stains.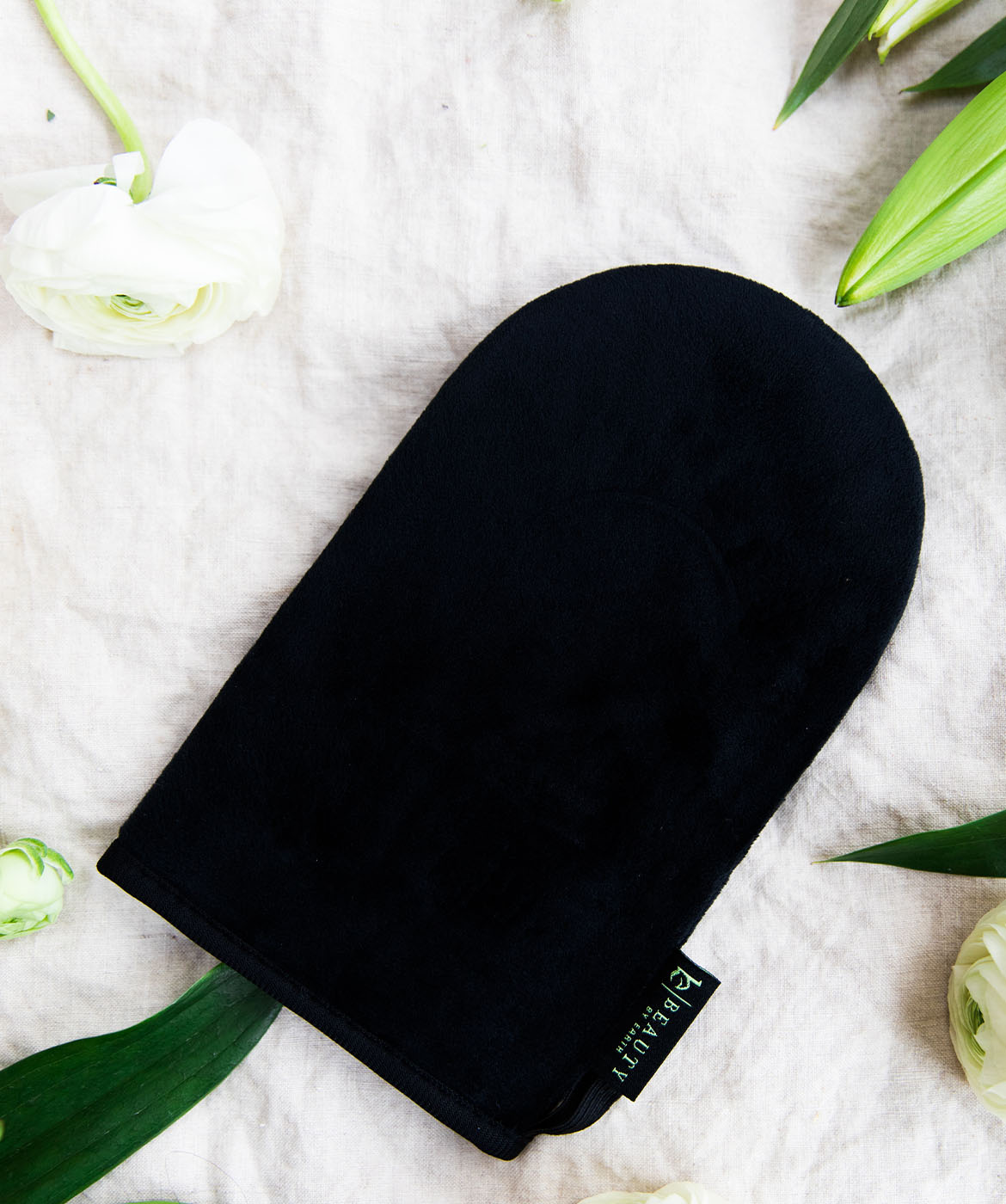 What Customers Are Saying
Frequently Asked Questions
This kit includes a body applicator mitt, a face applicator mitt, and an exfoliating mitt.
Sure thing – we recommend exfoliating in the shower first. Then, apply your body lotion to the more porous spots, such as your hands, elbows, knees, ankles, and feet. Apply a small amount of self-tanner to your face applicator mitt. Massage into your face in a circular motion. Then, add a larger amount of tanner to your body applicator mitt. Starting from your feet, apply your tanner using the same circular motion. Be super careful around your knees and elbows – it's easy to get spotty around there! There are tons more to know about using self-tanner – check out our blog post on the subject for more detail...
These are self-tanning mitts.
Slip them on, add a little tanning lotion, and apply carefully to your face and body using circular motions. You'll have more control this way than if you just used your hands, plus you'll never have to deal with orange palms again!
Because when you are using this self-tanning lotion it is causing a reaction with your skin – giving you that bronzed look. If you don't remove the dead skin cells it will give the tan to those and your tan will not last as long as if you tan your new skin. In addition to that, exfoliation sloughs off any flakes, keeping your skin clear and reducing discoloration.
Exfoliating mitts work best in the shower. Apply a dollop of your favorite moisturizing cleanser to your mitt, and then massage your skin in a circular motion to remove dead skin cells. Pay a little extra attention to your elbows, knees, and heels: they tend to be problem areas. Rinse off and get ready to tan.
Yes, please! Our self-tanner does not provide any protection from the sun's rays, so it's important to keep wearing your sunblock.
Absolutely! Send us an email at wholesale@beautybyearth.com and we'll get you started.
We'll never put these bad dudes in any of our products.
Nope:

Parabens, Sulfates, fillers, or other junk.

No way:

Synthetic Fragrances or Dyes
Real reviews by real people
The Perfect Trio For the Perfect Tan
Skip the streaks – get the natural looking tan you want with our self tanner mitts. This professional kit includes everything you need for a perfect tan, including self tanner applicator mitts for the body and face and an exfoliating mitt.
SAY "SEEYA" TO STREAKS: Our self-tanning mitts make self-tanning as easy as can be. This three-piece set lets you tan with confidence by making streaks a thing of the past. Each spa-quality mitt helps you apply our self-tanner easily and with complete control, giving you a natural-looking tan without dark spots or streaks.
EVERYTHING YOU NEED FOR A PERFECT TAN: You deserve a tan that looks amazing! Our self-tanning mitts have everything you need to get you there. This three-piece set includes a body, applicator mitt, a face applicator mitt, and an exfoliating mitt – the perfect collection of tools for the perfect tan.
SKIP THE TANNING BOOTH: Conventional tanning puts your skin at risk for burns, damage, premature aging, and even cancer. Making the switch to self-tanner eliminates the risk while still making sure you look incredible. Self-tanning mitts take your tan to the next level, giving you a healthy glow that looks just as good as the real thing.
LOVE IT OR LET US KNOW – We know you're gonna love what our self-tanning mitts can do. We're so confident that we'll even guarantee it. Every product we sell comes with a 30 day, 100% Customer Satisfaction Guarantee. If at any point over the next month you don't love your mitts, just send it back and we'll give you a full refund – no awkward questions required.
The Easy Way to Tanning Perfection
Nothing takes the fun out of self-tanning like imperfect application. From streaks to dark spots to those little bits on your back you can't quite reach, tanning mistakes are easy to make. We designed our professional self-tanning applicator mitts kit to give you everything you need to get a natural-looking tan every time.
This bundle includes:
Body Applicator Mitt: A comfortable mitt that ensures self-tanner is applied evenly all over the body. No streaks, no missed spots, and absolutely no orange palms!
Face Applicator Mitt: A gentle mitt that gives the delicate skin on your face a little extra love. Use this glove for extra control when applying small amounts of self-tanner to your face, including sensitive areas.
Exfoliating Mitt: The only way to truly tan like a pro is to exfoliate beforehand. Our exfoliating mitt improves skin tone and texture, stimulates circulation, and makes sure your skin is 100% ready for a great tan.
So kick the tanning booth habit and make the switch to a gorgeous, natural, and safe self-tan. With our self-tanning mitts, you'll never have to worry about streaks or dark spots again!
How to Use Self Tanning Mitts