"Amazed that it smells good and it was easy to apply with no streaking." -— Amanda D.
THAT BALI-BRONZED GLOW FROM HOME
Free & Easy returns — all day, 'er day!
Self Tanner Mousse Bronzed Body Bundle
Give your body the glowing tan you've been craving. The Self Tanner Mousse Bronzed Body bundle includes everything you need for a beautiful, natural-looking tan. Ditch the dyes, synthetics, and fillers for a plant-based sunless tanner that doesn't stain, streak, or turn you orange. You're going to love your glow, babe.
We make it easy
30-Day 'Love it or Money Back' Guarantee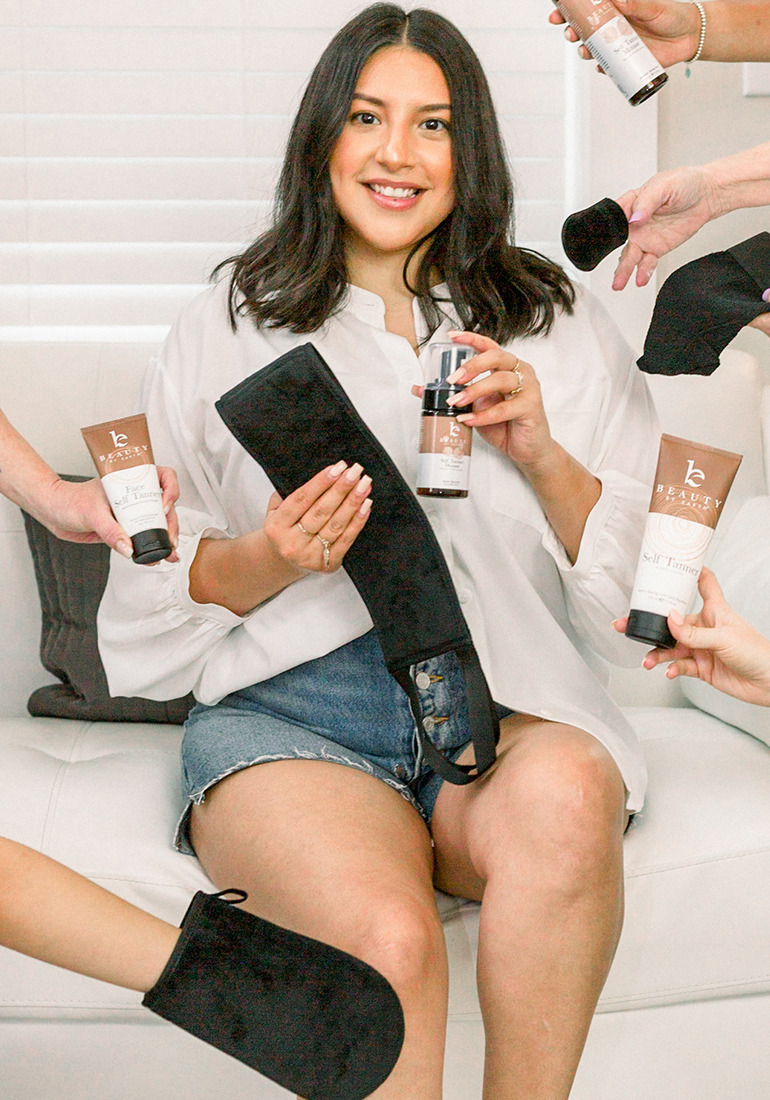 Perfect For. . .
GIVING YOU A FLAWLESS TAN
ANYONE LOOKING FOR A COMPLETE, LUXURIOUS TANNING PROCESS
SEEING RESULTS IN JUST 6 HOURS
GETTING A BUILDABLE TAN
BLURING CELLULITE, VEINS, SCARS, AND DISCOLORATION
GAINING BODY-LOVING CONFIDENCE
The DEETS
SKIN TYPE
Great for all! (Sensitive skin, babe? Yup, it's good for even you.)
SCENT + TEXTURE
Subtle fresh scent with a silky, foamy texture.
AMOUNT
Use enough self tanner to cover your entire body thoroughly. (Remember to go easy on all joints, hands, and feet.)
FREQUENCY
Self Tanner lasts 4 - 6 days for most people, so 1 time a week is usually just right. It's buildable, so repeat sooner for a darker tan.
TIME TO RESULTS
You'll see results from your self tan within 4-6 hours.
REPLENISHMENT
2 - 3 months is usually the replenishment rhythm most beach babes prefer.
What's Inside
Select an ingredient to see where it's from, why we picked it, and other products with similar ingredients.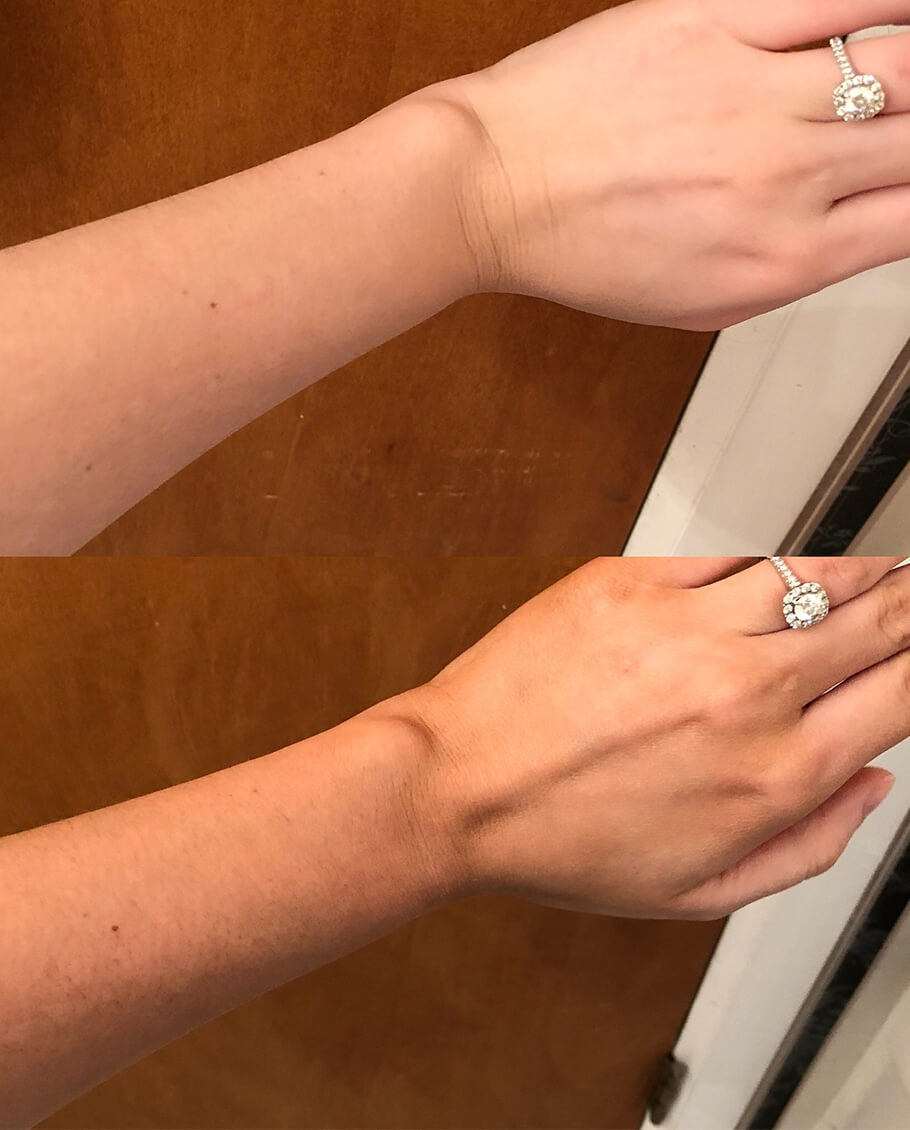 I have used self tanner for at least 20 years. This is hands-down the best self tanner on the market.
How to use
Step 1:

Ready to tan? Start by exfoliating your skin. Use a loofah, exfoliating pad, or a body scrub to gently get rid of dead skin cells – our self tanning application kit will give you all the tools you need for a perfect tan.

This will help make sure your tan lasts as long as possible. It's also a good idea to paint your nails before applying your tanner – unless you like orange-y nails, that is. Give your feet a little moisturizing love beforehand to help make sure they don't end up darker than your body.

Finally, wait a day or two after shaving before using our self tanner. If you apply to newly shaved skin, all of your pores will show up as little orange dots.




Step 2:

Put on your face applicator mitt. Apply a very small amount of face self tanner to mitt.
Massage tanner into your face using circular motions. Be careful around your eyes!
Replace face mitt with body applicator mitt. Apply a small amount of body self tanner to mitt.
Starting from your feet and working upwards, apply self tanner using circular motions.Pay special attention to your knees and elbows to ensure tanner is applied evenly.
Apply a small amount of body self tanner to back applicator. Starting from your lower back and working upwards, apply tanner using a back and forth pulling motion on the applicator straps.




Repeat this process as necessary every day until the desired color is achieved.

Step 3:

Your skin should reach your desired color within six hours. If it doesn't, reapply the following day. We find that reapplying every 4-7 days is best for maintaining color, but do what works best for you. Enjoy your sunny, golden skin!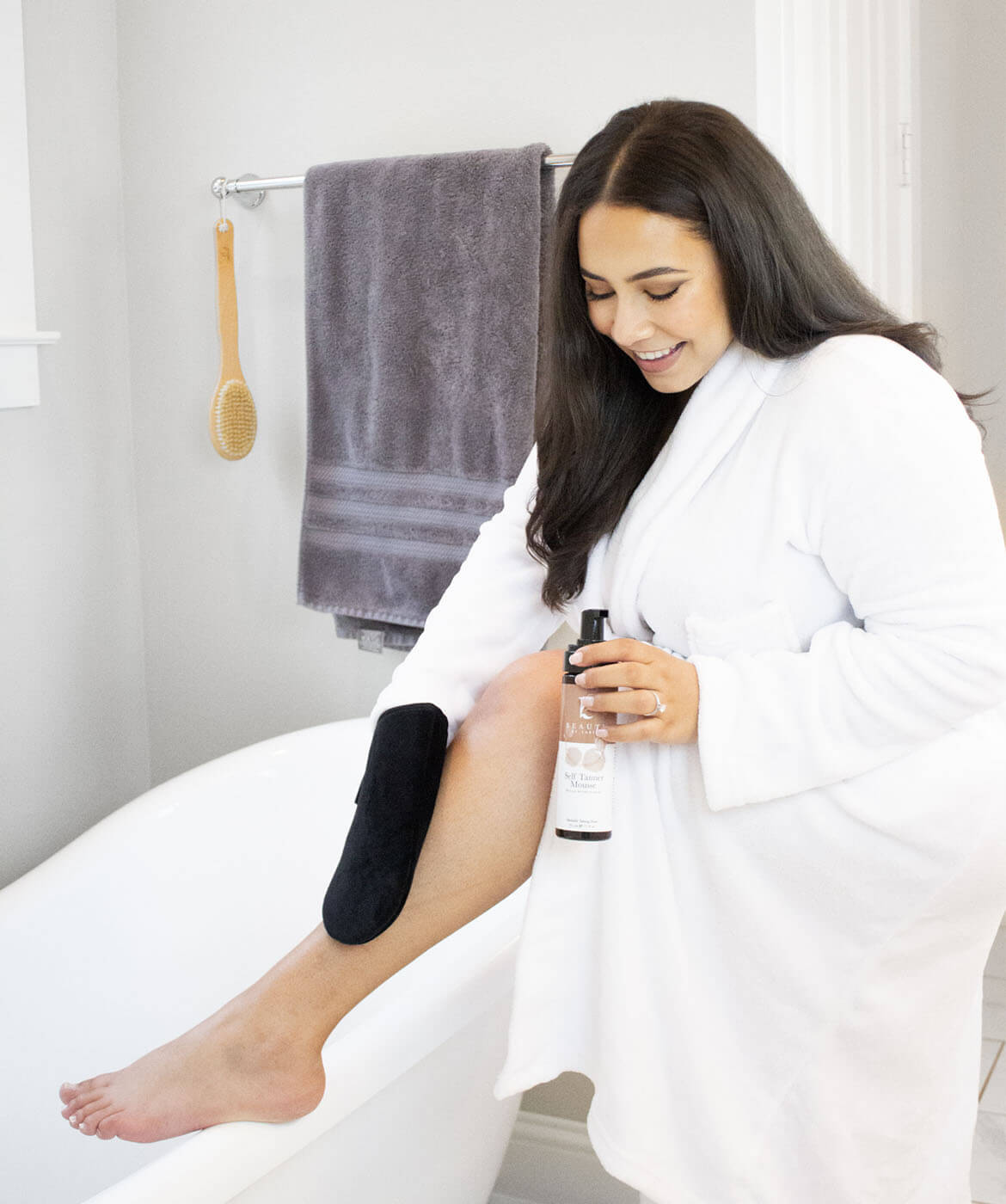 How to Recycle Your Self Tanner Tube
Our Self Tanner Mousse is Different!
Our self tanner has no dyes, artificial fragrances, and WONT stain clothing or sheets. Unlike other self tanners, you don't have to worry about horrible smells, nasty toxic chemicals, or streaks.
Nutrient-rich ingredients that nourish skin
Won't stain or streak
Won't leave you orange tomorrow
How to Recycle Your Self Tanner Tube
Our Self Tanner Mousse is Different!
Our self tanner has no dyes, artificial fragrances, and WONT stain clothing or sheets. Unlike other self tanners, you don't have to worry about horrible smells, nasty toxic chemicals, or streaks.
Nutrient-rich ingredients that nourish skin
Won't stain or streak
Won't leave you orange tomorrow
What Customers Are Saying
Frequently Asked Questions
While it is not certified organic, our natural self tanner is made up of 81% water and certified organic ingredients, the other 19% are naturally derived ingredients and it does not include any toxic or harmful additives.
The active ingredient in our self tanner is DHA, a sugar derivative that gives the top layer of the skin a bronzed glow. It's 100% natural and non-GMO. It's backed up by a carefully selected combination of supporting ingredients, including organic aloe vera leaf juice (for luscious hydration), organic shea butter (for maximum moisturization), and organic pomegranate and cranberry extract (because who doesn't love a bit of fruitiness in their self tanner?).
We can't pinpoint the exact number of days – that will vary based on your application method, skin type, and how often you reapply. Many of our customers who have left self tanner reviews report that their tan lasted 5-7 days.
Step One: Do Everything Else
There are a lot of things that can mess with your self tanner if you don't do them first. Painting your nails, coloring your hair, and shaving your legs can all remove the tanner before it has time to do its work, so make sure you get these tasks done beforehand.
…but not too close beforehand. Before I knew how to apply self tanner I didn't realize that it's not a great idea to shave right before you use it. I ended up with all of my pores showing up as little orange dots. Not very classy. I definitely recommend waiting several hours after you shave before applying any self tanner.
Step Two: Exfoliate
Self tanner has a way of sinking in to dry skin and creating weird little dark patches. You can make sure you skip this problem by exfoliating your skin before applying self tanner. Use a natural exfoliating scrub to slough off any flakes, paying special attention to your knees, elbows, ankles, and other rough areas. Use a gentle exfoliator to make sure your face is clear as well.
Step Three: Start From the Bottom
If you start by applying self tanner to your shoulders and torso, you may end up with some weird streaks when you bend over to do your legs. Make sure you get a nice, even tan by starting from the bottom and working up.
Step Four: Use Circles
Squeeze a small amount of self tanner (about a teaspoon or so) into a clean hand. If you prefer, you can wear latex gloves. Work the mousse into your skin using a circular motion. I usually apply tanner to my legs, arms, torso, and face, being careful to avoid sensitive areas like my eyes.
Step Five: Tread Carefully
Be especially cautious when applying self tanner to areas where skin tends to be loose and dry. This includes elbows, knees, and the areas around your nose and top lip. The skin in these areas tends to pick up more color than the surrounding skin, making it easy to end up with dark spots.
It is always a good idea to moisturize these types of areas prior to applying self tanner so you get a more even look. It will also help ensure these areas don't come out darker than everywhere else.
Step Six: Wash Up
If you decided not to use gloves to apply your self tanner, wash your hands immediately afterwards. This will keep you from ending up with off-color palms. If you end up with streaks or splotches, don't fear – rub the area with half a lemon then buff it away with a damp towel. It'll be like it never happened.
Step Seven: Repeat as Needed
You should reach your desired color within six hours. If you don't, just reapply the following day. I usually end up reapplying every 4-7 days to keep my color consistent, but that number may vary based on what works best for you.
Step Eight: Don't Forget Sunscreen – Self tanner does not protect against UV radiation. If you plan to spend any time in the sun after using a self tanner, be sure to apply sunscreen.


Uh-uh, no way. We never use parabens, phthalates, sulfates, artificial fragrances, or any other junk that has no business getting near your skin. And that rule applies to all our products, not just our self tanner. You can find a complete list of what we do (and don't) include on our product page.
Any self tanner will leave streaks if it's not used correctly, but with good technique our self tanner is primed to give you an even glow. If you really want great results, our spa quality self tanner applicator mitts are your best bet. Even better of course is saving a few bucks by picking up our self tanner and applicator mitts in this self tanner bundle!
Our self tanner can provide great color, but it won't protect you from the sun as it does not contain SPF ingredients. Make sure to keep up with your sunscreen routine no matter how often you use our tanner.
Absolutely. Self tanning is a much safer alternative to spending time in the sun or in tanning beds. Exposure to UVA and UVB radiation can cause premature aging, including age spots, fine lines, wrinkles, freckles, and more. With enough time it can leave your skin looking tough and leathery. And don't even get us started on the cancer risk… No way around it – self tanning with a natural tanner is the best way to go.
Our self tanner uses all-natural ingredients that are gentle on sensitive skin. However, with any new product it's always a good idea to do a test patch before using it on larger areas. Take a look through our self tanner reviews to find out how other customers with sensitive skin reacted – the response has been overwhelmingly positive.
As often as needed! Keep an eye on your tan, and when it starts to fade go ahead and reapply. Most customers find that their tan lasts about 7 days before fading, but if you notice a difference sooner, there's no reason not to reapply.
Take the time to apply it right – exfoliate first, be generous with the amount you use, and use a self tanning mitt. We find that we can extend the life of our tan by sticking to warm (not hot) showers and by moisturizing daily.
Great question! The short answer is faster absorption and fewer hydrating ingredients. Our mousse absorbs faster into your skin than our tanner lotion. However, it doesn't have some of the hydrating ingredients present in our body self tanner, like coconut oil, aloe vera, and shea butter. So if you're looking for a quicker, even tan, you'll love this tanning mouse! If you're needing more hydration and aren't in a rush, try our tanning lotion instead.
Also, many people find the self tanner mousse tans a bit darker than the lotion.
We'll never put these bad dudes in any of our products.
Nope:

Parabens, Sulfates, fillers, or other junk.

No way:

Synthetic Fragrances or Dyes
Real reviews by real people
THE MOST BEAUTIFUL THING YOU CAN WEAR IS CONFIDENCE
GET THE TAN YOU WANT – THE FIRST TIME: Our self tanner ultimate bundle has everything you need to get that sun-kissed glow. Tired of uneven application, dark or light spots, or streaks? Our pairing of natural self tanner and salon-quality application tools will make sure you'll never have to deal with a subpar tan again.
IT AIN'T EASY BEING ORANGE: Most self tanners give you a glow that's more "oompa loompa" than "sunkissed beauty." We think that's ridiculous. That's why we tirelessly tinkered to create a self tanner formulation that builds a natural-looking tan. And when you apply it with our application tools, you'll get a result that really turns heads.
QUALITY GIVES YOU CONTROL: Never underestimate the power of high-quality tools. Our self tanning bundle comes with an exfoliating mitt and two applicator mitts. Exfoliate to get your skin ready to tan, then apply like a professional for a smooth, even glow. Designed to be as gentle as they are effective, our tools will keep your skin as healthy as it is gorgeous.
BYE BYE TOXIC INGREDIENTS: Think you need toxic, dangerous, or sketchy chemicals to get a great self tan? Think again. We've used only the good stuff for our self tanner – we promise! With ingredients like shea butter, organic coconut oil, and Japanese green tea leaf extract, this self tanner is safe for everyone (including pregnant moms!).
LOVE IT OR LET US KNOW: We know you're gonna love what our self tanning bundle can do. Every product we sell comes with a 30 day, 100% Customer Satisfaction Guarantee. If at any point over the next month you don't love your tanning bundle just send it back and we'll give you a full refund – no awkward questions required.
The Natural Path to the Perfect Summer Glow
Tired of sad, pale skin? Sick of uneven, splotchy, streaky self tans? Done with self tanners that are full of toxic ingredients? We hear you. That's why we've put together our self tanner ultimate bundle. This bundle contains everything you need to get the perfect self tan, including:
Body Applicator Mitt: Just say no to streaks, spots, and orange palms! Our body applicator mitt makes it easy to achieve perfect self tanner application every time.
Face Applicator Mitt: Self tanning mistakes are most obvious on the face. Get the control you need for flawless application with this gentle mitt that gives the delicate skin on your face a little extra love. Use this glove for extra control when applying small amounts of self tanner to your face, including smaller and sensitive areas.
Exfoliating Mitt: The only way to truly tan like a pro is to exfoliate beforehand. Our exfoliating mitt improves skin tone and texture, stimulates circulation, and makes sure your skin is 100% ready for a great, flawless finish.
Self Tanner: Our natural self tanner is one of the safest ways out there to get a glowing tan. No need to expose yourself to UV rays or the harmful chemicals used in other products – our self tanner adds an even bronze glow safely and naturally.
Face Self Tanner: Our natural face self Tanner is perfectly formulated for even the most sensitive skin with organic ingredients to hydrate while you tan. No clogging your pores and no color transfer to sheets or clothes.
Custom Drawstring Canvas Bag
Our self tanner and face self tanner are two of our most popular products. Using them in combionation with our high quality application tools included is the perfect way to make sure you get the most out of your tanner. See the difference a high-quality and natural self tan can make today!
How to Use Our Self Tanning Ultimate Bundle
Exfoliate
Hop in the shower with your new exfoliating mitt.
Apply a dollop of your favorite moisturizing cleanser to your mitt.
Massage into your skin using a circular motion.
Give your heels, elbows, and knees a little extra love.