"This is such a great set! Leaves lips feeling silky smooth! Mint is my absolute favorite!" -Anthony F.
Get kiss-ready with our Lip Care Deluxe Bundle that includes our trio of Lip Scrubs and a Peppermint Lip Balm that are full of natural ingredients to supercharge your routine.
Free & Easy returns — all day, 'er day!
Organic Lip Scrub Gift Set
Our lip scrub gift set gives you the chance to give a gift they'll never forget – healthy, beautiful lips. Featuring all three of our sugar scrub flavors (mint, berry, and vanilla), it's the perfect way to let a special someone know how much you love their smile.
We make it easy
30-Day 'Love it or Money Back' Guarantee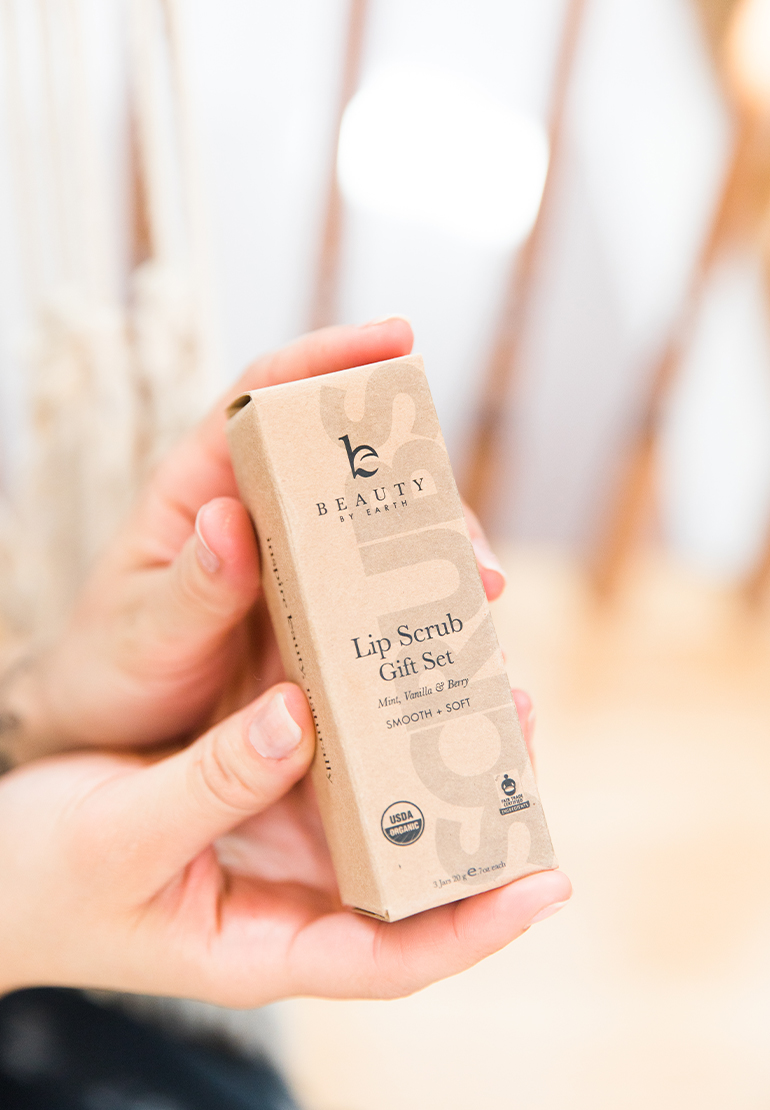 Perfect For. . .
EXFOLIATING AWAY THE FLAKY, DRY SKIN!
REJUVENATING YOUR LIPS!
THE SMOOTHEST SCRUB FOR THOSE GENTLE LIPS!
The DEETS
SKIN TYPE
Packed with natural ingredients, this lip scrub is perfect for all skin types!
AMOUNT
Just a small fingertip amount should do!
FREQUENCY
You never want to over exfoliate, give your lips some time to restore. This lip scrub is best used once or twice a week!
TIME TO RESULTS
You'll see beautiful results right after you pat your lips dry! The scrubs work quickly to get rid of all the dry skin left on your lips, so you'll see the smooth outcome immediately!
REPLENISH
1-2 months is usually the replenishment rhythm most babes prefer, mwah!
What's Inside
Select an ingredient to see where it's from, why we picked it, and other products with similar ingredients.
Fair Trade Certified (™) Sugar
Sugar
Benefits:
Sugar is a natural exfoliant that helps lightly dust away flaky skin, dirt, and any other funk left on your skin. Using light scrubbing you can uncover healthy, rejuvenated looking skin.
Spearmint Essential Oil
(Mentha spicata)
Located:
North America & Asia
Benefits:
A part of the mint family, spearmint works as an antiseptic soothing the skin and healing any irritation or wounds. It's great for those with sensitive skin as it's very gentle and has a subtle scent.
Peppermint Essential Oil
(Mentha × piperita)
Benefits:
Naturally cooling and refreshing, peppermint is one powerful antibacterial ingredient. It soothes irritated skin and helps combat oils and acne. It's a natural astringent, helping skin maintain firmness while shrinking pores.
Olive Oil
(Olea europaea L)
Benefits:
Olive oil hydrates and nourishes the skin while working to fight off acne causing bacteria.
Rosemary Extract
(Salvia rosmarinus)
Benefits:
Rosemary can help lighten your skin and reduce dark spots. This leafy green helps reduce any redness or puffiness on the skin as it is packed with anti-inflammatory agents. The antioxidants rosemary carries will also help fight off acne and prevent breakouts.
Vanilla
(Vanilla planifolia)
Located:
South/Central America
Benefits:
anilla is filled with anti-inflammatory agents so it works to soothe the skin and help treat inflammatory acne. It has anti-aging properties as well so it keeps your skin young and beautiful! Vanilla helps skin infections with their healing process and overall promotes healthy skin!
Beeswax
(cera alba)
Benefits:
Beeswax is great for healing and creating a protective layer around your skin. Keeping the good stuff in, and kicking the bad stuff out! It keeps your skin hydrated while locking in moisture and soothing the skin. It helps repair damage, reduce the signs of aging, and calming the skin.
Jojoba Seed Oil
Simmondsia Chinensis
Located:
Southern United States + Mexico
Benefits:
Great for reducing redness, inflammation, eczema, rosacea, and dryness from chaffing, Jojoba seed oil promotes even coloration in skin. It's also rich in Vitamin E and B, nutrients which are essential in healing and repairing damage.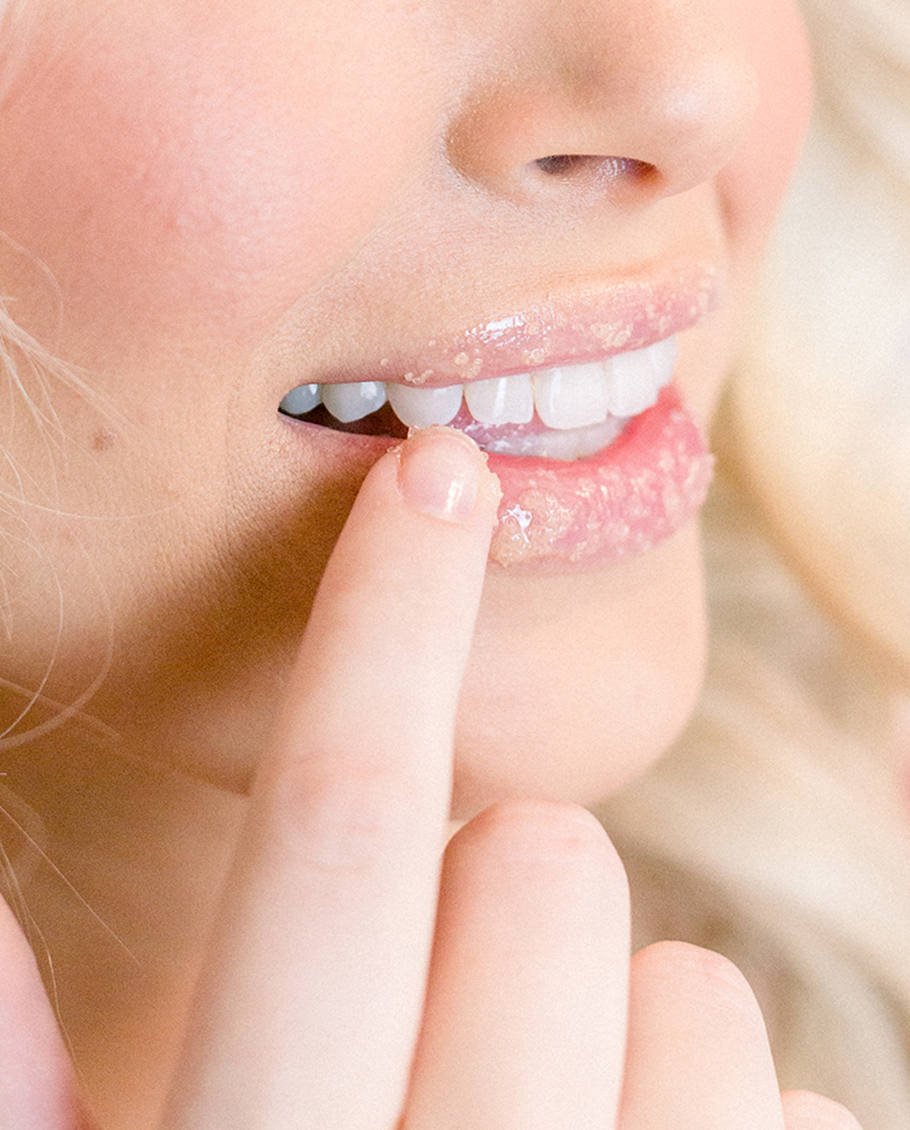 Love this! So sweet and left my lips feeling so smooth.
How to use
STEP 1:

Use a fingertip to apply a pea sized amount of scrub to your lips.

STEP 2:

Let your scrub sit for 1-2 minutes. Rinse off any excess with a damp washcloth.

STEP 3:

Apply your favorite lip color or chapstick. Check out your healthy new smile!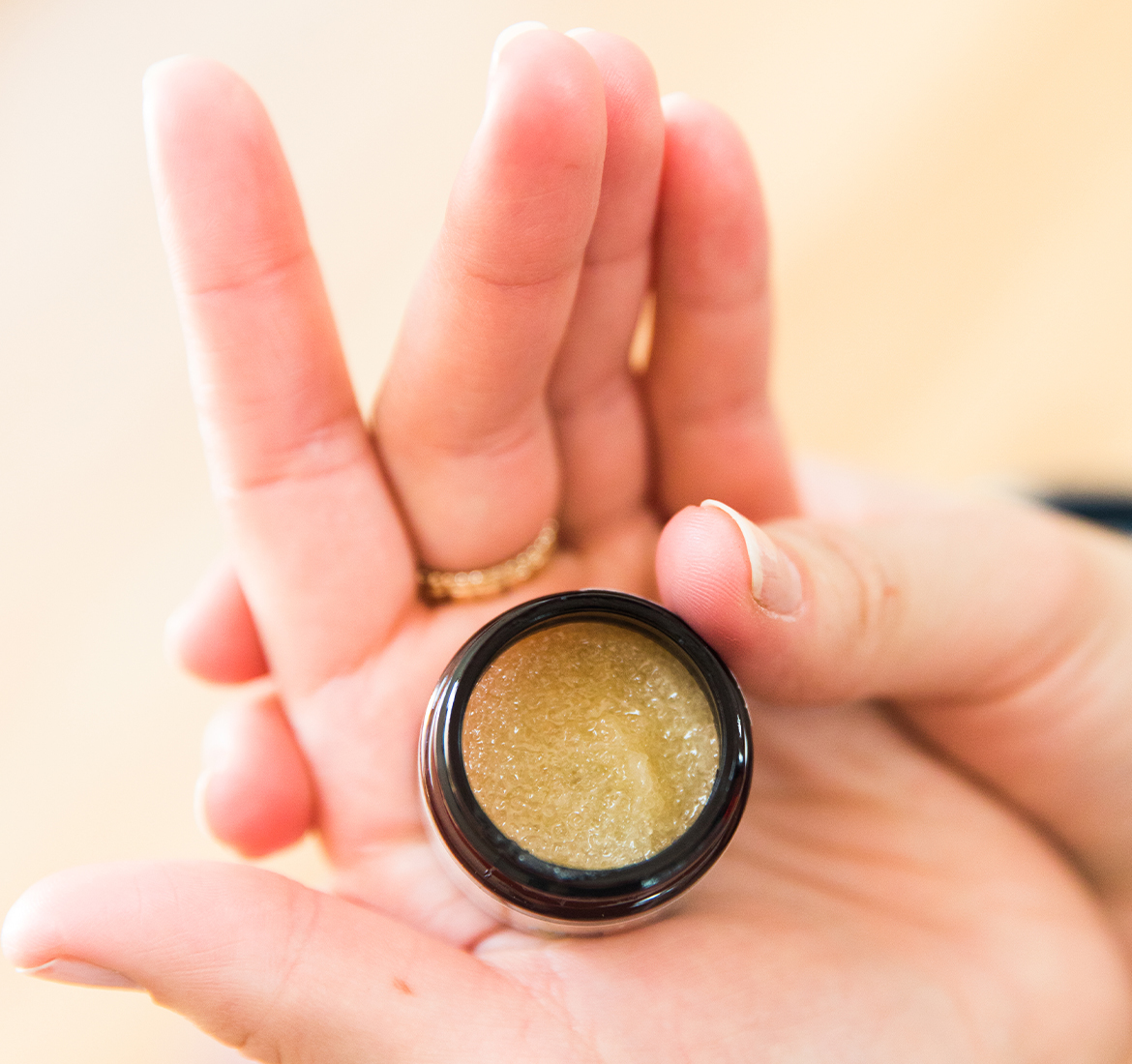 OUR LIP SCRUB IS DIFFERENT:
Smooth, Hydrated & Healthy Lip
Ingredients So Clean You Could Eat It
Applying Twice A Week Is All It Takes For Stunning Lips
OUR LIP SCRUB IS DIFFERENT:
Smooth, Hydrated & Healthy Lip
Ingredients So Clean You Could Eat It
Applying Twice A Week Is All It Takes For Stunning Lips
OUR LIP SCRUB IS DIFFERENT:
Smooth, Hydrated & Healthy Lip
Ingredients So Clean You Could Eat It
Applying Twice A Week Is All It Takes For Stunning Lips
What Customers Are Saying
Frequently Asked Questions
This lip scrub is not certified organic. However, we do use organic ingredients whenever available. Our lip scrubs include organic sugar, spearmint, and peppermint essential oil, jojoba oil, olive oil, beeswax, and more.
Yes! We've included some of our favorite hydrating ingredients in our lip scrubs, including jojoba oil and coconut oil.
The top layer of your lips can easily become dry and chapped from exposure to the sun and the elements. Not only can this be uncomfortable, but it also leaves you with an uneven surface to apply lip color – not attractive. Lip scrubs gently exfoliate away dead and uneven skin, revealing lips that are soft and smooth. Bonus benefit – exfoliated lips allow hydrating products to penetrate more deeply, helping to keep them even healthier.
Just the good stuff, we promise. Here's the full list: sugar, spearmint essential oil, peppermint essential oil, jojoba oil, olive oil, beeswax, coconut oil, vitamin E, rosemary leaf extract, calendula flower extract, and stevia leaf extract.
Berry, mint, and vanilla. Can't decide which sounds best? Check out our gift set for all three!
We recommend applying a small amount of scrub to clean, dry lips. Gently massage it in using your fingertips. Let it sit for a minute or two, then wipe away with a damp washcloth.
It depends on what you're allergic to. We do our best to choose ingredients that are friendly to all skin types. If you do have allergies, read through the ingredients list before using.
Use once or twice a week to keep your lips at their best.
Oooh, we hope it tasted good! But seriously – don't worry if you swallow a little bit of scrub. While you probably wouldn't want to eat the whole jar, there's nothing in our scrub that is toxic or harmful if ingested.
We do! Want in? Get in touch with us at wholesale@beautybyearth.com. We can't wait to get started!
We'll never put these bad dudes in any of our products.
Nope:

Parabens, Pegs, SLS, or SLES

No way:

Synthetic dyes or fragrances

Never:

Toxic Ingredients We Will NEVER Put In Our Products
Real reviews by real people
THE LIP EXFOLIATOR OF YOUR DREAMS!
SMILE BIG – YOU DESERVE IT!
Chapped, flakey lips turning your smile upside down? No worries – our organic vanilla lip scrub is here to change that. Naturally delicious, this scrub is a safe, gentle, and effective way to banish dry, flaky lips. Use it to exfoliate twice a week for a smile you'll never want to put away.
LIPS ARE MEANT TO BE LUSCIOUS: Give your lips the care they deserve by taking the time to exfoliate once or twice a week. Trust us – with our scrub this definitely won't be a chore! As it clears away dead skin and other junk, it also nourishes your lips with some of our favorite oils and extracts. When you're done, your lips will feel as healthy as they look.
BEAUTY IS DELICIOUS: There's a pretty simple reason this product is called a sugar scrub – its base ingredient is fair trade certified sugar. And if that weren't tasty enough, we've added a generous dose of vanilla flavor. You'll take amazing care of your lips while enjoying a sweet treat – what's not to love?
NO JUNK ALLOWED: Got junk? We don't. Just like everything else we make, you'll never find any phthalates, parabens, sulfates, 'fragrance,' or other junk in our sugar scrub. Instead, you'll get a heaping helping of natural oils, extracts, and beeswax. Made in the USA and entirely cruelty free, our scrub is as responsible as it is indulgent.
LOVE IT OR LET US KNOW: We know you're gonna love what our Organic Lip Scrub can do. We're so confident that we'll even guarantee it. Every product we sell comes with a 30 day, 100% Customer Satisfaction Guarantee. If at any point over the next month you don't love your lip scrub, just send it back and we'll give you a full refund – no awkward questions required.
A Smile as Beautiful as You Are
Nothing ruins a smile like chapped, dry, and flaky lips. If you're tired of lips that keep your true beauty from shining through, it's time for a little TLC. The source? Our organic vanilla lip scrub. Packed full of safe, natural ingredients (including jojoba oil, coconut oil, and fair trade certified sugar), this scrub will transform your lips from "blah" to "ahhhhh." Just apply once or twice a week to clear away the bad and nourish with something very, very good.
We think that beauty shouldn't just look amazing, it should taste amazing too. That's why we've added a burst of indulgent vanilla flavor to our scrub. You'll nourish your lips, prime them for color, and enjoy a sweet treat – what's better than that? If you're not sure if vanilla is the flavor for you, check out our berry and mint options. Or grab a gift pack to try all three!
As always, our organic vanilla lip scrub uses only organic and natural ingredients. We use fair trade certified sugar as a base, then add in a special formulation of safe, natural, and sustainably sourced oils and extracts. There's no need to choose between having the smile you deserve and protecting the environment. So stop denying yourself your true smile! Give our sugar scrub a try and see the difference a natural sugar scrub can make.