"I'm 32 and my face is softer and clearer than it's ever been." -Kalish M.
A YOUTH-RESTORING TRIO THAT WON'T TAKE AGE AS AN ANSWER.
Free & Easy returns — all day, 'er day!
Anti Aging Deluxe Bundle
Turn back the clock with our Anti Aging Bundle that includes our Anti Aging Serum and Glowing & Radiant Facial Oil full of wrinkle-fighting ingredients. Use our expertly-crafted jade roller to help you get the most from your facial products.
We make it easy
30-Day 'Love it or Money Back' Guarantee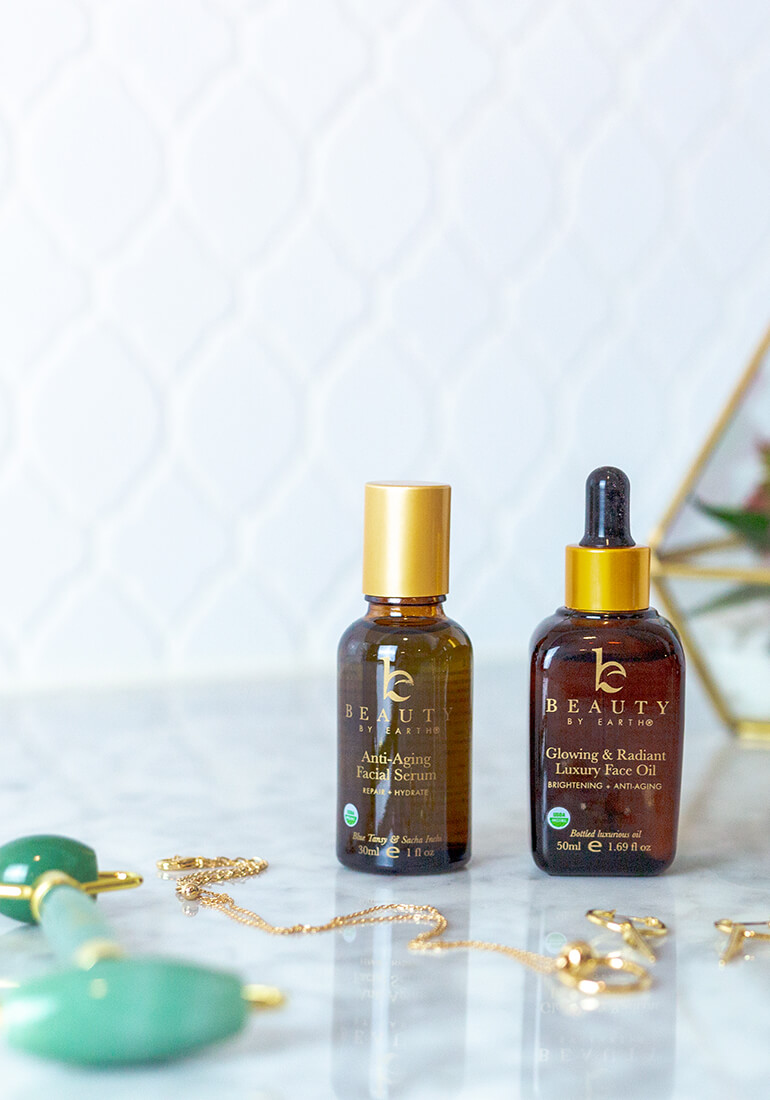 Perfect For. . .
Mature, tired, or wrinkled skin that needs a rewind of the clock.
Restoring skin's glow, firmness, and elasticity
DIY facial massages
Refreshing your face
Blurring fine lines, crows feet, and stubborn wrinkles
The DEETS
SKIN TYPE
Great for all skin types. These beauties are particularly formulated with mature, older skin in mind. They're great at repairing damaged, aging skin and revitalizing that youthful look.
SCENT + TEXTURE
The serum has an earthy scent with notes of Rosemary. The facial oil has a clean, fresh scent with hints of citrus and lavender. Both are light on skin- leaving yourface feeling refreshed & light!
AMOUNT
Start with the facial serum. Use a couple rolls, enough to message into your skin. Next add a few drops of the facial oil. Do note, a little goes a long way with this one! Finish out with a nice refreshing facial rolling massage. For best results, put your roller in the fridge 15 minutes before using. You'll love it's cooling effect!
FREQUENCY
For optimal results, use morning and night! (PSSST: The facial oil works beautifully as a primer, so use before applying your makeup.)
TIME TO RESULTS
Your skin will thank you immediately. Once absorbed, the oil moisturizes the skin and leaves you with the perfect glow. For diminishment of fine lines, crows feet, and wrinkles, most see visible differences within 3-4 months. REMEMBER: skincare is a long game. Consistency makes all the difference in the world.
REPLENISHMENT
2 - 3 months is the recommended replenishment rate for the serum and facial oil to keep the glow goin'! For the roller, most find that careful use will give this baby a LONG lifespan.
What's Inside
Select an ingredient to see where it's from, why we picked it, and other products with similar ingredients.
Blue Tansy
(Vigtia Annua)
Located:
Morocco + Mediterranean Region
Benefits:
Although the name for this yellow-flowered beauty is misleading, Blue Tansy is no joke! Its powerful essential oil hydrates and refreshes while combating redness, irritation, and inflammation. Highly moisturizing, Blue Tansy leaves with a youthful, dewy glow. The flower is part of the Chamomile family (sometimes referred to as the "Moroccan Chamomile") and gets it's exotic, signature blue hue when its compound azulene undergoes a chemical reaction during the distillation process. Azulene also infuses Blue Tansy with powerful anti-inflammatory, antibacterial properties, protecting skin from environmental attack. Yes, we're kind of obsessed with this amazing flower!
Sacha Inchi Oil
(Plukenetia volubilis)
Benefits:
Uniquely adept at hydrating without clogging pores, Sacha Inchi oil gives your face a rich, refreshed feeling. It's perfect for acne-prone beauties with its rich vitamins and omega-3 fatty acids.
Apricot
(Prunus armeniaca)
Benefits:
Apricots are a great collagen booster, meaning it works to keep your skin look healthy and youthful. It works to restore skin cells and help nourish the skin. Apricot can help balance your skin complexion as well!
Rosemary
(Salvia rosmarinus)
Located:
The Mediterranean
Benefits:
Rosemary can help lighten your skin and reduce dark spots. This leafy green helps reduce any redness or puffiness on the skin as it is packed with anti-inflammatory agents. The antioxidants rosemary carries will also help fight off acne and prevent breakouts.
Jojoba Seed Oil
(Simmondsia chinensis)
Located:
Southern United States + Mexico
Benefits:
Great at reducing redness, inflammation, eczema, rosacea, and dryness from chaffing, Jojoba seed oil promotes even coloration in the skin. It's also rich in Vitamin E and B, nutrients that are essential in healing and repairing skin damage.
Organic Argan Oil
(Argania spinosa)
Benefits:
Argan Oil is rich in vitamins A and E. It is packed with antioxidants, Omega-6 fatty acids and linoleic acid. It helps to minimize the appearance of inflammation, stretch marks and scarring, rashes, and dryness. Also, commonly used to repair and moisturize hair. When applied externally, the vitamin E helps to boost cell production while promoting healthy skin and hair.
Orange Peel Oil
(Citrus X sinensis)
Benefits:
Jam packed with Vitamin C, oranges are more than just a yummy breakfast beverage. Vitamin C helps your body in the production of collagen which in turn builds up healthy skin! Antioxidants found in oranges can help with aging and keeping your skin firm and young.
Pomegranate Extract
(Vaccinium Macrocarpon)
Located:
Middle East, South Asia, and Mediterranean
Benefits:
Rich in vitamins A and C essential for collagen production, cranberries also fight signs of aging by keeping skin hydrated and fighting off wrinkle-causing free radicals.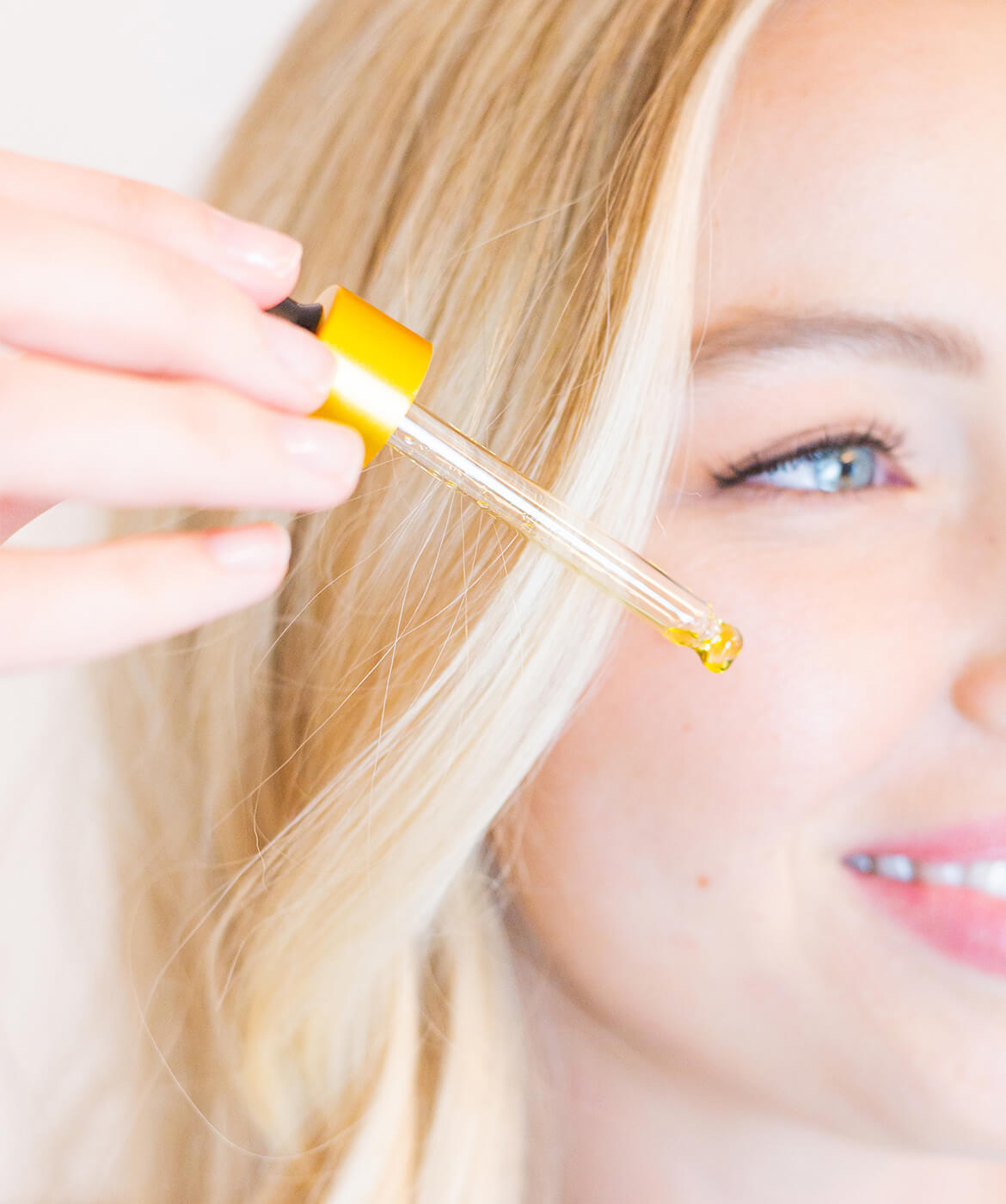 My face looks healthier than it ever has. I go without foundation most days now and feel very confident.
How to use
Step 1:

Start with a clean face. Use your favorite cleanser to clear away any dirt or oil. If you use toner, now's the time. Spritz some on before going any further.




STEP 2:

Take a few drops of our Anti-Aging Serum into your palm and apply to your face. Take a few drops of facial oil on your palm. A little goes a long way! Use your fingertips to transfer the oil onto your face, dotting it over your cheeks, jaw, and forehead. Message until it's evenly distributed across skin.

STEP 3:

Smooth in with your jade roller. Now your jade roller and roll from the nose towards the outside of the face.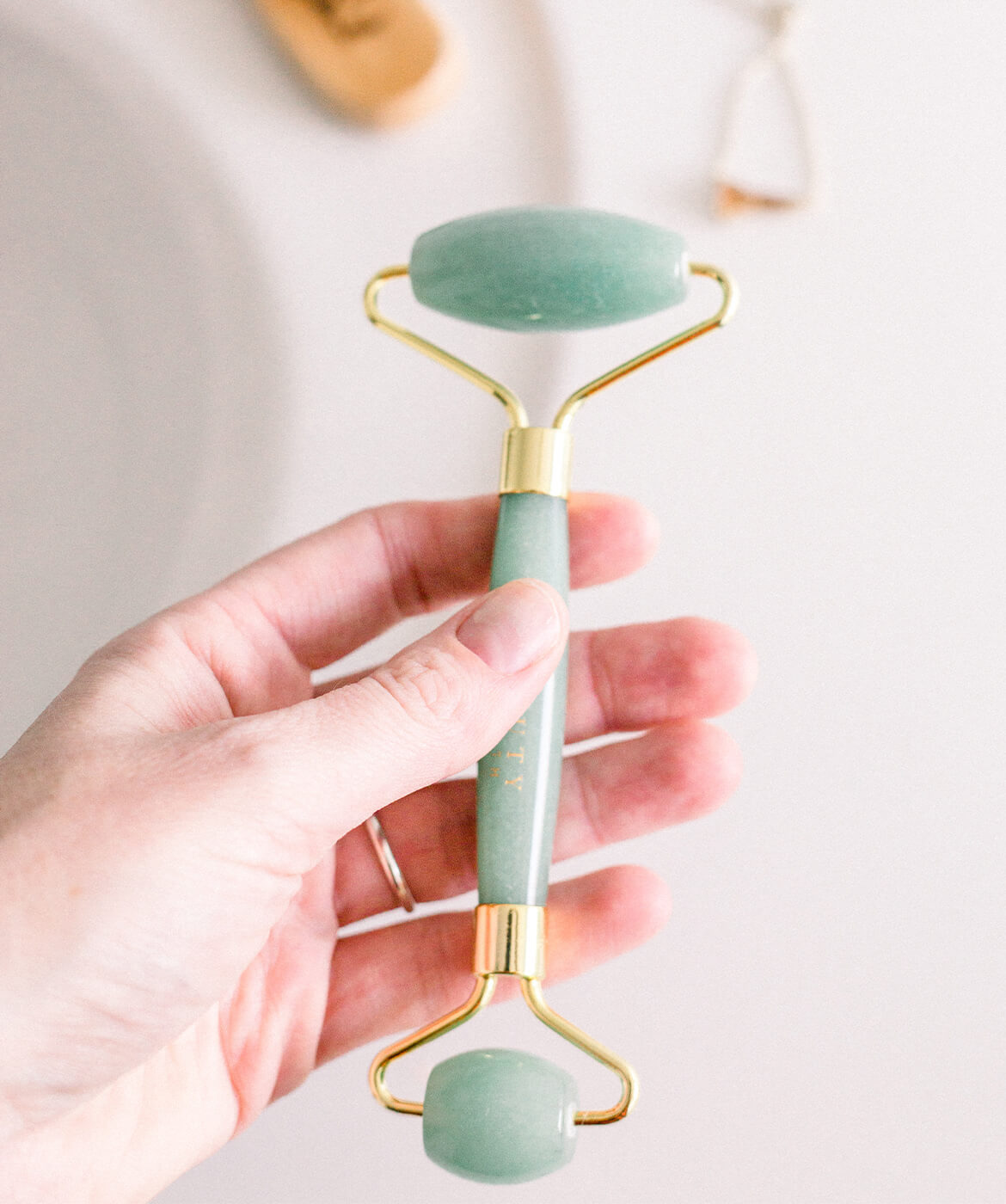 What Customers Are Saying
Frequently Asked Questions
We're glad you asked! Face serums are a lightweight type of moisturizer. Because they tend to leave out heavier ingredients, they penetrate deeper into your skin. This lets them deliver higher concentrations of nutrients and makes them a highly restorative part of your skincare routine.
Yest they are! They are both USDA certified organic.
Our serum contains several ingredients that are rich in antioxidants, including pomegranate seed oil and carrot seed oil. Antioxidants help fight free radicals, reducing the rate at which skin ages. So yes, it will help with wrinkles. Use regularly for a younger-looking complexion!
A good rule of thumb is to start with the most lightweight product and work your way up to the heaviest. Start by washing your face with a cleanser, then use a toner. Apply your serum next, then follow up with a moisturizer.
Yes. The organic and natural ingredients included in our facial oil were chosen primarily for their hydrating properties. Argan oil, jojoba oil, and moringa oil all deeply hydrate the skin. They also provide lots of essential fatty acids, which help build up the barriers that keep hydration in.
Each bottle contains over an ounce of luxurious oil.
Our jade roller is a beauty tool that makes it easy to give your skin the benefits of jade. Each roller showcases two beautiful stones in a well-crafted roller. Every stone is 100% natural jade aventurine quartz.
Aventurine jade isn't "Jade" the precious stone but refers to the shade of Aventurine quartz commonly called "Aventurine Jade" or even "Indian Jade" (It's often sourced from India, hence the name). We use Aventurine jade instead of the precious gem because it is more ethically sourced as well as less rare/expensive. Yet Aventurine jade still offers many similarities to the precious gem, such as:
– a lustrous, green hue
– believed by crystal enthusiasts to wield similar healing properties
– traditionally considered to be lucky
It's also important to note that most Jade Rollers on the market are crafted from this same beautiful stone. That's because Aventurine Jade is significantly (hear "$$$$$") cheaper to manufacture. The precious stone Jade if crafted into a facial roller, on the other hand, would likely run in the $6000 range each. (Currently, Jade runs at approximately $3000 USD per ounce.)
We do appreciate, however, that the subtleties here can be confusing, so thank you for your question!
All formulated products (like our Anti Aging Facial Serum and Glowing & Radiant Facial Oil) are made right here in USA. 🇺🇸
Though our Jade Roller is manufactured in China and high-quality assured 100% jade aventurine quartz. Although suppliers change from time to time, our current source for the stone comes from Brazil. Isn't the global econnomy a cool thing? We think so.
Yes. Many of our customers find that putting their roller in the refrigerator or freezer enhances their experience. This is perfectly safe to do and will not harm your roller.
Use a soft microfiber cloth to wipe your jade roller after every use. Dip your roller in a bowl of warm soapy water before wiping every once in a while for a deeper clean. Let your roller air dry in a well ventilated area after cleaning.
Nope! Our high quality roller is whisper quiet and enjoyable to use.
Starting from the center of your face, roll outwards towards your ears. Use the larger stone for your forehead, cheeks, jawline, and neck, and the smaller stone for the areas around your eyes. Repeat each section 5 times before moving on to the next. We like this video guide:
Yes! Want to learn more? Get in touch at wholesale@beautybyearth.com to get started.
We'll never put these bad dudes in any of our products.
Nope:

Parabens, Pegs, SLS, or SLES

No way:

Synthetic dyes or fragrances

Never:


Toxic Ingredients We Will NEVER Put In Our Products
Real reviews by real people
Hit REWIND on the Clock.
RETHINK AGING: Think you need to spend hundreds on conventional creams to fight aging? Think again. Our Anti Aging Deluxe Bundle prioritizes naturally sourced ingredients that support your skin in turning back the clock.
ONLY THE BEST: From organic aloe vera leaf juice to natural willow bark extract, our face cream protects and restores complexions of any