Bundle & SAVE Up To 30% Today

A Perfect glowing tan. No side effects.
NO PARABENS, NO DYES, NO PERFUMES, NO TOXIC 💩
NATURAL & ORGANIC INGREDIENTS
PERFECT SUN-KISSED GLOW IN A MATTER OF HOURS
DOESN'T TRANSFER TO CLOTHES OR SHEETS
60-Day Satisfaction Guarantee | Made in the USA
Does your tanner look like this?
You Deserve a Better Tan.
Finally . . . a healthy, bronzed glow.
Made with skin loving ingredients like hyaluronic acid, glycerin and more that hydrate and nurture your skin.
No sodium lauryl sulfate, PEGs, parabens, dyes, synthetic fragrances, or other harsh chemicals commonly found in leading brands.
Perfect for all skin types, this silky-soft mousse goes on clear and leaves a beautiful bronze glow in just 6-8 hrs.
Easily apply the light-weight, fast-absorbing, buildable formula that you can use from head to toe for achieving a natural, glowing tan.
60-Day Satisfaction Guarantee.
*Self Tanner pictured smells even better than it appears
BUILD YOUR OWN BOX
Build your own bundle with our best-sellers
2 products • 15% OFF3 products • 20% OFF4 products • 25% OFF5 products • 30% OFF
BUILD YOUR OWN BOX
Get up to 25% off and, up to 3 free products



Self Tanner Mousse (Medium to Dark)
3.3 oz / Single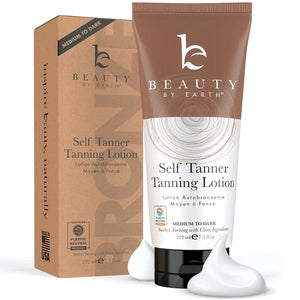 Self Tanner Body Lotion (Medium to Dark)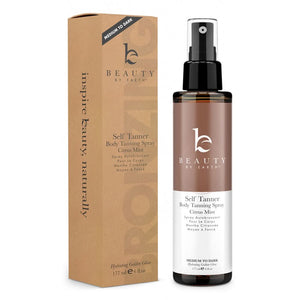 Self Tanner Body Spray (Medium to Dark)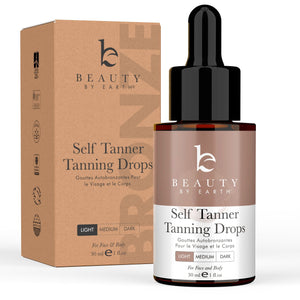 Self Tanner Drops (Light)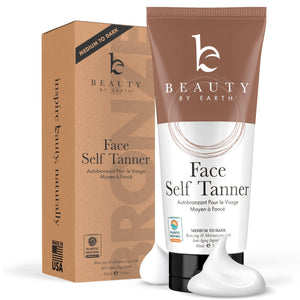 Face Self Tanner (Medium to Dark)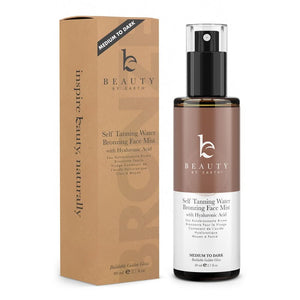 Self Tanning Water Bronzing Face Mist (Medium to Dark)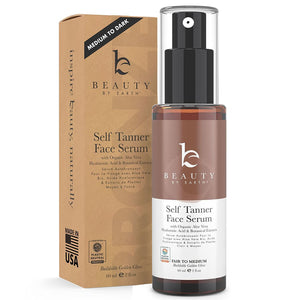 Self Tanner Face Serum (Medium to Dark)
0 Products Selected
<< Add at least 2 to build your bundle
<< Add at least 2 to build your bundle
60-Day Satisfaction Guarantee
We're so confident you'll love your order we give you 60 days to return it for a full refund.
4.8/5 rating - 20,209 reviews
Thousands of Glowing Reviews
"I use self-tanner constantly. This one seems like a cleaner version of Jurgens instant self-tan. The color is BEAUTIFUL and NATURAL. Self- tanning tip: keep your skin moisturized."

Self Tanner Mousse Bundle

"This mousse looks so natural! The fade is flawless!! It wasn't splotchy at all! I moisturize constantly which helps the fade process, as well."

Self Tanner Mousse Bundle

"If you are looking for a clean safe tanner, this is it! I was worried about the smell because most tanner have a weird smell but this one actually smells nice. I love this brand!"

"The application is so easy, and I see results in such a short amount of time. I also use it for faux, freckles and contouring."
What should you do with your old tanner? Toss it.
No Parabens, No Dyes, No Perfumes, No Toxic 💩
Natural & Organic Ingredients
Perfect sun-kissed glow in a matter of hours
Doesn't transfer to clothes or sheets
100% chance you'll get non-stop compliments
(even from total strangers)
Parabens, Dyes, Perfumes, Toxic 💩
Dyes derived from coal tar & petroleum
100% chance a review of self tanner ingredients
will cause you to ditch it for good
Hormone imbalance & endocrine disruption
Pick up a tanner, smooth it over skin, and glow like the goddess you are.
60-Day Satisfaction Guarantee.
Which ingredients are in the Self Tanner Mousse?
Self Tanner Mousse Ingredients:
Water (Aqua), Dihydroxyacetone (DHA), Vegetable Glycerin, Sodium Hyaluronate, Decyl Glucoside, Cocamidopropylamine Oxide, Panthenol, Ilex Paraguariensis (Yerba Mate) Leaf Extract, Vitis Vinifera (Grape) Seed Extract, Glycyrrhiza Glabra (Licorice) Root Extract, Chamomilla Recutita (Matricaria) Flower Extract, Rosmarinus (Rosemary) Leaf Officinalis Extract, Pinus Strobus (Pine) Bark Extract, Hamamelis Virginiana (Witch Hazel) Extract, Yucca Schidigera Root Extract, Vanilla Planifolia Fruit Essential Oil, Citrus Aurantium Dulcis (Orange) Flower Essential Oil, Farnesol (and) Linalool, Radish Root Ferment Filtrate. *Certified Organic Ingredients
Which ingredients are in the Self Tanner Face Serum?
Self Tanner Face Serum Ingredients:
Aloe Barbadensis (Aloe Vera) Leaf Juice, Hyaluronic Acid, Dihydroxyacetone, Glycerin, Chamomilla Recutita (Matricaria) Flower Extract, Calendula Officinalis (Marigold) Flower Extract, Hamamelis Virginiana (Witch Hazel) Extract, Zingiber Officinale (Ginger) Root Extract, Camellia Sinesis (Green Tea) Flower Extract, Punica Granatum (Pomegranate), Extract Leuconostoc/Radish Root, Ferment Filtrate, Xanthan Gum, Citrus Grandis (Grapefruit) Peel Oil, *Citrus Sinensis (Sweet Orange), Oil Vanilla Tahitensis (Vanilla) Fruit Extract
Are these self tanners vegan?
Yes they are :)
We are also Leaping Bunny certified, meaning there's zero animal testing with any of our products.
Are these organic self tanners?
While it is not certified organic, our natural self tanner is made up of 81% water and certified organic ingredients, the other 19% are naturally derived ingredients and it does not include any toxic or harmful additives.
What natural self tanner ingredients are used in this product?
The active ingredient in our self tanner is DHA, a sugar derivative that gives the top layer of the skin a bronzed glow. It's 100% natural and non-GMO. It's backed up by a carefully selected combination of supporting ingredients, including organic aloe vera leaf juice (for luscious hydration), organic shea butter (for maximum moisturization), and organic pomegranate and cranberry extract (because who doesn't love a bit of fruitiness in their self tanner?).
How long does the color from this self tanning mousse and serum last?
We can't pinpoint the exact number of days – that will vary based on your application method, skin type, and how often you reapply. Many of our customers who have left self tanner reviews report that their tan lasted 5-7 days.
How do I use self tanner?
Step One:
Do Everything Else
There are a lot of things that can mess with your self tanner if you don't do them first. Painting your nails, coloring your hair, and shaving your legs can all remove the tanner before it has time to do its work, so make sure you get these tasks done beforehand.

…but not too close beforehand. Before I knew how to apply self tanner I didn't realize that it's not a great idea to shave right before you use it. I ended up with all of my pores showing up as little orange dots. Not very classy. I definitely recommend waiting several hours after you shave before applying any self tanner.


Step Two:
Exfoliate
Self tanner has a way of sinking in to dry skin and creating weird little dark patches. You can make sure you skip this problem by exfoliating your skin before applying self tanner. Use a natural exfoliating scrub to slough off any flakes, paying special attention to your knees, elbows, ankles, and other rough areas. Use a gentle exfoliator to make sure your face is clear as well.


Step Three:
Start From the Bottom
If you start by applying self tanner to your shoulders and torso, you may end up with some weird streaks when you bend over to do your legs. Make sure you get a nice, even tan by starting from the bottom and working up.


Step Four:
Use Circles
Squeeze a small amount of self tanner (about a teaspoon or so) into a clean hand. If you prefer, you can wear latex gloves. Work the lotion into your skin using a circular motion. I usually apply tanner to my legs, arms, torso, and face, being careful to avoid sensitive areas like my eyes.


Step Five:
Tread Carefully
Be especially cautious when applying self tanner to areas where skin tends to be loose and dry. This includes elbows, knees, and the areas around your nose and top lip. The skin in these areas tends to pick up more color than the surrounding skin, making it easy to end up with dark spots.
It is always a good idea to moisturize these types of areas prior to applying self tanner so you get a more even look. It will also help ensure these areas don't come out darker than everywhere else.


Step Six:
Wash Up
If you decided not to use gloves to apply your self tanner, wash your hands immediately afterwards. This will keep you from ending up with off-color palms. If you end up with streaks or splotches, don't fear – rub the area with half a lemon then buff it away with a damp towel. It'll be like it never happened.


Step Seven:
Repeat as Needed
You should reach your desired color within six hours. If you don't, just reapply the following day. I usually end up reapplying every 4-7 days to keep my color consistent, but that number may vary based on what works best for you.


Step Eight: Don't Forget Sunscreen – Self tanner does not protect against UV radiation. If you plan to spend any time in the sun after using a self tanner, be sure to apply sunscreen.
Are these self tanners safe to use during pregnancy?

Yes, our self tanner is perfectly safe for pregnancy.

With all things pregnancy-related, however, we recommend bringing up any doubts or concerns you have with your doctor or midwife. They are best-situated to know your specific health needs and determine what's best for you and your little one.

Are these self tanners made in the USA?
Yes! In fact, all of our formulations (a.k.a. the actual cream, oil, or liquid that makes the product) are made right here in the USA.
#shopify-section-announcement-bar, #shopify-section-header { display: none !important; visibility: hidden !important; } .sales-header__wrapper { top: 0; }